Texas Republicans Warn That Trump Could Lose 2020 Election
The Texas GOP sent out an email to voters Wednesday calling the Lone Star state the "most important swing state in the 2020 presidential election."
To be clear, President Donald Trump beat Hillary Clinton by a whopping nine points in Texas during the 2016 elections, and a Democrat hasn't won a state-wide election in 25 years when Governor Ann Richards was ousted by George W. Bush.
Still, the email insisted, "if you don't show up for Trump in 2020, there is a high chance it will cost him the election."
The GOP email claimed that Democrats are promising "open borders to illegal immigrants," though no 2020 Democratic candidate has said they support open borders. "They want to take every last penny from your paycheck and control how you live to pay for their socialist policies and systems," the email continued. It ended by asking for a donation to the Trump campaign.
So is the GOP fear mongering for donations or do they actually fear that the solidly red state is rapidly shifting to the left?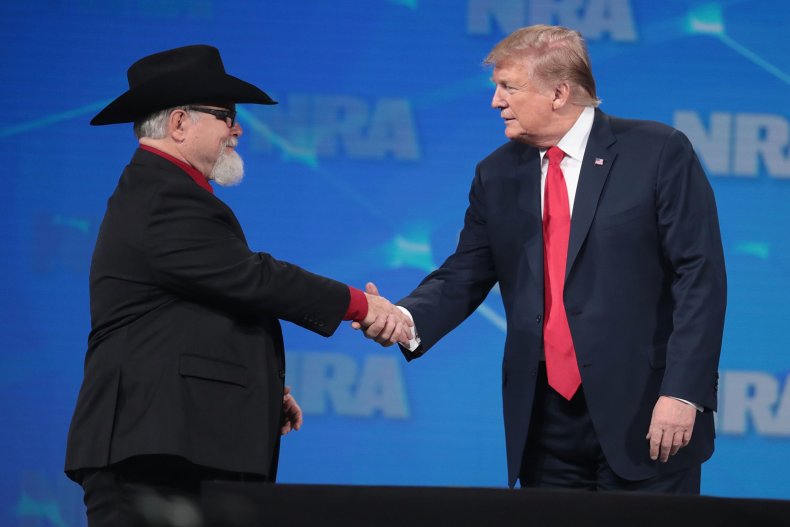 2020 Democratic candidate Beto O'Rourke came fairly close to beating incumbent Senator Ted Cruz in the 2018 midterm elections, but ultimately missed the Republican by just under three points, a tight race but not enough to make Texas purple.
Recent polling shows Trump beating every major Democratic presidential candidate—except former Vice President Joe Biden—but not by the nine point lead he had in 2016. One June Quinnipiac poll has former Vice President Joe Biden beating Trump by four points, and other candidates within a point or two. This poll, however, was conducted before Biden's lackluster debate performance.
"The numbers are good for Vice President Joseph Biden who dominates the field in a Democratic primary and has the best showing in a head-to-head match-up against President Donald Trump," said Peter A. Brown, assistant director of the Quinnipiac University Poll.
"In historically red-leaning Texas, the report for the rest of the Democratic field is not so bad either, which could spell trouble for President Trump. It is the largest state in the country with a Republican edge. The president, who is on the wrong side of a too-close-to-call matchup with Biden, barely inches up in similar matchups with all the other Democrats," he added.
Demographics in Texas are shifting slowly away from the red to the blue. While Hillary Clinton lost the state by nine points in 2016, Barack Obama lost in 2012 by 16 points. In 2018, Democrats gained 12 seats in the Texas House, two in the Texas Senate and two seats in Congress.
The shift comes from a growing Hispanic and black population alongside a burgeoning young, urban population. All three of those groups tend to mean good things for Democrats. In 2018, for example, 73 percent of people of color voted for O'Rourke, compared to 31 percent of the white population.
In 2000, 47 percent of the Texas population was made up of people of color, by 2017 that number was estimated to have grown to 58 percent.