Donald Trump Calls Beto O'Rourke a 'Stone-Cold Phony Named Robert Francis O'Rourke' During Texas Rally
President Donald Trump stumped for Texas Senator Ted Cruz at a rally in Houston Monday, slamming the Republican's opponent, Beto O'Rourke, as a "stone-cold phony" and a "radical left-winger."
Despite previous hostilities between Trump and Cruz, Trump was called in to throw support to Cruz's campaign after the incumbent senator found himself in an unexpectedly tight race with his Democratic challenger. Trump admitted on Monday that "it got nasty" between him and Cruz during the 2016 presidential campaign, when Trump criticized the physical appearance of Cruz's wife and suggested Cruz's father was involved in the assassination of President John F. Kennedy.
But Trump embraced Cruz Monday and, while spending much of his time talking about the record of his own administration, reserved some sharp words for O'Rourke, the El Paso congressman who was given the nickname "Beto" as a child.
"Ted's opponent in this race is a stone-cold phony named Robert Francis O'Rourke, sometimes referred to as Beto," Trump said to a chorus of boos from his supporters in attendance. O'Rourke, Trump added, was "actually a radical open-borders left-winger."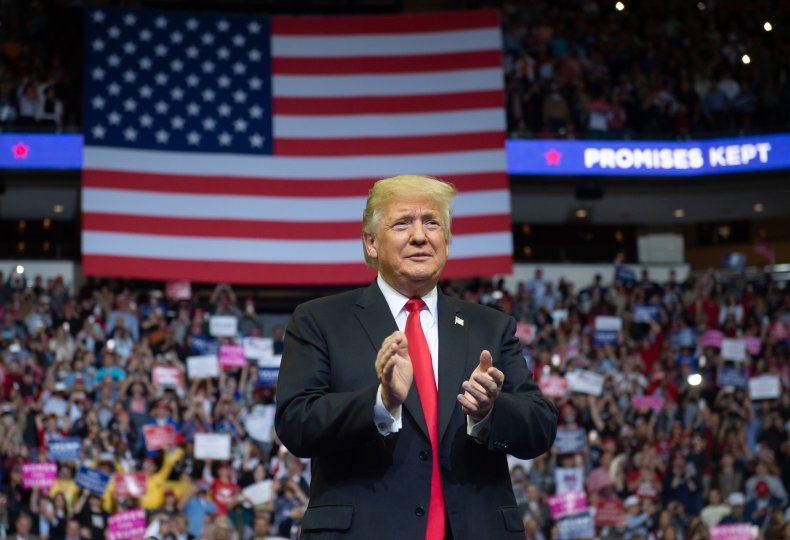 The rally was held at the 18,000-capacity Toyota Center. The arena was more than 80,000 people shy of Trump's vow to hold a rally for Cruz in the biggest stadium in Texas. But the Trump campaign claimed on Sunday that 100,000 supporters had requested tickets for the event. Reports said supporters queued from early Sunday morning to get into the event.
Trump had piled on his support for Cruz in recent weeks as polls showed the senator in a close battle with O'Rourke and suggested a real prospect of a Democratic victory in a statewide election, which would have been the first in almost 25 years. O'Rourke also raised more money than Cruz, by a ratio of more than three-to-one in the third quarter. Recent polls, however, have given Cruz a lead in the high single digits.