Watch Donald Trump Texas Rally for Ted Cruz in Houston: Live Stream, Start Time
President Donald Trump will join Texas Senator Ted Cruz Monday evening in Houston for a tailgate party and a campaign rally at the 18,000-seat Toyota Center, designed to motivate the Texas Republican base to vote in this year's midterm elections.
As of Monday morning, thousands of Texans were lined up outside the arena, some having spent the night in folding chairs waiting for their chance to catch a glimpse of the president.
The rally is slated to begin at 6:30 p.m. central, 7:30 p.m. eastern time, and you can watch it via live stream below.
Get your unlimited Newsweek trial >
Trump won Texas by 9 points, and the Texans who waited on line were largely there to see him, not Cruz, at least according to a report from the Houston Chronicle. Air Force veteran Cheryl Henson, who arrived more than 24 hours before the rally despite a bad back, said she was there to see the president and that when it comes to the Senate race, "If there was a better Republican, I'd vote for them, but Cruz will work."
Cruz currently maintains a slight, single-digit lead against his Democratic counterpart, El Paso Congressman Beto O'Rourke. But O'Rourke has a massive financial lead over his competitor and maintains that a large percentage of his voters, many of whom will be voting for the first time, don't show up in polling numbers.
Trump, who in 2016 suggested that Cruz's father was part of a JFK assassination plot and that his wife was not as good looking as his own, said in the past that Cruz was not good for Texas. "Why would the people of Texas support Ted Cruz when he has accomplished nothing for them? He is another all talk, no action pol!" he tweeted.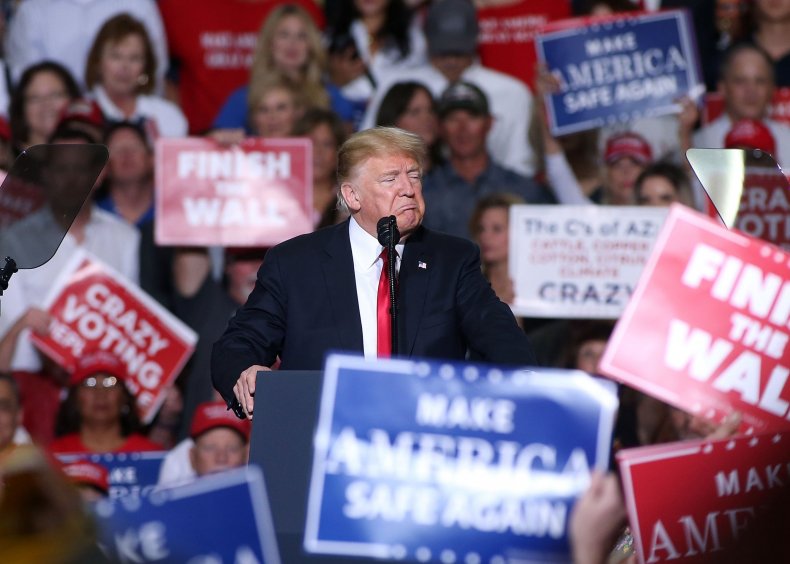 Get your unlimited Newsweek trial >
The president has since changed his tune, "Beto O'Rourke is a total lightweight compared to Ted Cruz, and he comes nowhere near representing the values and desires of the people of the Great State of Texas. He will never be allowed to turn Texas into Venezuela!" he wrote on Twitter last week.
Before the president speaks tonight, he'll hold a "Big Texas Tailgater" with food trucks, live music and speeches from campaign staff and representatives. "Texas is so big and so will be the turnout for our MAGA rally in Houston, Texas Monday," said Michael Glassner, Chief Operating Officer of Donald J, Trump for President, Inc. "That's why we've organized the Donald Trump—Big Texas Tailgater outside the Toyota Center. We'll have great food, live music, big screens, and a great time for all of our guests."
Midterm elections are on Tuesday, November 6 and early voting in Texas began on Monday.
Watch Donald Trump Texas Rally for Ted Cruz in Houston: Live Stream, Start Time | U.S.