Donald Trump Says He's Most Thankful for Himself on Thanksgiving
Donald Trump said he was most thankful for himself on Thanksgiving as he spent the holiday weekend at his Mar-a-Lago resort in Florida.
The president was on a phone call with members of the media and the military early Thursday morning when one reporter asked him what he was "most thankful for" this year.
"For having a great family and for having made a tremendous difference in this country," Trump responded. "I made a tremendous difference in the country. This country is so much stronger now than it was when I took office that you won't believe it."
The president continued, adding, "And I mean, you see it, but so much stronger that people can't even believe it. When I see foreign leaders, they say we cannot believe the difference in strength between the United States now and the United States two years ago. Made a lot of progress."
His response contrasted sharply with that of his Oval Office predecessor, Barack Obama, who said on Wednesday that he was thankful for the future "generation of leaders."
"I am grateful for the next generation of leaders—the young people who are tolerant, creative, idealistic and doing the work to create the world as it should be. Who understand that hope requires action. From the Obama family to yours, Happy Thanksgiving," Obama posted on Twitter.
Obama's comment came after he made a surprise appearance at a Chicago food bank, where he volunteered ahead of the Thanksgiving holiday.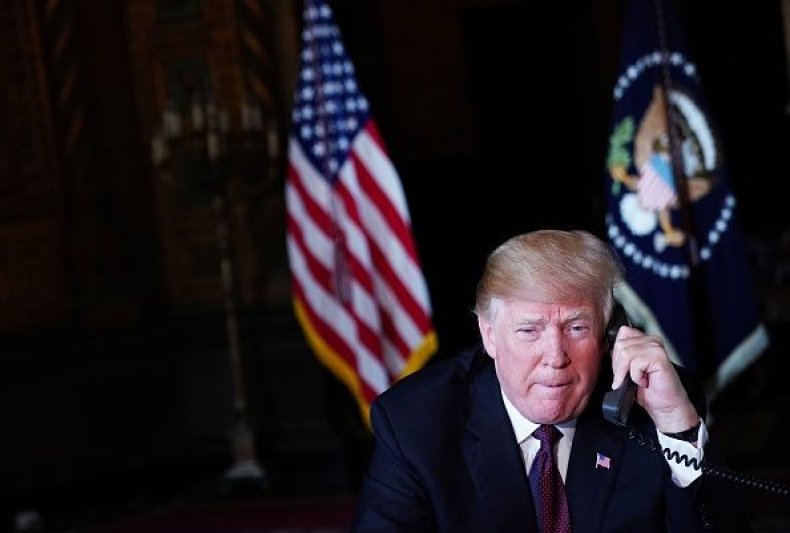 On the phone call Thursday morning, Trump also addressed American service members who were spending Thanksgiving at the southern border awaiting the arrival of the migrant caravan. The president has ordered nearly 6,000 troops to the U.S.-Mexico border to prepare for the caravan of asylum-seekers, which Trump claimed, with no evidence, was filled with dangerous gang members, drug dealers and terrorists.
During the holiday call, Trump took the opportunity to slam the federal courts for ruling against his decisions on immigration. He directly referred to the judge who had issued a temporary restraining order blocking the White House from barring migrants who crossed the border illegally from seeking asylum.
"It's a terrible thing when judges take over your protective services, when they tell you how to protect your border. It's a disgrace," Trump said. He also gave the military permission to use lethal force along the border.
In a video message posted on Twitter, Trump gave tribute to the military members overseas, police officers, first responders and firefighters, saying: "These are brave people, these are great people, these are special people."