Donald Trump Says Brexit Would've Been Fine if Theresa May Took His Advice, Adds U.K. Shouldn't Have New Vote
President Donald Trump criticized Prime Minister Theresa May's negotiating skills on Thursday, noting that he was "surprised" by how badly the Brexit negotiations were going and suggesting that he could have struck a deal more effectively.
"I gave the prime minister my ideas on how to negotiate it; and I think you would have been successful. She didn't listen to that, and that's fine, she's got to do what she's got to do. But I think it could have been negotiated in a different manner, frankly," Trump said during a press conference with Irish Prime Minister Leo Varadkar.
Trump then went on to stress that a second vote on Brexit should not be held because it would be unfair to the side that won previously. The campaign for Britain to leave the European Union was led by British politician Nigel Farage, a political ally of President Trump.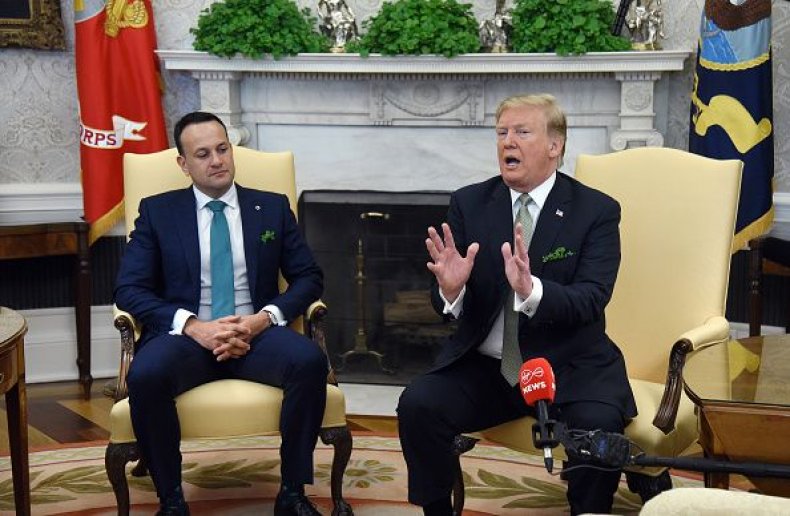 Some members of the British political opposition are calling for a new vote to be held because many in the U.K. voted to leave the EU based on false promises. The Leave campaign manipulated official statistics to create the appearance that Britain would be better off financially if it left the EU. What's more, the population voted in favor of the Leave campaign by a slim margin of a little under 4 percent of votes.
The United Kingdom is meant to leave the European Union on March 29, but the country still has not agreed on a plan for what its relationship with the EU will look like when that happens. On Tuesday, Britain's parliament voted against May's Brexit plan for the second time in two months. May has indicated that she would like to push for a third vote that would take place in the next week.
Lawmakers have also rejected the idea of leaving the European Union without a deal. It's now also possible that the U.K. will ask the European Union for an extension to continue negotiations. Lawmakers in Brussels are reportedly debating whether an extension is a good idea or whether it would only prolong the uncertainty. Many in Brussels noted that politicians in the U.K. are now so divided that it is possible the British Parliament will never agree on a deal. EU officials have repeatedly noted that they have already made every possible concession.
A lack of a deal would throw Britain's economy into chaos, and British citizens are reportedly stockpiling basic goods like toilet paper.
Despite his confidence, Trump, too, has repeatedly shown that he is unable to strike deals with his international counterparts. He recently abandoned a high-level summit with North Korean leader Kim Jong Un in Vietnam because he was unable to reach an agreement on the denuclearization of the Korean peninsula. He has also entered a trade war with China and threatened to do the same with the EU.