Donald Trump Thinks Bill Barr Helped Joe Biden Become President. He's Right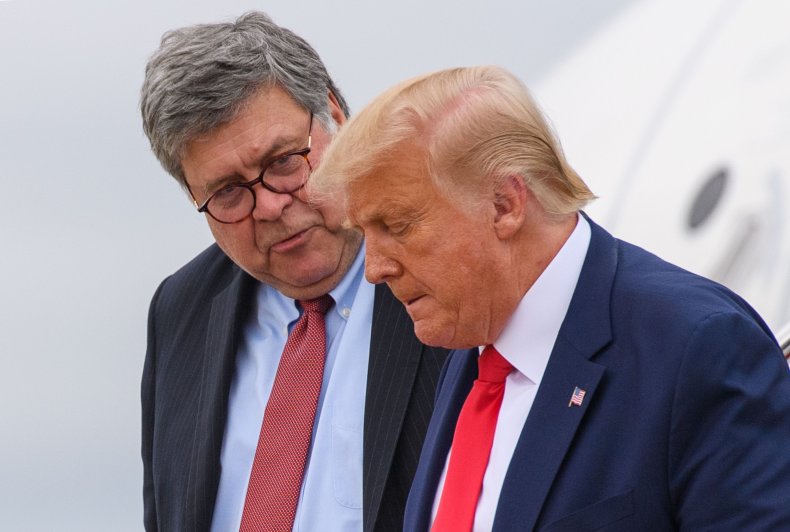 Plenty of the president's critics see William Barr as a key Donald Trump-enabler. The furiously angry Trump doesn't seem to see it that way—and he may be right. It's not far-fetched to argue that Barr is at least partly responsible for Joe Biden's 2020 win. Here's how.
When Trump came calling in late 2018, asking Barr to serve—for the second time—as attorney general of the United States, Barr wasn't particularly in need of a job. He was a longstanding member of the Washington establishment, having been named attorney general by George H.W. Bush in 1991. After Bush lost in 1992, Barr began a long, lucrative career in the private sector, eventually becoming chief legal counsel for the telecommunications company that would become Verizon.
Barr didn't know Trump, but, friends say, agreed to serve for two reasons. Like others in the Trump cabinet—General James Mattis at the Defense Department, Rex Tillerson at State—he was of the view that if the president of the United States asks you to serve, you do, no matter your personal view of the man or his politics. Second, Barr had been appalled by the conduct of the Justice Department and the FBI late in Barack Obama's second term, in particular James Comey's shambolic handling of the investigation into Hillary Clinton's private email server. He was equally troubled by the conduct of the special counsel, Robert Mueller, who was appointed to investigate whether the Trump campaign had "colluded" with Russia.
While still a private citizen, Barr wrote a lengthy memo, rooted in his longstanding belief in the powers of the executive branch, detailing why he felt the investigation into whether Trump's firing of Comey amounted to obstruction of justice was legally dubious. The memo circulated widely in the Trump White House. More than anything, his associates say, Barr agreed to come back to DOJ to try to restore what one friend calls "normal order" at the department.
Trump for months during the 2020 campaign had railed about the purported corruption surrounding Hunter Biden's various international business dealings. "Where's Hunter?" became a campaign rallying cry. It turns out that Hunter Biden has, in fact, been under DOJ investigation since 2018. Press reports have said that Barr became aware of this only in the spring of last year, but it's hard to believe a sitting attorney general would not be aware of a criminal investigation into the son of a former vice president (and leading presidential contender) earlier than that.
Barr, however, said nothing publicly, nor anything privately to the president, knowing Trump would never keep it confidential: keeping a DOJ investigation confidential is "normal order," the by-the-book way things are supposed to be done. An investigation into an individual may turn up nothing, but the mere public acknowledgment of it can destroy reputations. ''You investigate, you convene a grand jury if necessary, and then you indict, and reveal the charges publicly then," says a former colleague of Barr's at DOJ who requested anonymity because of ongoing ties to the department. "That's how it's done. You don't go public. And in particular, you don't go public with a politically sensitive case in an election year."
Contrast that with Comey's intervention in the Hillary Clinton email scandal. He held a press conference in July of 2016 declaring that the investigation was over—a decision that was not his to make (it was the attorney general's, Loretta Lynch). And then, in late October, Comey reopened the case because the FBI had come across more Clinton emails. Republicans were furious with the first intervention. Democrats and Clinton were enraged by the second, believing—not without reason—that it may have cost her the election. Trump's fans in conservative media now complain that Barr's reticence about the Hunter investigation probably cost the president the election.
The second way Barr may have helped Biden is also full of irony. Upon becoming AG, Barr became increasingly convinced that the so-called "Russia" investigation into Trump and the subsequent Mueller probe were fundamentally flawed. He infuriated Comey, the FBI and many at DOJ by stating that the Trump campaign had been spied on. He was appalled at the Inspector General's report about the abuse of the FISA court (Foreign Intelligence Surveillance Act), in particular the use of unverified information to secure a warrant to surveil Carter Page, a low-level Trump campaign aide who had contact with Russians. Barr appointed John Durham, the U.S. attorney in Connecticut, to investigate the investigators: to find out whether Comey and his allies in the Justice Department had purposely targeted Trump to sabotage his election and then, once he won, his presidency.
Trump believes that to be true, and he desperately wanted Durham to conclude his work before the election, sure that his findings would be damning. But largely because of Covid-19, which limited travel and thus interviews with those involved, the Durham investigation was slowed. Barr didn't push for speed. But because he believed the investigation should continue, he quietly named Durham a special counsel (as Mueller was) on October 19, three weeks before the election. To Trump's frustration, he didn't announce that publicly, again because he didn't want to put a thumb on the election's scale. In doing so he has, he hopes, given Durham a layer of protection against the incoming Biden DOJ. Biden would still have the right to dismiss Durham, but doing so will instantly set off "obstruction of justice" cries from the right. But from Trump's point of view, the lack of results from Durham was another missed opportunity.
The final assist Barr has given to Biden: helping the former vice president establish legitimacy as president-elect. Amidst Trump's assertions that widespread election fraud cost him the election, Barr has told the president that his department sees no evidence of that.
Believing he had successfully re-established normal order, knowing Trump would not be serving a second term, and knowing too that Trump had become irritated with his handling of the Hunter Biden investigation and allegations of voter fraud in the November election, Barr submitted his resignation December 14, effective just before Christmas.
Barr leaves Justice believing he protected what he believes is a politically important investigation—Durham's. All too late, as far as Trump is concerned. The final irony of his tenure as AG? For two years Barr's critics have accused him of doing Trump's bidding at every turn. His resignation—and Trump's rage—belie that.