Donald Trump Thinks 'Christian' Ronaldo Would Fail in Presidential Bid
President Donald Trump joked that one of the world's top athletes would fail to lead his country in politics, after dodging questions about meeting Russian President Vladimir Putin.
Speaking to Portugal's President Marcelo Rebelo de Sousa in the White House, Trump found himself having a conversation about the soccer World Cup and the star captain of De Sousa's nation—Cristiano Ronaldo. The European nation are still in the tournament thanks to Ronaldo's commanding performances. De Sousa addressed rumors that Trump could cross paths with the Real Madrid star if he visits Putin and tournament host nation Russia before next month's final.
"If you're going to meet Mr. Putin—well, I was with him last week," De Sousa told Trump, who was the one to bring up the topic of soccer first, according to a White House transcript. "And he asked me to greet you. So, of course, he was expecting your visit. But anyway, don't forget that Portugal has the best player in the world that is called Cristiano Ronaldo."
Read More: Bolton visits Putin after Moscow officials had some damning things to say about his views and personality
While Trump's National Security Adviser John Bolton met with Putin and top Kremlin officials earlier on Wednesday, the subsequent press conference revealed only that the two leaders would hold a joint summit—but not where or when. Trump has confirmed he will attend several meetings with U.S. allies in Europe next month, including the NATO alliance and his first presidential visit to the U.K.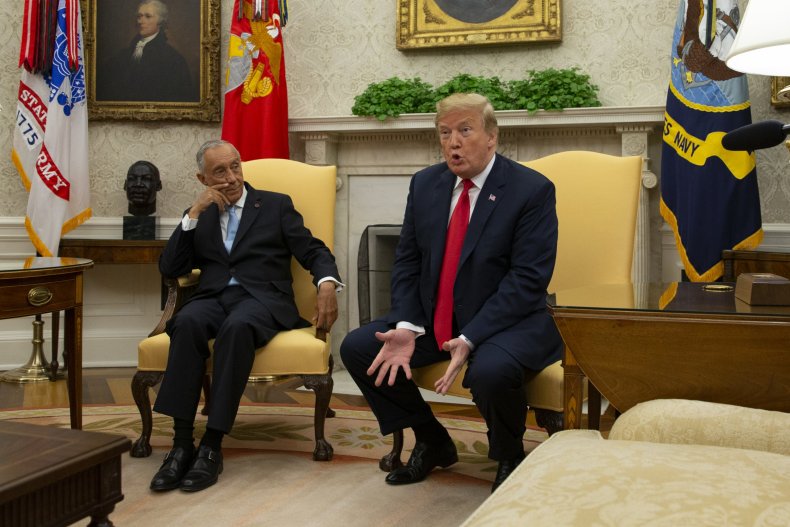 The final of the World Cup in Moscow will take place just days after the NATO summit. Many officials and commentators have voiced concern that meeting Putin at the tournament before Washington's closest military allies would encourage the perception that Trump is fracturing U.S. ties with allies, while cozying up to traditional adversaries.
Trump refused to take the cue to reveal White House plans on Russia. Instead he tried to match De Sousa's enthusiasm about the World Cup and and segued into an awkward exchange about soccer—a sport he admitted earlier in the conversation his son Barron loved and which Trump himself liked "a little bit, but I don't have much time."
Trump boasted Barron knew "all about" Ronaldo, as De Sousa brought up Trump's potential visit to Russia again. "So don't forget if you ever go to Russia during the championship, don't forget Portugal is still there and wanting to win the championship," the Portuguese leader insisted.
"That's right. They're doing very well," Trump weighed in, keen to move the conversation along. "And they say he is doing..."
"Doing very, very, very well," De Sousa interjected simply.
"That's very good," Trump added. "And so tell me, how good a player is he? Are you impressed?"
"I'm very much impressed. He's the best player in the world, Cristiano Ronaldo," De Sousa reiterated as the pair's chat devolved into amicable nodding and inaudible remarks. Ready to wrap up the inane sports chat, Trump struck a galvanizing tone with another question about Cristiano Ronaldo.
"So will Christian ever run for President against you?" Trump asked a deadpan De Sousa to some laughter in the room. "He wouldn't win. You know he won't."
Bewildered by the prospect of facing Portugal's biggest celebrity at the polls, De Sousa assured the one-time reality show host that the Iberian nation was "a little different" from the United States.