Donald Trump Third Favorite to Win 2024 Election With Bookmakers Ahead of Ivanka, Don Jr.
Donald Trump has been pegged as the third favorite to win the next 2024 election if he decides to run again, bookmakers say.
Despite a Biden victory, the soon-to-be-ousted president has not yet conceded the 2020 election race to his Democratic rival and speculation has mounted that Trump will look to run for office again.
"Donald Trump is currently third-favorite with bookies to be re-elected as President in 2024," an Oddschecker spokesperson told Newsweek.
The leading U.K. bookmaker, which aggregates betting data from dozens of other bookmakers, released the top ten potential candidates most likely to be re-elected in the next U.S. election.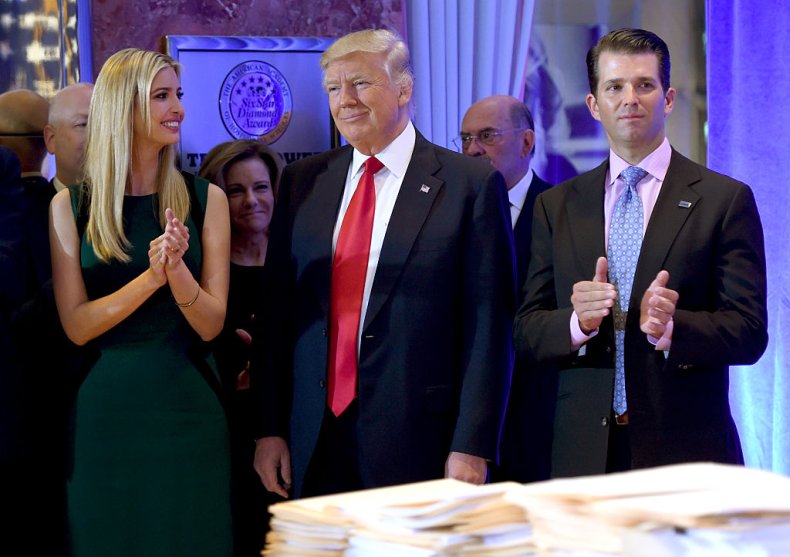 Leading the charge was Kamala Harris with a 22.22 percent implied probability of clinching the 2024 presidency.
Harris was followed by president-elect Joe Biden with a 16.67 percent implied probability of securing what would be another run at office.
Trailing at a 9.09 percent chance of victory, Trump was listed as third in line.
And seventh in line—behind Mike Pence, Nikki Haley and Alexandria Ocasio-Cortez - the bookmaker gave Donald Trump's daughter, Ivanka, a 3.85 percent implied probability of leading the nation.
Although vote totals for the 2020 election are not yet official and Trump has not yet conceded, the Associated Press and the major TV networks called the election for Joe Biden on Saturday as he narrowly won Pennsylvania.
The former vice president was declared victorious in a tight race against the Republican incumbent and currently holds 279 Electoral College votes compared to Trump's 214.
Biden drew roughly 74.5 million votes in the 2020 election, breaking the previous record set by former President Barack Obama in 2008. Trump had received around 70.7 million votes.
Trump indicated on Saturday that he will not concede the election to Biden, and has threatened "unspecified legal challenges," according to the Associated Press.
Trump and his campaign have made repeated, unsubstantiated claims of voter fraud and other irregularities in the days leading up to and after the November 3 election. He has filed around a dozen lawsuits in different states largely aimed at stopping the vote count. None, however, seem to be gaining any traction, as they've come without solid evidence.
In a statement released soon after the media networks called the race and named Biden as its winner, Trump pledged to continue his legal battle by "prosecuting our case in court to ensure election laws are fully upheld."
"The simple fact is this election is far from over," Trump said.
Trump is technically able to run for president again in 2024—as while the 22nd Amendment of the Constitution states that "no person shall be elected to the office of the President more than twice" it does not dictate these two times must be consecutive.
A recent poll suggests that Trump would have a sizable base of support from Republicans should he seek re-election again in 2024. The polling, which was carried out by The Washington Examiner/YouGov on October 30 and surveyed 1,200 registered voters, showed that 38 percent of Republicans hoped the president would remain involved in politics and seek re-election in the next presidential race.
Only once before has a president served two non-consecutive terms, when President Grover Cleveland lost re-election in 1888, then won the presidency again four years later.
Steve Bannon, Trump's former chief strategist who is currently facing fraud charges, also has suggested the president would seek re-election if he were to lose in 2020. "If for any reason the election is stolen from or in some sort of way Joe Biden is declared the winner, Trump will announce he's going to run for re-election in 2024," Bannon told The Australian in October.
And earlier this month, Trump's former White House Chief of Staff Mick Mulvaney said he would "absolutely" expect Trump to run once again in 2024.
"After this election's over, who is the leading Republican candidate in 2024? And I think now, folks are starting to realize, 'Wait a second, if Donald Trump loses, he might be the guy,'" Mulvaney, who now serves as U.S. special envoy for Northern Ireland, said during an online address for the Institute of International and European Affairs before Saturday's announcement.
"And I'm telling you, absolutely. Absolutely. I would absolutely expect the president to stay involved in politics. I would absolutely put him on the shortlist of people who are likely to run in 2024. He doesn't like losing," Mulvaney said.
Newsweek reached out to the Trump campaign for comment.