Donald Trump Threatens to Forgo Presidential Debates Hosted by 'Fake News Networks' After DNC Blocks Fox News From Hosting Primary Debates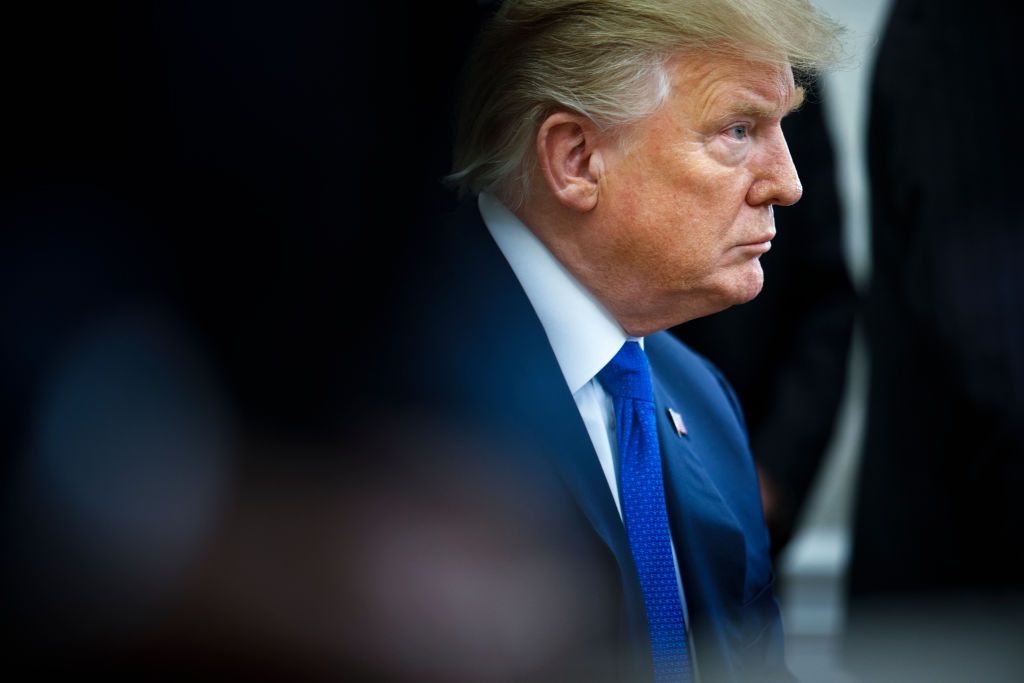 President Donald Trump said he would consider skipping any presidential debates related to the 2020 election in a tweet posted on Wednesday.
"Democrats just blocked @FoxNews from holding a debate. Good, then I think I'll do the same thing with the Fake News Networks and the Radical Left Democrats in the General Election debates," Trump said.
The tweet is the first reaction from the president about the announcement made from the Democratic National Committee on Wednesday afternoon.
"I believe that a key pathway to victory is to continue to expand our electorate and reach all voters," DNC Chairman Tom Perez said in his statement to The Washington Post. "That is why I have made it a priority to talk to a broad array of potential media partners, including Fox News. Recent reporting in the New Yorker on the inappropriate relationship between President Trump, his administration and Fox News has led me to conclude that the network is not in a position to host a fair and neutral debate for our candidates. Therefore, Fox News will not serve as a media partner for the 2020 Democratic primary debates."
The New Yorker report, titled The Making of the Fox News White House, chronicled the relationship between Trump and Fox News owner Rupert Murdoch, along with other connections to other personalities on the network such as Sean Hannity and former network CEO Roger Ailes, and the impact those relationships had on policy in the Trump administration.
The story also included a report that former FoxNews.com reporter Diana Falzone uncovered Trump's alleged affair with Stormy Daniels as well as hush money payments issued to her to buy her silence, but the story was killed in the weeks before the 2016 presidential election when a Fox News executive reportedly told Falzone: "Good reporting, kiddo. But Rupert wants Donald Trump to win. So just let it go." According to The New Yorker report, Falzone also learned of the National Enquirer's "catch and kill" policy to keep Daniels' story out of the media, but Fox also passed on that story.
A year later, The Wall Street Journal—one of Murdoch's newspapers—reported the story on Daniels, Trump and Trump's former lawyer Michael Cohen, who had arranged the payments to Daniels.
According to the DNC statement, Fox News would be blocked from participating in debates only during the Democratic primaries, not presidential debates held between the nominees from the Republican and Democratic parties, and any potential independent candidate.
"We hope the DNC will reconsider its decision to bar Chris Wallace, Bret Baier and Martha MacCallum, all of whom embody the ultimate journalistic integrity and professionalism, from moderating a Democratic presidential debate. They're the best debate team in the business and they offer candidates an important opportunity to make their case to the largest TV news audience in America, which includes many persuadable voters," Fox News Senior Vice President Bill Sammon said in a statement on Wednesday.
Baier also responded to the news on Twitter, calling the DNC's decision "a shame."
"That's really a shame. When it comes to fairness—our news product speaks for itself," Baier said. "We will continue to cover this 2020 race fairly & will continue to invite Democrats- Republicans & Independents on to talk about key issues & substance with our very large viewing audience."
The assertion by Trump to not appear on "fake news channels" isn't the first time the president has made such a statement. He has repeatedly declined to sit down for interviews with CNN and given only 10 interviews to other networks since he was elected in November 2016.
In comparison, Trump has given over 40 to Fox News in the same time frame.
Fox News is among the networks that have given proposals to the DNC to air one of the 12 debates for Democratic candidates that are scheduled in the coming months. Thus far, only NBC and CNN have been awarded broadcasting rights. NBC will air the first debate and CNN the second, The Washington Post reported.
Should Trump follow through with his tweeted threat, he would not be the first president to decline to participate in a general election debate. Lyndon Johnson declined to debate Republican candidate Barry Goldwater in 1964, as did Richard Nixon against Hubert Humphrey in 1968 and George McGovern in 1972. Jimmy Carter did not participate in a 1980 debate, but later appeared in a separate debate against Ronald Reagan, who would go on to win the election.