Former President Donald Trump called America the "laughing stock" of the world while criticizing President Joe Biden for the withdrawal from Afghanistan and increased immigration at the southern border.
Trump has targeted Biden for reversing policies that the former president believes made his administration successful. Those attacks continued in a wide-ranging conversation with MyPillow CEO Mike Lindell in which Trump said Biden "destroyed" the country.
"I say 'Make America Great Again,' that was my theme. It was going to be 'Keep America Great,'" Trump told Lindell in an interview that aired on Tuesday. "I threw away all of the hats because America isn't great now. America is a laughing stock all over the world."
Trump used 'Make America Great Again' as his 2016 campaign slogan but rebranded the mantra to 'Keep America Great' during his re-election campaign. He has been hinting at a 2024 presidential run and used his criticism of the Biden administration to try to bolster support for a potential campaign.
The former president has begun selling merchandise that says "don't blame me, I voted for Trump," and often accompanies statements with the question of "miss me yet?"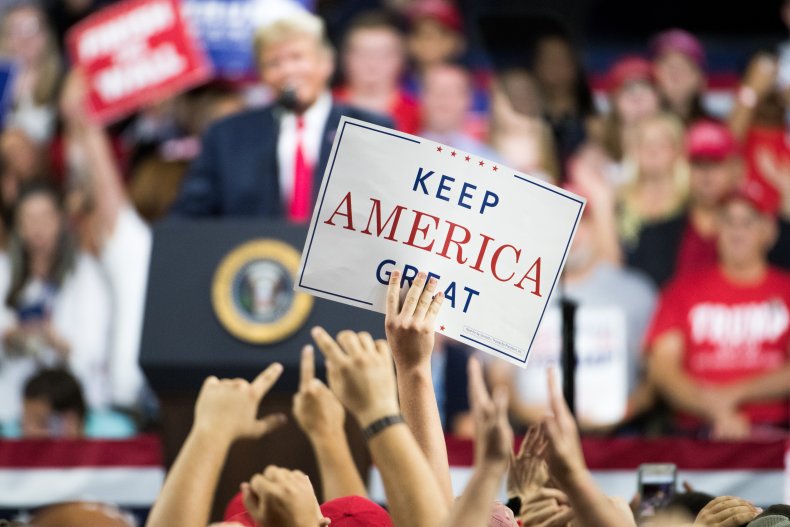 Much of Trump's criticism has focused on America's withdrawal from Afghanistan. Biden blamed Trump for the deadline although he backed pulling troops out of Afghanistan because he didn't see the outcome changing regardless of how long Americans were in the war-torn country after 20 years.
While most Americans agree with him that leaving Afghanistan was the right thing to do, the president received low marks on his handling of the withdrawal. That dragged his overall approval rating down, putting him at lower levels than nearly all of his predecessors in 50 years, with the exception of Trump.
Trump told Lindell the Afghanistan withdrawal was the "most embarrassing moment for our country in history."
He also blasted Biden for increased border crossings. Border apprehensions reached a record high over the past year, something the Biden administration initially chalked up to a seasonal influx.
Polls have indicated that voters largely back Republicans as being better equipped at handling immigration and the influx of border crossings. Republicans are likely to capitalize on the immigration issue in the 2022 midterms.
During his interview with Lindell, Trump said Biden should have finished building his signature border wall and also went after the president for problems with inflation and disruptions in the supply chain.
Newsweek reached out to the White House for comment.