Donald Trump Throws Steve Bannon Under the Bus in the Worst Breakup Ever
President Donald Trump blasted his former White House chief strategist Steve Bannon on Wednesday ahead of a damaging book release, saying he "has nothing to do with me or my presidency."
"When he was fired, he not only lost his job, he lost his mind," Trump said in a statement.
An excerpt of writer Michael Wolff's new book "Fire and Fury: Inside the Trump White House," published by The Guardian states that Bannon called a June 2016 meeting between Trump's eldest son Donald Trump Jr., his son-in-law Jared Kushner and former campaign manager Paul Manafort, and a group of Russians at Trump Tower, "treasonous."
"The three senior guys in the campaign thought it was a good idea to meet with a foreign government inside Trump Tower in the conference room on the 25th floor—with no lawyers. They didn't have any lawyers," Bannon said. "Even if you thought that this was not treasonous, or unpatriotic, or bad shit, and I happen to think it's all of that, you should have called the FBI immediately."
The three members of Trump's campaign had been promised information intended to hurt the Republican candidate's opponent, Hillary Clinton.
Trump in his statement attempted to downplay Bannon's role in his campaign, pointing out that he only came on board after the Republican Party nomination had already been secured.
"Now that he is on his own, Steve is learning that winning isn't as easy as I made it look," Trump stated. "Steve had very little to do with our historic victory, which was delivered by the forgotten men and women of this country."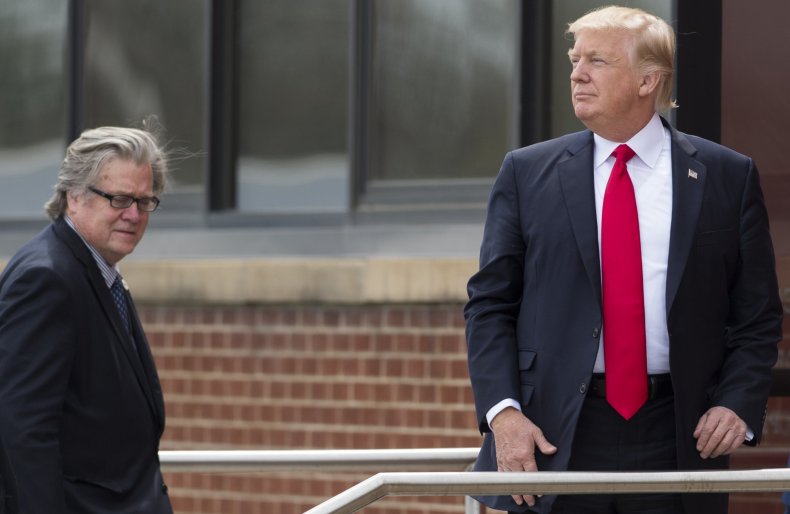 In contrast, Trump said Bannon had "everything to do with the loss of a Senate seat in Alabama held for more than thirty years by Republicans," referring to Roy Moore losing to Democrat Doug Jones.
The president added that Bannon "spent his time at the White House leaking false information to the media to make himself seem far more important than he was."
"It is the only thing he does well," Trump said. "Steve was rarely in a one-on-one meeting with me and only pretends to have had influence to fool a few people with no access and no clue, whom he helped write phony books."
Bannon was ousted from his White House role in August. White House press secretary Sarah Huckabee Sanders claimed at the time the decision for him to leave was mutual.