Donald Trump Tied With Barack Obama as Most Admired Man of the Year, Poll Finds
Donald Trump is considered to be the most-admired man by more Americans this year than in his first two years in office, tying with Barack Obama as the most admired men in the country, with 18 percent of respondents of a new poll naming either the current or former president as top on their list.
The new Gallup poll released Monday shows that admiration for Trump has increased in 2019, despite the findings of special counsel Robert Mueller's report and the president's impeachment in the House of Representatives. In 2017, the president was the second-most admired man, chosen by 14 percent of respondents, while in 2018 the number decreased to 13 percent. Comparatively, Obama has been the most admired man for 12 years in a row.
Perhaps unsurprisingly, the survey results showed a clear partisan divide, with most more Democrats saying they admired Obama the most, and the more Republicans supporting Trump. However, Obama had a slightly more non-partisan fan base, with 3 percent of Republicans as well as 12 percent of independents choosing the former president as their favorite. Only 2 percent of Democrats listed Trump as the man they most admired, while just 10 percent of independents did so.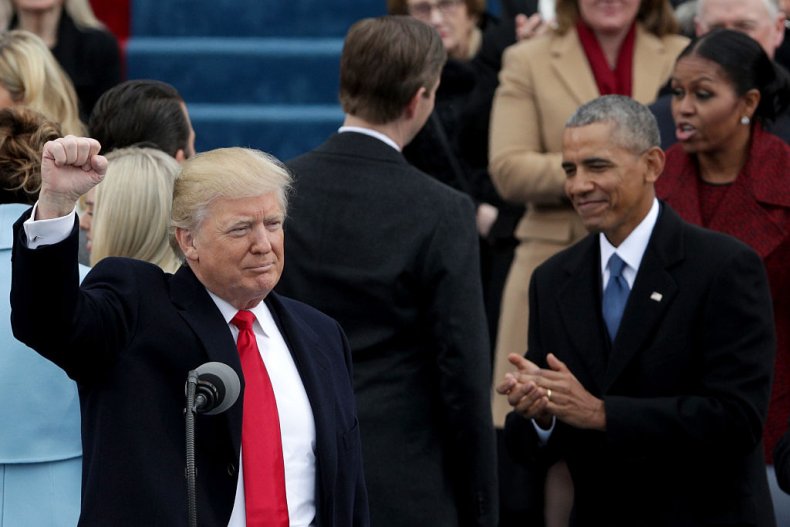 As Gallup noted—according to its polling—the result is in line with Trump's increased overall popularity. The polling agency shows the president finishing out 2019 with a higher approval rating than previous years, at 45 percent. Meanwhile, Obama's continued popularity with Americans appears to be an outlier, with only former President Dwight D. Eisenhower having been considered the most admired man by a double-digit amount of respondents after he left office. In the past two years, 19 percent and 17 percent of respondents cited Obama as the most admired man in the poll.
Newsweek has reached out to press representatives for Obama and Trump for comment.
The survey by Gallup is open-ended, and respondents can write in any name they want. As a result, 11 percent wrote down the name of a family member or friend. No other man garnered more than 2 percent in the survey, while other high-profile names getting a nod included former President Jimmy Carter, billionaire businessman Elon Musk, billionaire Microsoft founder Bill Gates, Pope Francis, Democratic presidential candidate Sen. Bernie Sanders of Vermont and Rep. Adam Schiff, a Democrat from California.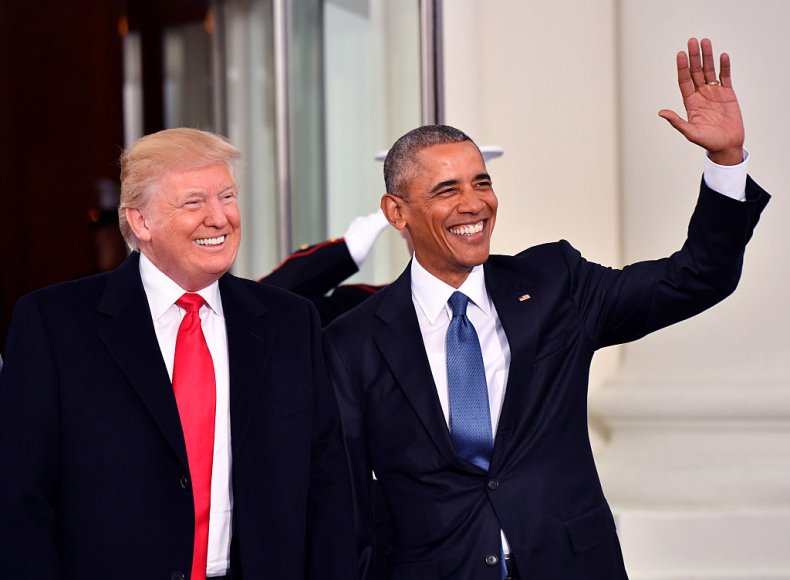 Notably, former first lady Michelle Obama remained to be the most admired woman in 2019. While she was the only woman to receive double digits of support at 10 percent, down from 15 percent in 2018. Comparatively, Melania Trump, the current first lady, was in second place, with 5 percent of respondents naming her. She was followed by media mogul Oprah Winfrey, former Democratic presidential candidate Hillary Clinton and climate change activist Greta Thunberg, who all were named by 3 percent of respondents.
Trump has often compared himself to Obama, criticizing his predecessor and vowing to undo many of the former president's signature policy achievements. While the president remains deeply unpopular with Democrats—with Obama remaining highly popular—he has also maintained solid support from Republican voters. Overall, an aggregate of national polls by Real Clear Politics shows that about 44.3 percent of Americans currently approve of Trump, while 52.2 percent disapprove of him.