Trump's Attack on TikTok May Motivate Young Activists Using it Against Him
President Donald Trump's attack on TikTok might motivate young activists on the platform to utilize it against him.
The administration has recently positioned itself against the Chinese video sharing platform, citing security concerns, and touted a ban in the U.S.
TikTok, owned by Beijing-based ByteDance, was recently banned in India, which has prompted speculation the U.S. might soon follow suit.
While the president's team has aligned against TikTok, which is based around short-form video content shared, politically-minded users of the app have united against Trump.
TikTok activists targeted Trump's Tulsa rally with bogus sign-ups for tickets and claimed to have caused the disappointing turnout, though the campaign denied there was any impact.
People on the app have also urged fellow users to leave low ratings for the Official Trump 2020 App, with thousands of negative reviews given.
Whatever their effectiveness, the president's increasing hostility to the platform might exacerbate such acts against him, Dr. James Dennis, author of Beyond Slacktivism: Political Participation on Social Media, told Newsweek.
"Trump's criticism of TikTok and threats to ban the app could strengthen the political community that is forming amongst young activists on the platform," said Dennis, senior lecturer in political communication and journalism at the University of Portsmouth, U.K.
"I think it will add to the momentum of political organizing on the platform. This activism is based on the legacy of the Trump presidency, but specific criticism of the app and those that use it could mobilize a response."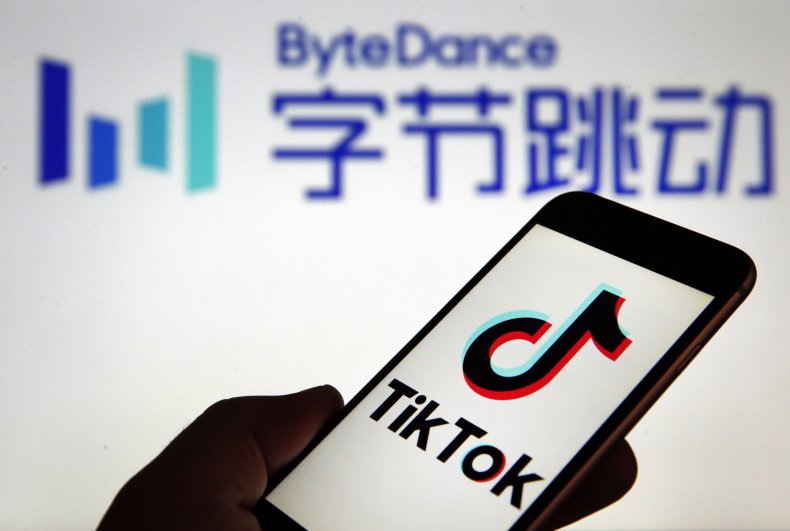 Dennis said Some of those on the platform may also view Trump's TikTok comments as reactionary after what happened around the president's Tulsa event.
"On TikTok, some are framing this as a response to the use of the app to amplify the expected attendance for the rally in Tulsa," he said.
"Although this overlooks the political tension surrounding ByteDance, the Chinese tech company that owns TikTok, it is a significant narrative, especially for those who have relied on it as a source of connection and solidarity during the pandemic."
Dr. Francesca Vassallo, associate professor of political science at the University of Southern Maine, where she set up a minor in social media activism, said the push back could embolden those involved in political acts on the platform.
"If anything, any threat of a ban would only encourage young activists to keep using TikTok as it appears their online actions are working," she told Newsweek.
"Recently, it has worked well to organize new young activists who wanted to become more visible in their participation to support social change, and claim a role in political discussions."
However, she said even if there were a block on the platform, it would not likely stall the activism of its users. "If activists cannot use TikTok, they will use another online platform," she said.
Dr. Paolo Gerbaudo, a senior lecturer in Digital Culture and Society at King's College London, said that while TikTok is growing in popularity, its concept is hard to utilize for political discourse.
Despite this, he said politicians starting to experiment with it sooner may be rewarded if it does become used for such communication—as early adopters often find it easier to flourish on social media sites.
"The new genre of expression and activism that's emerging is interesting," he told Newsweek.
Encouragement to steer clear of the app from politicians could also backfire and actually up the inclination towards it, Gerbaudo said.
"It's very likely for people on the platform to add more kudos, more attraction to the platform," he said.
"A taste for transgression, doing something that you're told not to do.
"So for Generation Z, the people who are the most enthusiastic and embracing of the platform, it's likely if anything to make it even more popular for people to want to go."
Despite this potential boost to TikTok, and those on it who are opposed to Trump, the political consequences are unclear.
"It's incredibly hard to say if it could influence voting behavior though, given the amount of stimuli people are exposed to throughout the campaign that can shape that decision," Dennis said.
While the prospect of a ban has been touted, there may be practical difficulties in enacting one, and concerns have been raised that attempting to do so could threaten free speech, as previously reported by Newsweek.
A senior administration official told Newsweek there were concerns over user data and censorship, due to TikTok being owned by a Chinese company.
They said: "We are concerned about Beijing's well-documented censorship within Chinese owned apps, as well as Chinese laws which grant access of user data to PRC intelligence and security services."
TikTok has pushed back against criticism, insisting it prioritizes being "safe and secure."
"TikTok is led by an American CEO, with hundreds of employees and key leaders across safety, security, product, and public policy here in the U.S.," a TikTok spokesperson said in a previous statement.
"We have no higher priority than promoting a safe and secure app experience for our users. We have never provided user data to the Chinese government, nor would we do so if asked."
Newsweek has contacted TikTok, the Trump campaign, and the State Department for further comment.
The graphic below, from Statista, shows the nations which have had the most downloads of TikTok.