Trump Toast: Bread That Looks Like President Auctioned Off In New Zealand
A man in New Zealand is auctioning off a photograph of a piece of toast that he claimed bore the image of President Donald Trump.
The vendor—who only gives his first name, Adam—has labeled the bizarre auction "Donald Trump is Toast" with a starting price of $1 on Trade Me.
In it, he displays a framed photograph of the piece of toast which appears to demonstrate an uncanny resemblance to the U.S. president in a suit and tie.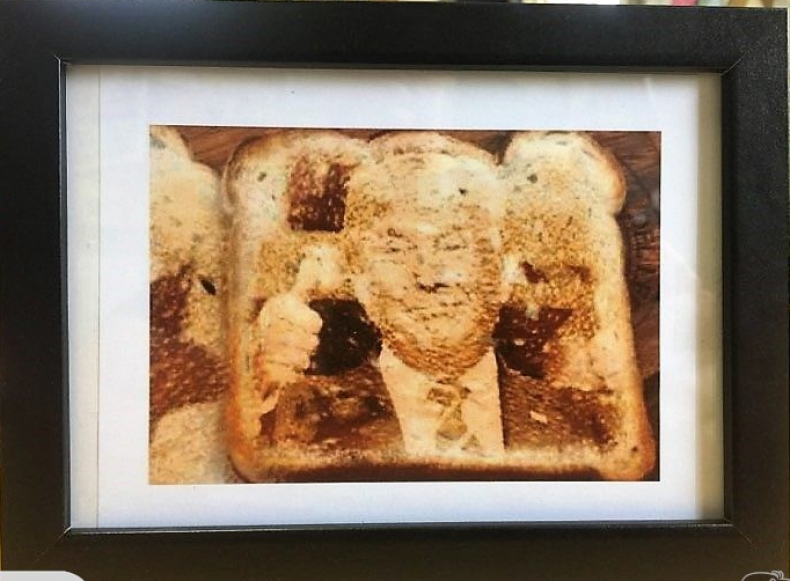 "Who knew this morning that when I put a piece of delicious Nature's Fresh white bread into my trusted 1983 Sunbeam toaster, that my life would alter forever," the West Coast-based seller wrote in the product description.
"For when the toast popped up, low and behold, an image of the man that has divided the world appeared right in front of me, staring at me like an apparition from another dimension. Was I dreaming, was this #FakeNews? Nope, it was true alright, and I was now left with the thought of what to do next," he added.
In the end he decided to simply "take a photo of it and get it framed to sell on trade me," before feeding the actual toast to his cat.
The listing has already attracted 15 bids on the country's largest online auction website and prompted several pun-induced comments.
"Could this make toast great again???" one user asked.
Adam admitted to the New Zealand Herald that the toast was actually computer-generated but that he would continue with the auction to raise money for charity.
"All funds raised will be donated to my dear friend Lisa Fisher who's travelling to Russia for Multiple Sclerosis treatment in October, so all going well we might be able to raise a little bit towards her costs, thanks to good old Donald Trump," he wrote.