Trump Acted Like a 'Toddler,' 'Kept Mentioning' Arming Teachers, Texas School Shooting Victim Mom Says After Meeting
Following a meeting with families impacted by a recent school shooting in Santa Fe, Texas, Thursday, President Donald Trump was described by one of the victim's mothers as acting like a "toddler" as he repeatedly talked up his idea of arming teachers. Ten people, eight of them students, were killed, along with a dozen injured, during last month's shooting at Santa Fe High School.
Trump met with the families during a short visit to Houston during which he also attended political events. Prior to his arrival, White House spokesman Raj Shah said that Trump approached such meetings with victims' families as an opportunity to "listen" and "learn."
One grieving mother, however, criticized Trump for doing otherwise.
After she raised the idea of utilizing veterans to keep guard at schools, Rhonda Hart, whose 14-year-old daughter, Kimberly Vaughan, was one of those killed in the shooting, said Trump's response was: "And arm them?" according to the Associated Press.
Hart replied, "No," but says that Trump then "kept mentioning" arming teachers. She added, "It was like talking to a toddler."
Trump first raised the idea of arming teachers in the wake of February's school shooting in Parkland, Florida, in which 17 people were killed. He later brought up the prospect again during a meeting with survivors of school shootings and victims' parents, to a mixed response. The plan has been slammed by teachers unions.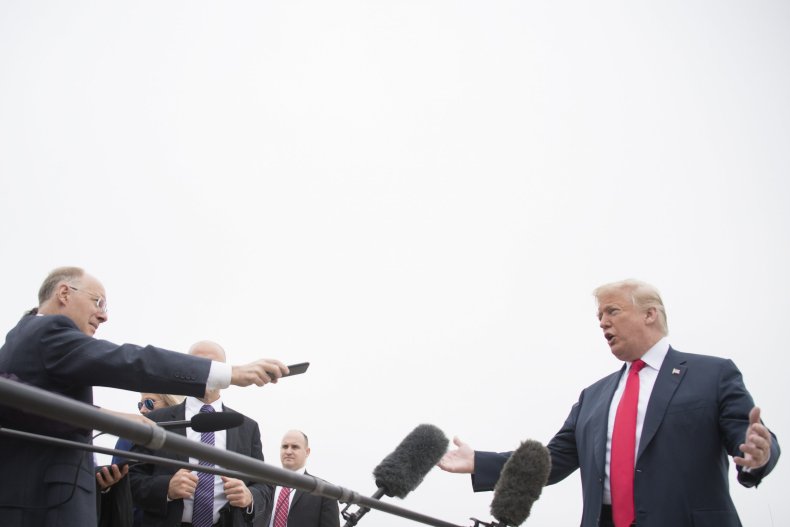 Thursday's interaction was not the first time Trump's ability as so-called comforter-in-chief has been called into question. On a visit to Puerto Rico last October following Hurricane Maria, Trump was roundly criticized for an appearance with local residents in which he threw paper towels, basketball-style, into the crowd.
His interaction with parents wasn't Trump's only snafu Thursday. Prior to departure for Texas, Trump told reporters he was going there to "have a little fun."
But the president also received positive reviews for his efforts.
"He met with us privately and showed sincerity, compassion, and concern on making our schools safer across the nation," Pamela Stanich, whose 17-year-old son, Jared Black, was among those killed, wrote in a Facebook post in which she also slammed those who criticized Trump. "He hugged us and was gracious with his condolences. He spent time talking to the survivors and asking on what happened and what would have made a difference. Changes are coming for the good. Thank you Mr. Trump."