Donald Trump Told Chris Christie to Lose Weight: 'You Gotta Look Better to Be Able to Win,' Book Claims
In his forthcoming book, former White House transition team chairman Chris Christie claimed that Donald Trump once told him he needed to lose weight in order to make strides in the political world.
Trump told Christie at a dinner in 2005, "You gotta look better to be able to win," Christie wrote in his new book, Let Me Finish, The Guardian reported on Tuesday based on an advance copy it obtained ahead of the January 29 release date.
Christie, a former New Jersey governor, wrote that Trump addressed him as if he were a contestant in the Miss Universe pageant, a competition that the future president owned. Christie also wrote that Trump again approached him about his weight during the 2016 presidential campaign, asking him to wear a longer tie to help him appear skinnier.
Christie made an unsuccessful bid for the Republican presidential nomination and afterward, in the summer 2016, tried to become Trump's vice presidential running mate. Trump picked Mike Pence.
At a May 2016 fundraiser to pay off Christie's presidential campaign debt, Trump publicly mocked Christie's weight. Trump made the remark while talking about a Nabisco cookie plant that was moving out of Chicago to Mexico.
"I'm not eating Oreos anymore, you know that—but neither is Chris," Trump said, pointing to Christie in the crowd. "You're not eating Oreos anymore. No more Oreos. For either of us, Chris. Don't feel bad."
Christie's weight was scrutinized in 2011 after he was hospitalized for breathing problems.
"The weight exacerbates everything," Christie said when he left the hospital. "I've been pretty candid about that, right from the start of my public career. Christie also quietly underwent gastric-banding surgety in 2013.
"I weigh too much because I eat too much. And I eat some bad things too."
While Trump has criticized Christie, the president isn't in the best shape himself.
After his physical examination in January 2018, Trump was found to be 1 pound below the threshold for obesity put on a diet plan plan by Dr. Ronny Jackson to lose 10 to 15 pounds. The regimen included ditching his favorite foods—McDonald's and red meat—for salads, fish and soup.
Christie was reportedly considered to be Trump's next attorney general, but that did not materialize. Trump nominated William Barr, who was U.S. attorney general under President George H.W. Bush, whose confirmation hearing is happening Tuesday.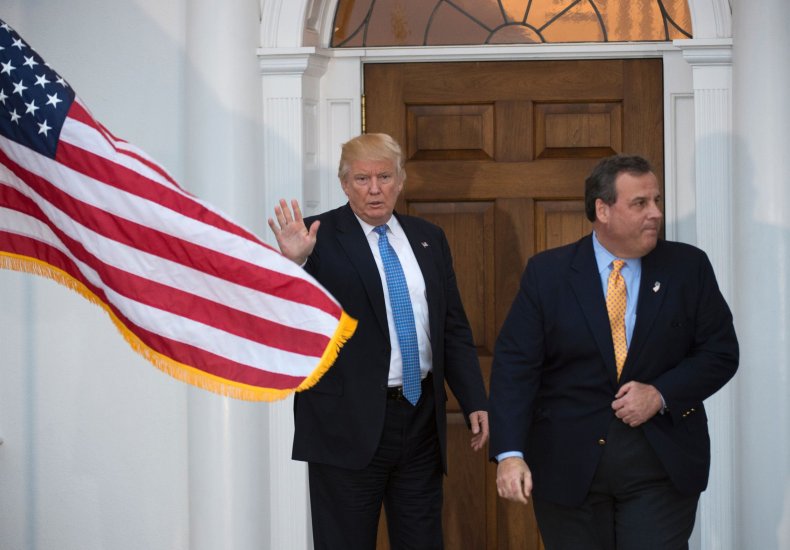 In his new book, Christie also detailed that he first met with Trump in 2002 for dinner at the Trump International Hotel and Tower in New York City, and that Trump ordered for him. Trump apparently ordered scallops, which Christie is allergic to, and lamb, which Christie does not like. It led Christie to wonder if Trump considered him "one of his chicks."