Donald Trump Told 'Hands Off Venezuela!' by Country's President, Who Has Full Backing of Russia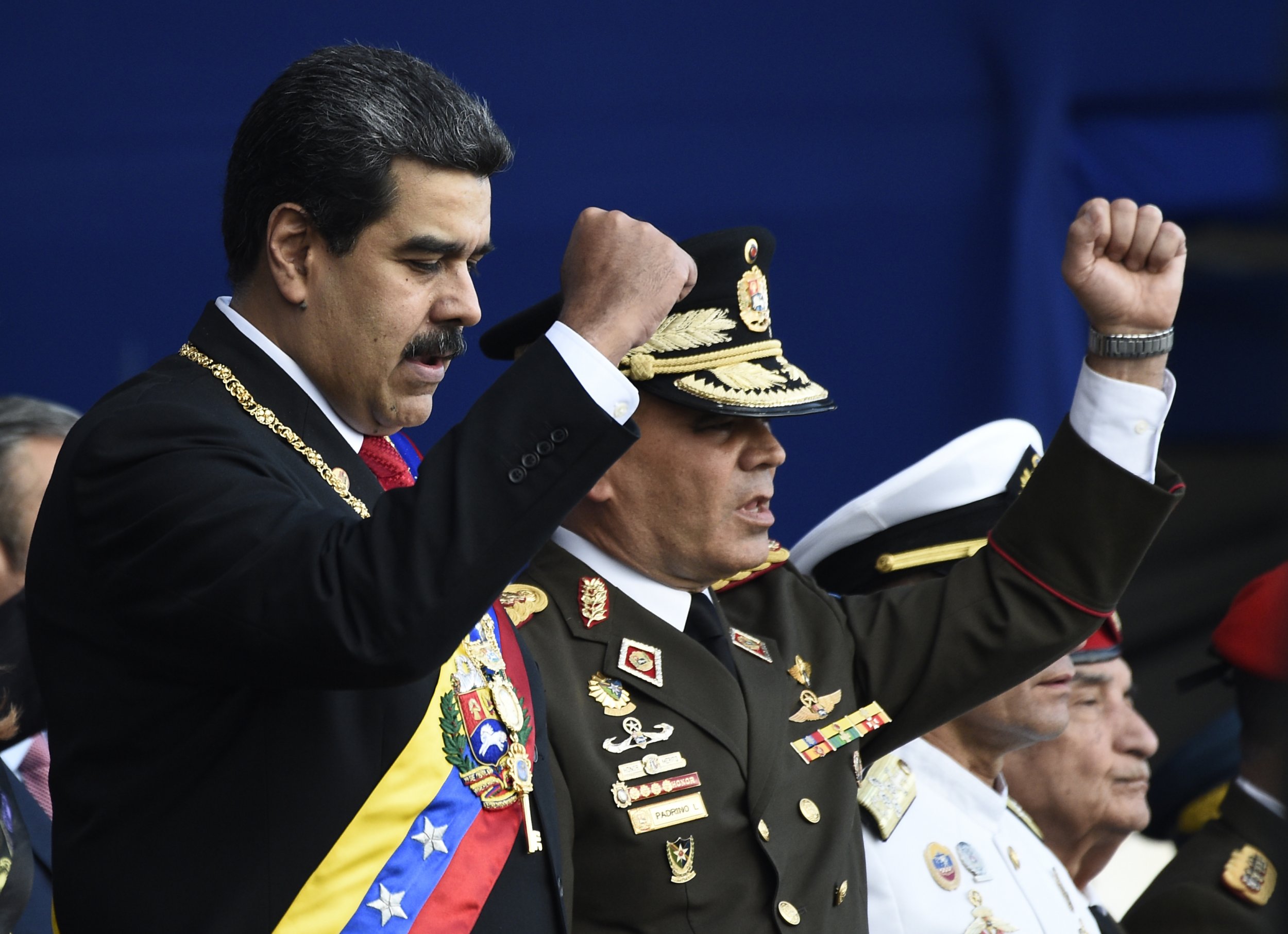 Russia has thrown its support behind Venezuela, saying it will do "everything" to back President Nicolas Maduro as he defiantly rejects calls by Washington to hand over power.
Efforts to unseat Maduro have been stepped up over the last few days, after the U.S. imposed sanctions on Venezuela's state-owned oil firm PDVSA.
U.S. National Security Adviser John Bolton has refused to rule out the possibility of U.S. military involvement, with a White House spokesman saying "all options are on the table," the BBC reported.
But as the U.S. joins more than 20 countries in recognizing opposition leader Juan Guaido as interim president, Maduro said he would not back down.
In a television message, Maduro stared down the camera and said: "Donald Trump, do not get involved with Venezuela! Hands off Venezuela! Donald Trump, hands off Venezuela!"
This is at odds with the comment by the country's foreign minister Jorge Arreaza who told local media Maduro is ready to contact Trump and "even meet with the devil to keep the peace in Venezuela," Voice of America reported.
On Tuesday, Russian Foreign Minister Sergey Lavrov criticized the U.S. sanctions, which meant that proceeds from the sale of Venezuelan oil would be withheld from Maduro's government.
In a press conference, Lavrov dubbed the U.S. sanctions "illegitimate" and "cynical," adding that Russia "along with other responsible members of the global community will do everything to support the legal government of the president," RIA Novosti reported.
There is concern in Moscow about the level of debt Caracas owes Russia. Russian Deputy Finance Minister Sergei Storchak said the sanctions may mean Venezuela will have problems servicing sovereign debt to Russia.
Venezuela has two months to pay Russian $100 million and there is uncertainty as to whether PDVSA can service its debt to Russia's state energy giant Rosneft, Radio Free Europe reported.
Russia has a huge stake in the South American country, having loaned it more than $17 billion since 2006.
There was much speculation as to what the U.S. would do next, after Bolton was pictured holding a notepad with a handwritten message that read "5,000 troops to Colombia."
However, one US official told Agence France Presse "we are not seeing anything that would support" a possible troop deployment to Colombia.
As well as Russia, Mexico, China and Turkey have publicly backed Maduro. European countries including Spain, Germany, France and the UK said they would recognize Guaidó as president if elections were not called within eight days.
Meanwhile, the death toll from protests in the streets continues to climb. According to a United Nations estimate, at least 40 people have been killed and 850 arrested since last Wednesday, EuropaPress reported.