A View From the Tower: Donald Trump Emerges Victorious and Gives a Farewell to Ted Cruz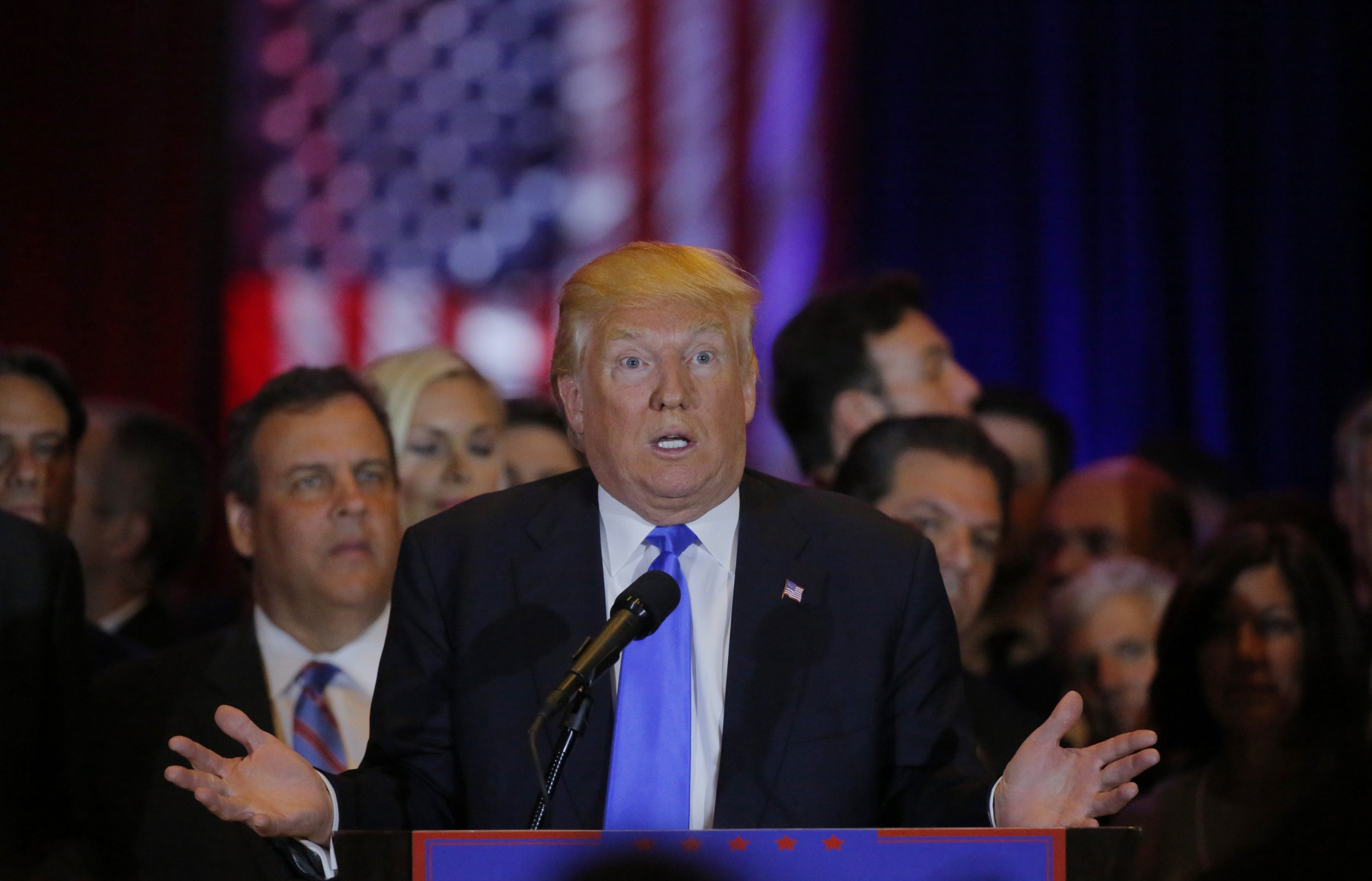 In the fog, Trump Tower rises like a slab of serrated black silica above Fifth Avenue and East 57th Street in New York City, dwarfing the classiness of midtown flanking it on all sides: Tiffany to the north, Gucci to the south, Chanel, Dior and Saint Laurent Paris all just around the corner. As the people of Indiana sealed Donald Trump's "incredible" deal with American political destiny on Tuesday night, TV trucks and police cars blocked the views from Prada and Bulgari of the building's pharaonic scaled entrance across the street, which was now bristling with cops. But other than that mild traffic disturbance, it was a normal Tuesday evening in Manhattan. Up the street, a white carriage horse with a great red feather between its ears pawed the asphalt of Central Park South, the head of a line of horses, all idle, no takers in the rain.
The media were, as always, advised to arrive early for his victory press conference, and this one, as it turned out, was also a farewell to "Lyin' Ted." Waiting, there was ample time to contemplate the mausoleum quality of the 30 vertical feet of brown-and-white marble lining the walls of the lobby where the mogul holds his press conferences. The lobby is a public space, and there's a Starbucks in the atrium on the second floor, behind a mirrored balcony, that tourists must visit. But on Tuesday night, the building was in lockdown as Secret Service members and other men with wires in their ears blocked the elevator doors.
Speaking from Indianapolis, Cruz, seen at Trump Tower on a giant flat screen tuned to CNN, then laid an orotund coda on his presidential hopes. The mogul's gathered supporters erupted in cheers. There was no time to read the tweets of shock and awe before the Rolling Stones' "Pump It Up" ricocheted off the walls, announcing the victory processional of Trump, his wife, his three grown children and their wives.
The mogul strode to the podium, looking just this side of chastened—smaller and a little more blowsy than usual. He seemed stunned. The scale of the room diminished him, and the inclement weather—or perhaps the shock of Cruz's withdrawal minutes before—had blown his hair into tufts.
"I started watching all of the networks today, and I could see immediately that we were headed for a massive victory, and it looks like we get all 57 delegates," Trump said as the crowd cheered.
It had not been easy, though. "I must say, in Indiana, all I saw was negative ads, one after another," he went on.
"I called my people, and I said...'60,000 negative ads. 60,000 negative ads!' Most of which are absolutely false and disgusting, And I said, 'How can anybody endure this?' It's just incredible. And the people are so smart. They don't buy it. They get it. Millions and millions of dollars, tremendous amounts of money was spent. Probably $80 million spent against me. And we spent not even $100,000. That makes me feel really, really good."
He then laid out his next steps: first Nebraska and soon dealing with Hillary Clinton in West Virginia. "She will not be a great president. She will not be a good president. She doesn't understand the single worst trade deal ever done. It's called NAFTA," he said.
Trump then described the unemployment he's encountered on his campaign. "I have witnessed what it's done firsthand, and it has been, indeed, carnage." He promised to prevent U.S. companies from moving jobs overseas. "There will be consequences," if they choose to do so, he said.
Other than the pounding Stones anthem, and the occasional cheers of about 100 supporters penned in as a backdrop, the event was rather subdued, with Trump restrained. The three Trumplings and their spouses, as well as the Sphinx-like Melania Trump, wore fixed, sober expressions, rarely cracking a smile.
Before he left, Trump gave his last adversary in the GOP race a public farewell.
"All my life, I've been in competitions," he said. "Different competitions, whether its sports of business. I have to tell you that I have met some of the most incredible competitors that I have ever competed against right here in the Republican Party. Ted Cruz. I don't know if he likes me or he doesn't like me, but he's been one hell of a competitor. And he's got an amazing future. I want to congratulate Ted. I know how tough it is. I've had some moments when it's not looking so good. And it's not a great deal. So I understand how Ted feels."
He promised that America, on his watch, would be "a loving country."
After speaking for around 12 minutes, the candidate left by the way he'd entered, beyond the nesting double G Gucci logo on the marble wall, somewhere under the polished escalator, ignoring all reporter questions.
His son Don Jr. stuck around. "Was he shocked?" a reporter asked, regarding Cruz's exit. "I think so!" the tanned businessman replied.
The candidate's eldest son and namesake riffed on his father's 10-month evolution from GOP debate clown to populist hero, slayer of the Republican establishment, and a figure who at least half of all voters believe resembles the second coming of Adolf Hitler.
"When you go from 'he has no chance' to this, it's surreal," Don Jr. said. "My father got in there and immersed himself in a place where he's not comfortable. He's incredible to watch. My dad's not the kind of person who scrubs his every thought and goes through computer databases looking for what to say. He thought real estate and business was tough, but this is incredibly brutal. But when you see people come up to him and say, 'Thank you for doing this,' it just brings tears to your eyes."