How Bette Midler, Alyssa Milano and Other Celebrities Reacted to Trump's Town Hall
As both Donald Trump and Joe Biden took part in televised Town Hall events last night, supporters and critics of both candidates were out in force voicing their views on how each performed.
The two political opponents both held town hall events on Thursday night. Biden announced his first after Trump pulled out of the second presidential debate because organizers had shifted the in-person event to a virtual format. The president then scheduled his own town hall to run at the same time as Biden's.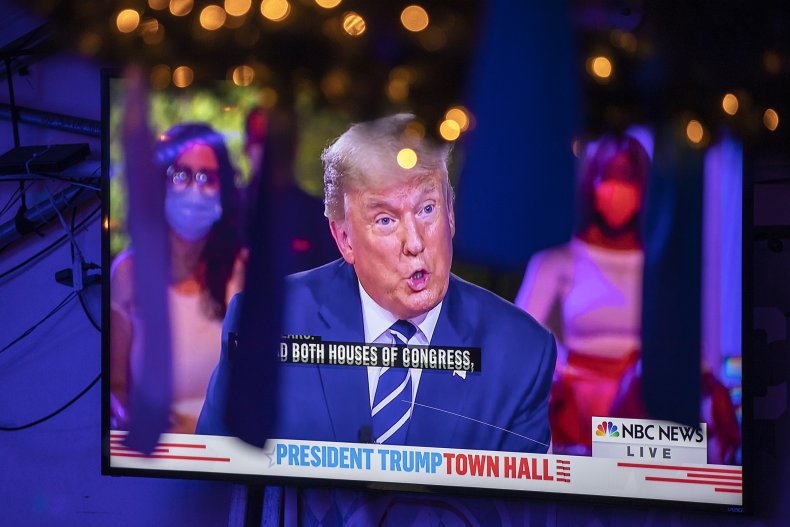 Bette Midler, who has not relented on her attacks on Trump in the lead up to election day had a lot to say about the president's performance last night.
Comparing both Biden and Trump's events, she wrote: "There are two town halls on tonight. One is a human being who actually makes sense and has a coherent way of communicating, and the other is utterly befuddled and can't follow a thought, because he is mentally incapacitated. That man is the demented lunatic, #DonaldTrump."
The Hocus Pocus actress later described Trump as "utterly loathsome and without any thought of consequences" adding: "#Trump spreads disinformation around the globe, every time he picks up his phone. And he doesn't care! Good for #SavannahGuthrie for holding his bone spurs to the fire."
She also condemned Trump for not accepting responsibility for inciting QAnon and calling him a "crazy uncle."
"Look at this a**hole," she wrote. "Once again, 'I know nothing about it' and 'how about those Antifa? Face it. He IS the #CRAZYUNCLE tweeting in the basement! 'I take no responsibility.' The mantra of his presidency."
Musical icon Barbra Streisand did not hold back either in her critique of Trump and the GOP.
"The whole GOP agenda is to lie about their policies of transferring money to the rich and powerful corporations and play upon real and imagined grievances of the public," she wrote.
The Funny Girl actress also slammed Trump for his stance on QAnon: "Tonight Trump made the statement against all medical expertise that masks didn't work against the virus. He also refused to denounce the crazy QAnon cult and its conspiracy theories."
Comedian Wanda Sykes agreed that Trump didn't want to face Biden in another debate, adding: "Trump bails on the Town Hall debate with Biden because he didn't want another ass whupping so NBC decides to air a special episode of, 'The Apprentice.' ? Nah. I'm BLACKING OUT NBC and MSNBC today! This does not support democracy, this supports a sideshow."
Frequent Trump critic Alyssa Milano simply called the President "disgusting" and shared a clip of him saying "so cute" in response to a question from host Savannah Guthrie.
Actress Patricia Arquette condemned Trump for refusing to denounce QAnon.
"This is the 2nd time Trump denied knowing about QAnon," she wrote. "He had weeks to learn or ask his staff. Instead he is pushing many debunked conspiracy theories. Several which are disinformation campaigns crafted by hostile foreign nations to impact an election."
Author Don Winslow added: "Trump is lying today on an unbelievable level even for Trump."
Star Wars actor Mark Hamill called Trump "unhinged" and "conspiracy-minded," writing: "She says watching @JoeBiden feels like she's watching Mr. Rogers* as if being intelligent, thoughtful, decent & inclusive is a BAD thing. I like presidents who aren't unhinged, conspiracy-minded, white-nationalist fans. *misspells his name, of course."