Trade War Escalation Could Bring Recession Within 6 Months: Morgan Stanley
As President Donald Trump hammers heads of state to agree to new trade deals and threatens the use of tariffs at the G7 meeting in Biarritz, France, Morgan Stanley has predicted that recession is imminent, largely because of said tariffs.
In a research note sent to investors Sunday evening, economists from the investment bank wrote that if President Trump goes through with his most recent promise to raise tariffs on Chinese goods to 25 percent for more than four months and China responds, "we believe that the global economy will be in recession in the next 6-9 months."
Because of additional tariffs on China, Morgan Stanley downgraded its growth outlook for the first quarter of 2020 from 2.8 to 2.6 percent, and believes that the deceleration will continue further into the year.
On Friday, President Trump hiked tariffs on billions of dollars of Chinese goods in response to another round of announced duties coming from China. This round of trade escalation, wrote Morgan Stanley's U.S. public policy head Michael Zezas, is what could be what finally pushes the global economy off the edge and into recession. "Friday's escalation of tariffs between the U.S. and China suggests they've not moved any closer on the key negotiation points that have separated them since May 5," he said. "Neither side sees the benefit to cooperating as better than hanging tough... We expect that tensions will continue to escalate at least until the costs of doing so are too big to ignore."
Over the weekend the president appeared to regret his decision though. When a reporter asked if he had second thoughts about the tariffs, he replied, "Sure, why not?" He continued, "Might as well. Might as well... I have second thoughts about everything."
The White House, however, quickly sent out senior advisers to clarify that the president didn't mean exactly what he said. White House spokeswoman Stephanie Grisham said that "his answer has been greatly misinterpreted. President Trump responded in the affirmative—because he regrets not raising the tariffs higher."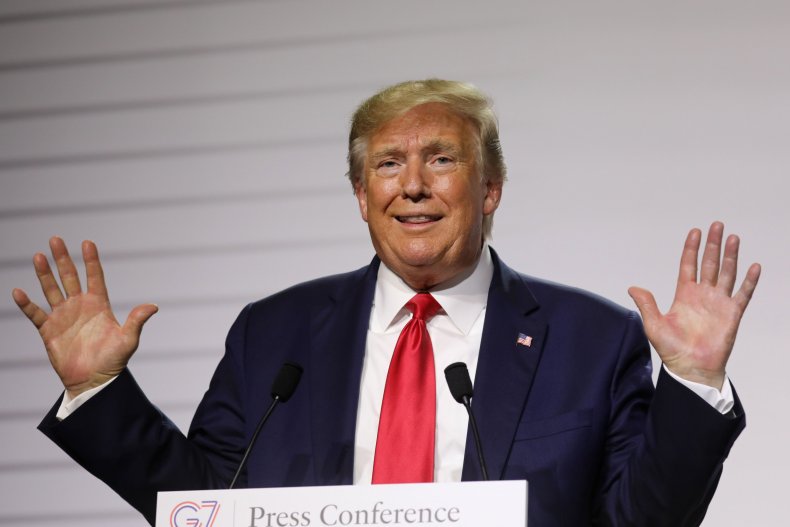 The president said Friday he would raise existing tariffs on $250 billion of Chinese goods to 30 percent from 25 percent starting on October 1. Tariffs on another $300 billion of imports from China will also go up to 15 percent from 10 percent over coming months. The increase is in response to an announcement that China will impose tariffs on an additional $75 billion of U.S. imports and that it would reinstate previously suspended tariffs on auto products.
On Monday, however, the president was already backtracking. "China called last night... and said let's get back to the table. So we'll be getting back to the table," he said at the G7 summit. China, he said, wanted to "make a deal." Beijing did not confirm the calls, and a spokesperson seemed relatively unaware of the development, but did say that China would not succumb to U.S. threats.
The trade war, meanwhile, is driving uncertainty in the U.S. and global economy, global leaders have attempted to use the G7 to warn the president of the economic pain tariffs have been causing, but the White House appeared to interpret the warnings differently.
British Prime Minister Boris Johnson said during an on-camera meeting with the president, "We don't like tariffs on the whole" but White House economic adviser Larry Kudlow suggested to CNN that the video was fake. "I'm not sure what you just played is from that meeting," he said, responding to the video that clearly showed Johnson in the meeting. "I was in that meeting for two hours with the world leaders... all those world leaders, every single one of the seven leaders agreed and I'm not sure that something that you just played is something from that meeting... they are totally behind President Trump."
Morgan Stanley economists, meanwhile, have pointed to troubling signs: Real GDP growth is at a 6-year low, and trade volume is at its lowest level since January 2012.
The impact from the Republican tax cuts in 2018 is also beginning to fade, and cracks in the U.S. labor market are starting to appear, wrote the bank's economists. While unemployment is still low, there has been a loss of momentum over the last seven months. "Continued trade tensions, combined with reactive monetary and fiscal policy, mean that the risk of non-linear tightening in financial conditions, triggering a global recession, is high and rising," they wrote.