Trump's Trade War Is Hurting China But It's Not Solving America's Biggest Problems, Former Ambassador Says
Trump's China policy has been by far the most adversarial of any modern president. Both on the campaign trail and since he moved into the White House, China has been one of Trump's favorite punching bags and the confrontation fits with the no-nonsense, macho image he tries so hard to cultivate.
The president has claimed that a long awaited deal to end his damaging trade war with Beijing is close at hand, though new developments seem to have cast that in doubt.
If a deal does materialize, the president will hold it up as evidence of his victory over China. He will tout the deal as an achievement that his predecessors—especially President Barack Obama—were too weak to fight for, and one that validates the tariff tit-for-tat that has reportedly cost more than 300,000 American jobs.
The trade war is hurting China, too. But Beijing has continued its march to superpower status, expanding its reach across the globe to the concern of many in the U.S. Trump may have taken the fight to China, but it is unclear whether he has actually been able to contain it.
Whether or not Trump comes away from his trade war with something to sell to voters, his time in office has marked a turning point in the global perception of China. Politicians, journalists and voters around the world are now far more aware of Beijing's growing economic and military clout—and its authoritarian tendencies.
China has long been considered a key geopolitical challenge by American policymakers. Back in 2012, President Barack Obama announced his administration's "Pivot to Asia"—acknowledgment that the next century will be driven by developments in the global East rather than the West.
Diplomats and analysts have long tried to establish China's endgame. Does Beijing wish to become a regional hegemon and establish self-sufficiency from the U.S., or do the Communist Party leaders see China as the future dominant global superpower?
Former U.S. Ambassador to China Max Baucus told Newsweek that President Xi Jinping and his colleagues have a plan. For thousands of years, Chinese leaders have considered their nation "the center of the universe," he explained.
The past 200 years or so of weakness and humiliation is seen as a blip, and now "they think their time has arrived, the wind is at their back," Baucus added.
Baucus suggested that the historical moment plus the vastly different natures of the two countries makes tensions inevitable.
That said, the former ambassador explained, "President Trump and President Xi both have accelerated the difference" between the two countries.
Trump has regularly boasted that his trade war is hurting China, citing lower than expected growth figures. "There's no question it's hurt China," Baucus said, though argued the tariffs have not accomplished America's objectives—"namely, structural change in China."
"I don't see much structural change, and I don't know if there's going to be much structural change," Baucus explained.
Rapid economic growth, technological advancement and military investment has transformed the world's most populous nation into a powerhouse. Imbued with new-found confidence, China has been moving out into the world.
In Asia, Africa, Europe and South America, China has been upping investment while building diplomatic and trade relationships.
Major projects like the Belt and Road Initiative signal Beijing's intention to become a superpower, while domestic authoritarianism and military expansion in the South China Sea have shown no appetite to brook opposition.
The South China Sea and the Taiwan Strait are currently the best examples of territorial flashpoints between Washington and Beijing.
Gregory Poling, director of the Asia Maritime Transparency Initiative and fellow of the Southeast Asia Program at the Center for Strategic and International Studies think tank, told Newsweek that China has become more assertive in East Asia since Trump came into office.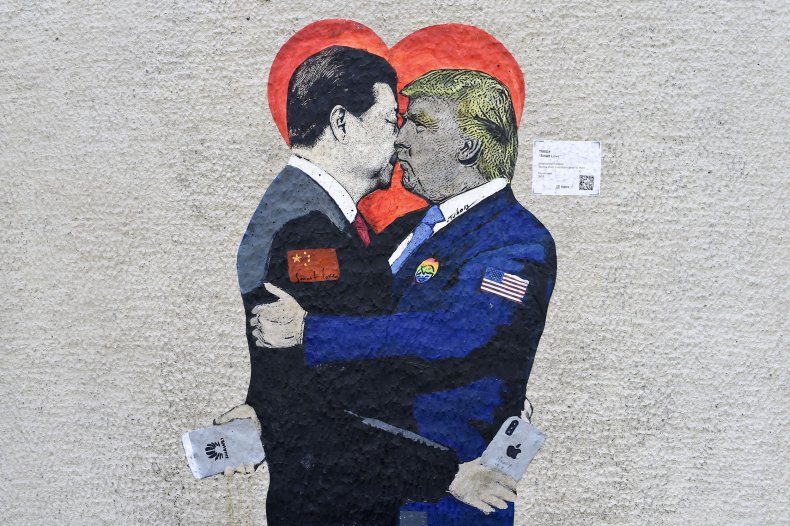 Beijing's claims in the South China Sea overlap with several of its neighbors'. China has been broadcasting its diplomatic efforts to solve the problem, but Poling said the reality is that Beijing is using its revamped military to force the issue.
"The numbers show a steady increase in Chinese deployments in the South China Sea, violent incidents with neighbors in Southeast Asia," he explained. This includes "an increase in coercion and threats of violence toward civilian actors, especially oil and gas operators in the South China Sea."
China has already established effective control of the area by building a network of militarized island bases surrounding it. Now Beijing is basing hundreds of small vessels and coastguard ships on the bases, which Poling said has "fundamentally shifted the balance of power in peacetime."
"China sees everything that moves on and above the South China Sea and is able to intervene in the lawful activities of its neighbors as never before," he added.
Poling said the Trump administration has "done very little on that front," despite listing the South China Sea as one of its top regional priorities.
Mathieu Duchatel, the director of the Asia Program at the Institut Montaigne, told Newsweek China is "consolidating gains" in the South China Sea, though suggested international attention on the area and Taiwan has recently made Beijing slightly less confrontational there.
Regardless, Poling warned that the administration's "refusal to focus on the issue means that Trump's successor will be forced to contend with a China in a much stronger position in the South China Sea, and with Asian partners who are much more skeptical of U.S. reliability."
The White House, Poling added, "seems committed to alienating" such partners, which could come back to bite the U.S.
Indeed, Duchatel argued that failing relations with regional allies is one of America's greatest challenges in its future China strategy.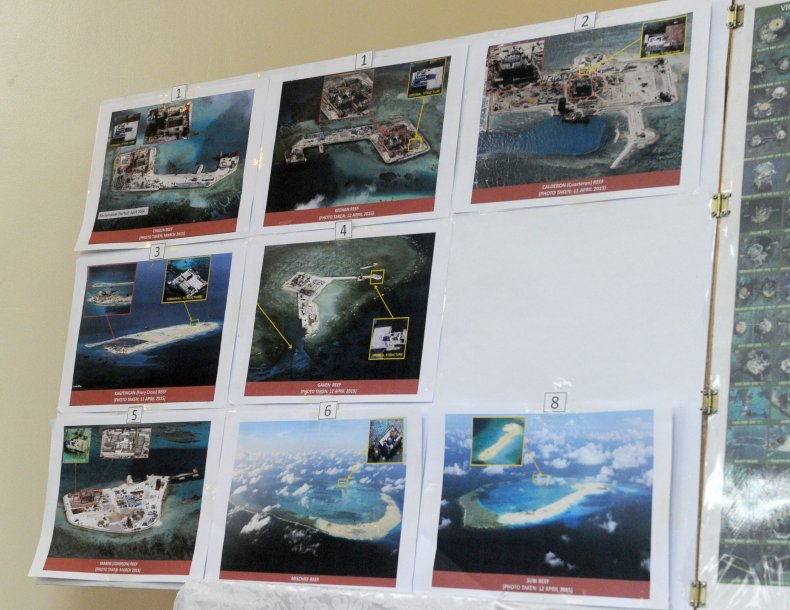 Elsewhere, Duchatel also noted that China "has toned down its rhetoric" on the Belt and Road initiative as nations "realized the gap between announcements and the reality." He added that the Trump administration is "only partly responsible" for such changes.
He did, however, give the administration credit for pushing the problem and awareness of forced technology transfers, which has advanced in recent years.
Indeed technology has been a major sticking point in recent years, beyond long established concerns about Chinese theft of foreign intellectual property.
The U.S.-China showdown over 5G saw the Trump administration block American companies from selling components to the Chines tech giant Huawei, amid fears that the proliferation of its 5G networks and devices presented a national security threat.
Washington even pressured its European allies to do the same, with limited success.
But any foreign policy restraint does not necessarily mean China has been cowed by the realities of power projection, Duchatel added. "There is a clear intention and effort to strengthen Chinese influence globally," he explained. "But China can stick to low-key approaches when it suits its interests."
Trump's China policy will at least partially set the tone for his successor, whether they like it or not. "Recognition that China is a strategic competitor is now bipartisan in Washington, so Trump's successor will almost certainly be more confrontational than the Obama administration," Poling predicted.
Still, after the Trump era of confrontational politics, the next president will likely "be more strategic," Poling added. "The problem with the Trump administration's China policy is that it is highly combative but with little strategic vision; it isn't enough to be tough without understanding where and why to pick your battles."
Baucus said the next leader, even if he or she is a Democrat, is likely pursue a lot of the same policies as the Trump administration. The difference, he added, is that the next president will be a lot more predictable.
Future administrations will see Beijing as a problem, but Baucus said they must approach it in a "comprehensive, sophisticated way, rather than just slapping tariffs on."