Donald Trump's Economic Adviser Says Trade Wars Will Cause Many Companies to Have Earnings 'Downgraded'
President Donald Trump's economic adviser warned Thursday that "a heck of a lot of U.S. companies" will need to downgrade their earnings outlook this quarter, a troubling sign for the economy.
Kevin Hassett, chairman of the Council of Economic Advisers, was responding to Apple's announcement Wednesday that there would be a slowdown in first-quarter sales. In an interview with CNBC Wednesday, CEO Tim Cook said that "trade tensions between the United States and China put additional pressure on their economy," and caused the downgrade. Shares of Apple dropped sharply and were down another 10 percent Thursday.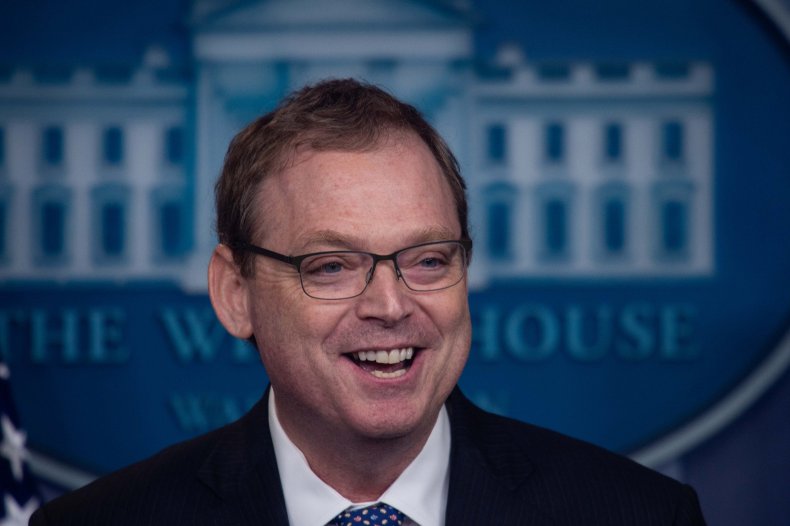 But Hassett, sporting his signature smile Thursday morning told CNN that "there are a heck of a lot of U.S. companies that have a lot of sales in China that are basically going to be watching their earnings be downgraded." Things will continue this way, "until we get a deal with China, It's not going to be just Apple," he said.
Companies will suffer in the short term, said Hassett, but could eventually benefit from increased tariffs. "If we have a successful negotiation with China then Apple sales and everybody else's sales will recover. But right now, China is feeling the blow of our tariffs," he said on CNN.
Apple originally estimated that they would bring in between $89 billion to $93 billion in sales this quarter. In a letter to investors Wednesday, they downgraded that estimate to $84 billion. Nearly 20 percent of Apple's revenue comes from China. Other companies, like Starbucks and Nike, also derive a large portion of their sales from Chinese customers.
In March, Hassett assured the American people that there would be nothing to worry about when it came to Trump's trade wars and the U.S. economy. "Our steps in this trade dispute have been very well-crafted to put pressure on [China], but not to be super harmful to us," Hassett said during a Council on Foreign Relations discussion.
The Dow slipped nearly 650 points on Thursday.
But despite the tumble in stocks, Hassett said Thursday on CNN that there would be no recession to worry about. "Look, there's never been a recession that started in the quarter after a quarter like the one we just had in the fourth quarter of last year.… With the kind of momentum we've got, I really don't see a recession," he said. He kept his prediction of U.S. economic growth for the year at 3 percent.
On Wednesday, Trump called the sharp fall in the market last month a "glitch" that would soon correct itself. Last March, the president said that trade wars were "good" and "easy to win."