Donald Trump Trails Governors By Almost 30 Points in Coronavirus Approval Poll
President Donald Trump trails state governors by almost 30 points in a new coronavirus approval poll published Wednesday.
The latest survey from The Washington Post and the University of Maryland found that almost three-quarters (73 percent) of Americans felt their state governor had a "good" or "excellent" reaction to the COVID-19 pandemic.
By comparison, only 46 percent approved of the president's handling of the coronavirus outbreak—putting him 27 points behind state leaders.
Fifty-four percent of those surveyed told pollsters that President Trump's reaction to the pandemic had been "not so good" or "poor," while just 27 percent said the same of their state governor.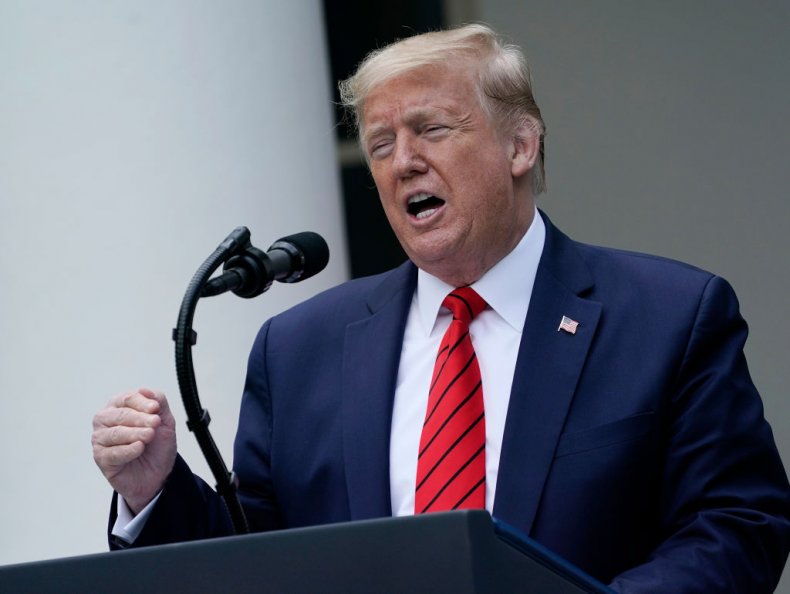 Both the president and state governors have seen their coronavirus approval ratings rise marginally since April 19, when 44 percent approved of Trump's response and 72 percent backed their local governor.
The new poll was conducted between May 5 and May 10, and surveyed 1,007 U.S. adults by phone. Its overall margin of error stands at 3.5 percentage points.
The University of Maryland survey was released a day after the commander-in-chief welcomed the high approval rating of state governors, but argued that they would not have enjoyed a polling boost were it not for the actions of his administration.
Posting to social media on Tuesday, President Trump said: "Remember this, every Governor who has sky high approval on their handling of the Coronavirus, and I am happy for them all, could in no way have gotten those numbers, or had that success, without me and the Federal Governments help. From Ventilators to Testing, we made it happen!"
Elsewhere in the new Washington Post poll, 58 percent of Americans said they were either "very" or "somewhat" worried about becoming infected with the novel coronavirus.
Forty-one percent said they were not worried about catching the disease, and the remaining 1 percent told pollsters they'd already been infected.
Asked for their views on the restrictions leveled against non-essential businesses such as restaurants and shops, a 58 percent majority said the lockdown measures were appropriate.
A further 21 percent their the restrictions were "too restrictive" while one-in-five said they were not restrictive enough. One percent of those polled said they had no opinion on the matter.
The share of Americans who felt restrictions were appropriate was down by 8 points on April 26, when 66 percent said they were appropriate.
At the same time, the portions of polled adults who felt the measures were too restrictive or not restrictive enough both rose by four percentage points.