Donald Trump Used 'Desperate and Cowardly Tactic' in Latest Transgender Military Ban Move, Says Transgender Soldier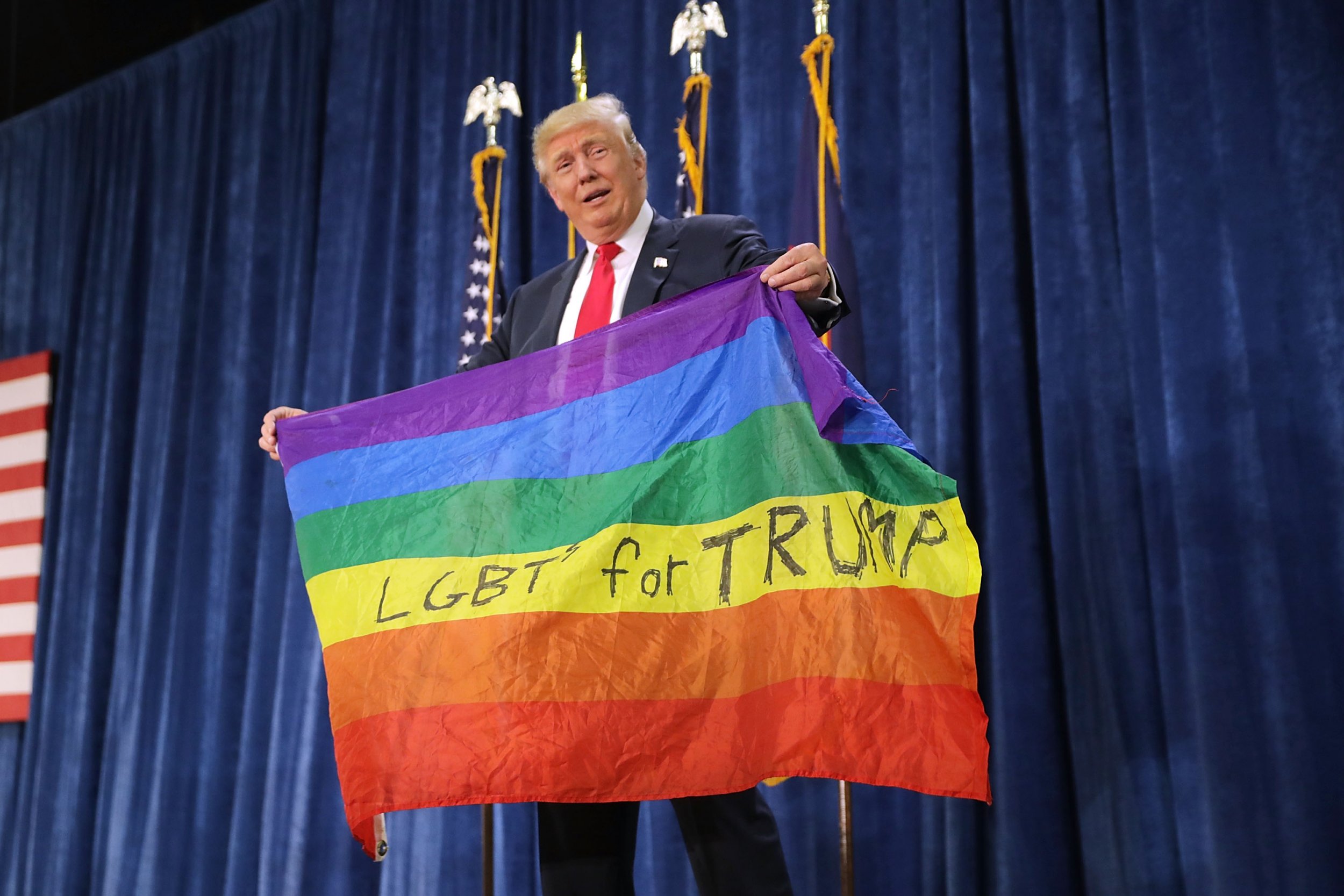 The Trump administration's petition to the Supreme Court Friday to bypass the appellate courts and rule on the president's policy of banning transgender people from serving in the armed forces has been described by one transgender service member as a "desperate and cowardly tactic."
The leapfrog request filed on Friday to the Supreme Court has become a standard operating procedure for President Donald Trump's administration, as it seeks to skirt the appellate courts entirely on various policy decisions aimed at unraveling Obama era accomplishments.
Typically, the Supreme Court does not review cases until at least one appeals court has weighed in. The Supreme Court rules stipulate the court will only intercede before an appeals court ruling "only upon a showing that the case is of such imperative public importance as to justify deviation from normal appellate practice and to require immediate determination in this court."
"It's a desperate and cowardly tactic. He wants to undermine our rights and erase the people he loathes, but he is clearly afraid of the full attention his toxic policies deserve," Jack Schuler, a transgender man and former U.S. Marine signals intelligence linguist turned U.S. Army soldier, told Newsweek.
Representing both the president and Defense Secretary James Mattis, Solicitor General Noel Francisco wrote in his petition that the Trump administration's transgender ban, known as the Mattis policy, satisfies the Supreme Court's standard for review. The solicitor general said the issue is of "imperative public importance: the authority of the U.S. military to determine who may serve in the Nation's armed forces."
Francisco argued that prompt action was needed because district courts erred in their decision to grant preliminary injunctions, which prevented the Mattis policy from taking effect.
It was a day of ironic contradictions: The Trump administration filed the petition on the same week as the Transgender Day of Remembrance, an annual observance that honors the memory of those lost to anti-transgender violence, and just a day after Thanksgiving, when most Americans are out searching Black Friday deals and not the day's headlines.
Schuler told Newsweek that the president's political tactics are easy to spot. But the stark paradox on Friday centers on the White House request coming on the same day the president bashed a federal district court judge for striking down a version of Trump's travel ban, prompting a rare rebuke from Chief Justice John Roberts.
"It's a brazen and foolish move to demand that the Supreme Court of the United States take up the case when the appeals court hasn't even decided yet, and to do so after not only insulting federal judges but throwing a tantrum when Chief Justice Roberts rightly defended his peers," Schuler said.
"I've observed a few tendencies with Trump's tactics both in general and in regards to transgender people. He tends to make his announcements and demands at odd hours, over weekends, or around holidays: the times when people are paying less attention to the news," Schuler added.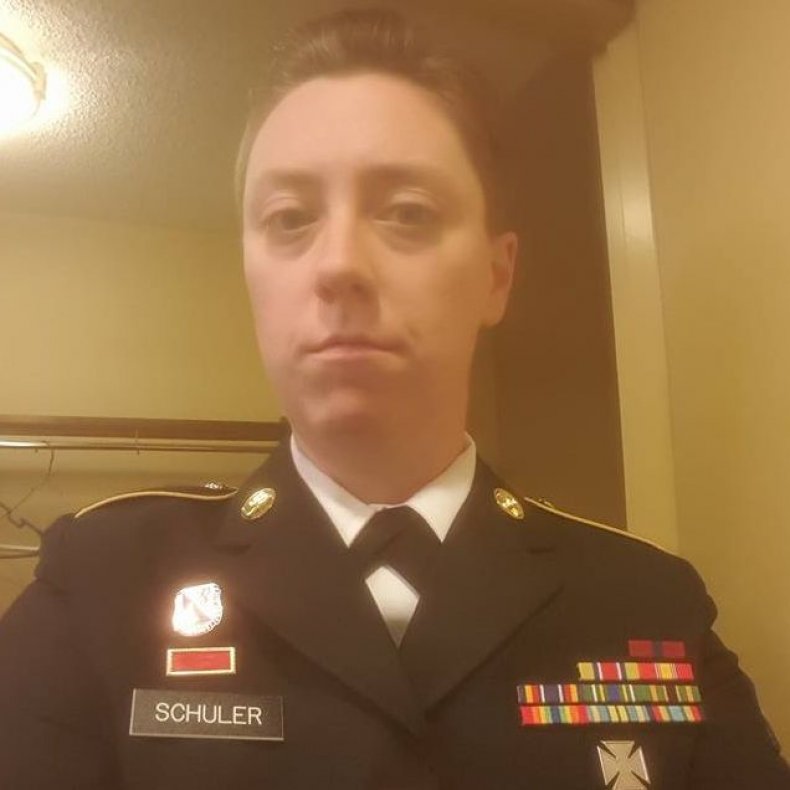 It was last July when Schuler woke up to a series of tweets from his commander-in-chief. For the country, it was a message that reversed Obama era policy on transgender individuals serving in the military, but for Schuler, it was more intimate, more personal—he was being shunned by his commander, the president of the United States.
"After consultation with my Generals and military experts, please be advised that the United States Government will not accept or allow Transgender individuals to serve in any capacity in the U.S. Military," Trump wrote on Twitter. "Our military must be focused on decisive and overwhelming victory and cannot be burdened with the tremendous medical costs and disruption that transgender in the military would entail. Thank you."
Schuler had just re-enlisted in the U.S. Army Reserves on a six-year contract, specializing in chemical, biological, radiological, and nuclear defense measures, after being honorably discharged from the U.S. Marine Corps after five years of service as a signals intelligence linguist speaking Farsi, a job that requires the Pentagon's highest security clearance—a top secret, secret compartmentalized information designation.
In February, Mattis sent Trump a proposed policy that replaced the president's plan to ban all transgender service members. Mattis's plan concluded that the defense secretary, along with "a panel of senior military leaders and other experts," determined that the policy, adopted under former Defense Secretary Ash Carter, "posed too great a risk to military effectiveness and lethality."
Under Mattis's policy, transgender service members would be disqualified from service if they "require or have undergone gender transition." Transgender people can serve in uniform as long as they agree to adhere to their biological sex and only if they do not have a history of gender dysphoria.
Additionally, the Defense Department under Mattis, a former U.S. Marine general, argued that a 2016 RAND Corporation Study commissioned by the agency contained, "significant shortcomings."
While the RAND study acknowledged that the "inclusion of individuals with gender dysphoria in the force would have a negative impact on readiness," when researching foreign militaries that allow personnel with a history of gender dysphoria to serve, the study concluded that the impact on military readiness would be minimal.
On health care for transgender troops, the RAND study asserted that the costs of transition-related health care would not burden the Defense Department with "tremendous medical costs" as Trump suggested. The price would be substantially low when compared to the Pentagon's health care expenditures.
If the Supreme Court does not take up the case, the United States Court of Appeals for the District of Columbia Circuit is scheduled to hear an appeal of the decision handed down by Judge Colleen Kollar-Kotelly, who wrote last October: "There is absolutely no support for the claim that the ongoing service of transgender people would have any negative effect on the military at all.
"In fact, there is considerable evidence that it is the discharge and banning of such individuals that would have such effects," Kollar-Kotelly added, noting that "fifteen States have filed an amici brief indicating that they and their residents will be harmed by the Presidential Memorandum if it is not enjoined."
For now, Schuler continues to serve in the U.S. Army Reserves as a soldier with the 323rd Chemical Company based out of South Dakota. Schuler, a former leader of Marines and current leader of soldiers, summed up the actions of his commander-in-chief last week:
"This is the behavior of a failure, not a leader."