Donald Trump Says Push For Transgender Rights 'Will Destroy Women's Sports'
Donald Trump has claimed the push for transgender rights will "destroy women's sports."
The drive by Democrats for transgender rights violates women's rights under Title IX, which bars sex-based discrimination in federally-funded schools, the former president alleged in a new interview on conservative network Newsmax.
"This is insane and it's going to destroy women's sports," Trump told Newsmax TV host Dick Morris on Saturday. "It's so ridiculous. I can't even believe we've got to have a conversation about it, actually," he added.
This week, Democrats in the Texas legislature killed a bill that would have required transgender athletes to compete on sports teams corresponding to the gender they were assigned at birth.
And earlier this year, the Biden administration withdrew government support for a federal lawsuit in Connecticut that seeks to ban transgender athletes from participating in girls' high school sports.
Trump referred to that case, which his administration's Justice Department had supported.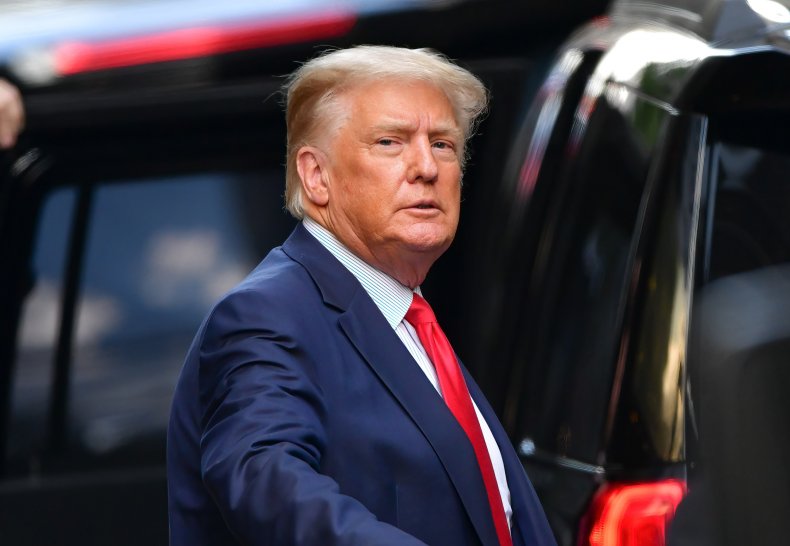 "It's insane; it's very unfair to women," he said. "It's going to destroy women's sports if it hasn't already done it."
So far, eight states have passed laws or executive orders restricting the participation of trans students in school sports, according to the Movement Advancement Project.
Kansas and North Dakota were among states that passed such bans only to have them vetoed by the governor.
This week, the Louisiana House gave final passage to legislation banning transgender athletes from competing on girls' sports teams in schools. The measure is heading to Gov. John Bel Edwards, who is expected to veto the bill, according to the Associated Press.
Trump's comments come after a new Gallup poll found that a majority of Americans oppose transgender people playing on teams that align with the gender identity.
The annual Values and Beliefs survey, conducted between May 3 and 18, found 62 percent of Americans say trans athletes should only be allowed to play on sports teams that correspond with the sex they were assigned at birth, while 34 percent say they should be able to play on teams that match their gender identity.
Among Republicans, 86 percent say trans athletes should play on teams that match their birth gender, while 55 percent of Democrats support trans athletes playing on teams that match the gender they identify with.
The same survey, however, found that the majority of Americans support transgender people serving in the military.
Shortly after taking office, Biden repealed Trump's ban on transgender people in the armed forces.
The 2021 survey found 66 percent of people favor allowing openly transgender men and women to serve in the U.S. military, though this number is down slightly from 2019 when the survey found 71 percent of Americans in favor.