Donald Trump Called Secretary of State Mike Pompeo's New Senior Adviser a 'Major Loser'
President Donald Trump once called Secretary of State Mike Pompeo's new senior adviser for policy and strategic messaging a "major loser," Politico reported.
In March 2016, The Wall Street Journal editorial writer Mary Kissel said on MSNBC's Morning Joe that then-candidate Trump has "no principles, he has no policies." Trump responded by tweeting, "She is a major loser - no clue!"
Kissel also levied a number of critical tweets at Trump during his presidential campaign. More recently, she blasted Trump in July, saying that he had offered Russian President Vladimir Putin a "propaganda victory" by meeting with the foreign leader in Helsinki, according to Mediaite. She has also rebuked the president as "delusional on foreign policy," said that "he has no core beliefs" and described one of his speeches as "a rambling mess of personal vanity, fearmongering, isolationism."
"We could not be more thrilled to have her on board," State Department spokeswoman Heather Nauert said on November 15 when announcing that Kissel would be joining the department.
"Mary's social media posts reflected her role as a member of The Wall Street Journal editorial board. As she has said previously when asked similar questions, her job there was to analyze and write about policy," a State Department spokesperson told Newsweek. "As a member of the editorial board, Mary strongly endorsed this administration's policies on Iran, Afghanistan, tax cuts, energy policy, regulatory reform, judicial nominations and other issues. She is proud to serve this President and Secretary Pompeo."
Kissel is the second person who has recently been appointed by Pompeo despite publicly rebuking Trump. The Secretary of State hired Jim Jeffrey, who had signed a letter criticizing the president, in August.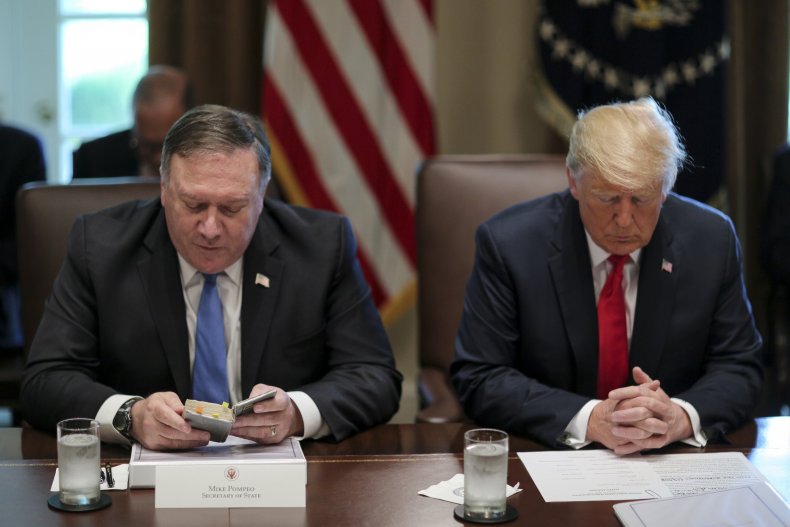 Kissel previously served as a Fox News contributor and a co-host of the John Batchelor Show, a syndicated radio program, according to The Hill. The program describes itself as "an essential tool for understanding the new order in the 21st Century."
It "features a multitude of distinctive elements. John's themes cover every detail—from military battles, presidential campaigns, planetary exploration, and Hollywood politicos to his own international travel. John has broadcast from many corners of the world and in his program he calls out to all points, including New York, Jerusalem, Des Moines, Kazakhstan, Orlando, Manchester, Morocco, Boston, Taipei, Washington, and Baghdad," according to its website.
Kissel was employed by Goldman Sachs prior to joining the Journal as a foreign correspondent and transitioning to an editorial position. She graduated from Harvard and the Johns Hopkins School of Advanced International Studies.