Trump's Travel Ban Challenged by Democrats, U.S. Allies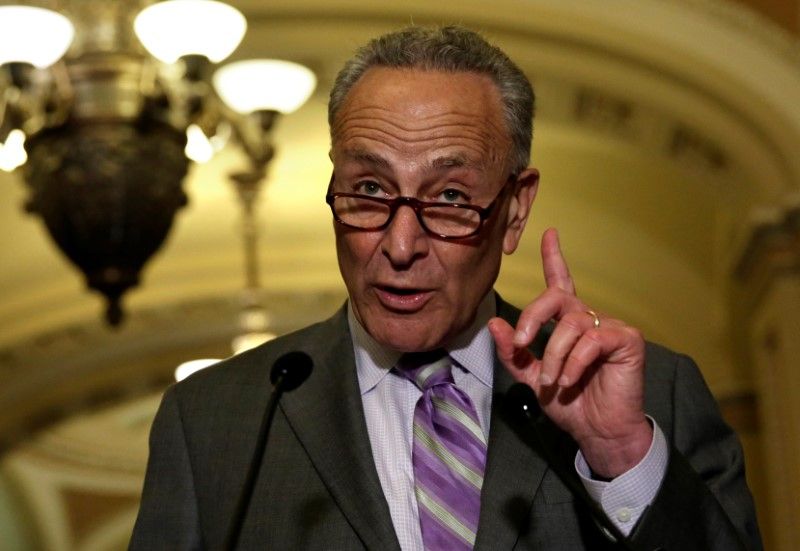 Congressional Democrats and some foreign nations, including key U.S. allies, put pressure on President Donald Trump on Monday over his ban on entry to America by refugees and people from seven predominantly Muslim countries.
The leader of the Democrats in the U.S. Senate, Chuck Schumer, said he would bring legislation on Monday evening seeking to end the ban, although the measure stood little chance of being passed by the Republican-led Congress.
"We should repeal this, and then we should sit down in a careful, thoughtful way to figure out ways we need to tighten up things against terrorism," the senior New York senator told NBC News, noting that some Republican lawmakers also had spoken out against Trump's action.
Democrats in the House of Representatives sent a letter to Homeland Security Secretary John Kelly seeking an urgent meeting to discuss the order, which they said "belies our proud heritage as a nation of tolerance," Politico reported.
Trump on Friday ordered a temporary ban on travel to the United States by people from Iran, Iraq, Syria, Libya, Somalia, Sudan and Yemen, and put a four-month hold on allowing refugees into the United States, saying the measures would protect America from terror attacks.
Chaos broke out over the weekend as border and customs officials struggled to put Trump's directive into practice amid legal challenges and loud protests at major U.S. airports.
The president's critics said his action unfairly singled out Muslims, violated U.S. law and the Constitution, and defiled America's historic reputation as a welcoming place for immigrants.
On Twitter, Trump appeared to blame the airport confusion on protesters as well as on Democrat Schumer, who teared up over the weekend while discussing the ban, and even a computer system failure at Delta Air Lines Inc late on Sunday.
"Only 109 people out of 325,000 were detained and held for questioning. Big problems at airports were caused by Delta computer outage ... protesters and the tears of Senator Schumer. Secretary Kelly said that all is going well with very few problems. MAKE AMERICA SAFE AGAIN!" he tweeted.
Even if the Republican leadership in the Senate allowed a vote on Monday to repeal the order as Schumer wants, the Democrats would need all of their members plus at least three Republicans to back him for the measure to pass.
And a proposed repeal of the ban would face even stronger resistance in the House if it passed the Senate.
Allies Worried
Abroad, concern about Trump's order mounted.
British Foreign Secretary Boris Johnson described Trump's travel ban as "highly controversial."
"This is, of course, a highly controversial policy, which has caused unease and, I repeat, this is not an approach that this government would take," Johnson told parliament.
Britain, which is trying to maintain its so-called 'special relationship' with the United States, is potentially one of Trump's strongest allies abroad. Prime Minister Theresa May last week became the first foreign leader to visit him as president.
Condemnation has poured in from other countries, including from traditional U.S. allies like Germany.
The Iraqi parliament voted to ask the government to retaliate against the United States, putting at risk cooperation in the fight against Islamic State.
A government official in Baghdad said Foreign Minister Ibrahim al-Jaafari plans to meet the U.S. ambassador on Monday or Tuesday to express dismay at Trump's decision.
U.S. State Department officials circulated a draft memo dissenting from Trump's executive order.
"The end result of this ban will not be a drop in terror attacks in the United States; rather it will be a drop in international good will towards Americans and a threat towards our economy," said the memo drafted under the State Department's "dissent channel," which lets officials disagree with policy.
Separately, U.S. officials said the department received multiple cables from U.S. embassies over the weekend reporting foreign dissatisfaction at the order.
Trump rejected criticism that the order amounted to a Muslim ban, saying more than 40 Muslim-majority countries were not affected.
Protests erupted around the United States over the weekend, lawsuits were filed and federal judges blocked deportation of those detained under the order.