Donald Trump Trolls Red Hen Restaurant Over Huckabee Sanders Ban
President Donald Trump slammed the Red Hen Restaurant in Virginia after its owner refused to serve White House press secretary Sarah Huckabee Sanders on Friday.
"The Red Hen Restaurant should focus more on cleaning its filthy canopies, doors and windows (badly needs a paint job) rather than refusing to serve a fine person like Sarah Huckabee Sanders. I always had a rule, if a restaurant is dirty on the outside, it is dirty on the inside!" the president tweeted early Monday.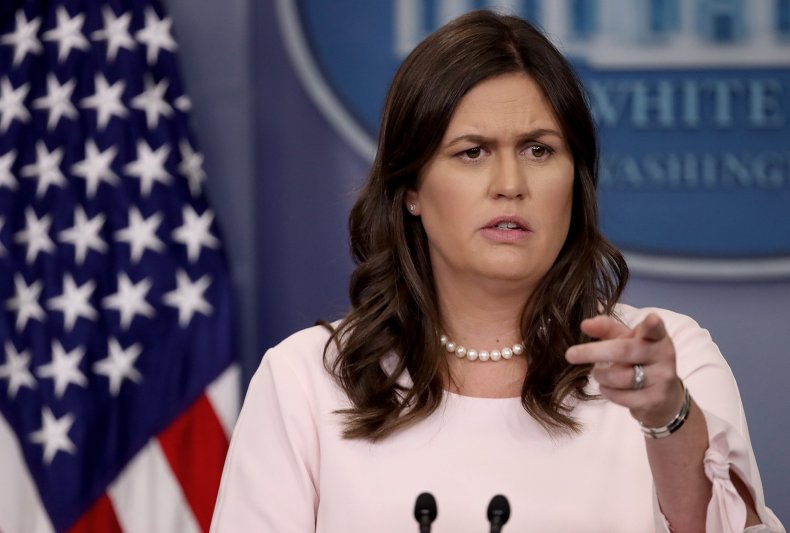 On Friday evening, the Red Hen restaurant in Lexington, Virginia, refused to serve White House press secretary Sanders when she arrived with a party of eight to dine there.
Sanders tweeted Saturday that she was asked to leave the restaurant "because I work for @POTUS," adding that the restaurant owner's request says "far more about her than about me."
Restaurant co-owner Stephanie Wilkinson told The Washington Post that she believed Sanders worked for an "inhumane and unethical" administration.
"I'm not a huge fan of confrontation," Wilkinson said. "I have a business, and I want the business to thrive. This feels like the moment in our democracy when people have to make uncomfortable actions and decisions to uphold their morals."
The White House has faced a backlash in recent weeks over its policy of separating children from their parents at the U.S. southern border and holding them in detention facilities. Trump signed an executive order ending the practice Thursday.
Wilkinson said that that the decision not to serve Sanders followed discussions with staff, some of whom are gay and opposed the Trump administration's transgender military ban.
The restaurant, which is closed Mondays, did not immediately respond to a request for comment.