Donald Trump Says 'Don't Worry' About the Thousands of Troops Spending Thanksgiving at the Border: 'These Are Tough People'
Before leaving the White House to spend the Thanksgiving at his Mar-a-Lago resort in Florida, Donald Trump told reporters not to worry about the suffering of American troops who will be spending the holiday away from their families at the southern border.
"Don't worry," Trump assured members of the media on Tuesday afternoon. "These are tough people, they know what they're doing and they're great and they've done a great job. You're so worried about the Thanksgiving holiday for them.
"They are so proud to be representing our country on the border. Where if you look at what's happening in Mexico the people from Tijuana are saying, 'Wow these are tough people, they're fighting us.' They're in fist fights all over the place," the president added.
Over 5,000 American service members are spending Thanksgiving on the U.S.- Mexico border as the Trump administration worries about the approaching migrant caravan. Thousands of migrants have spent the past several weeks trekking through Central America toward the United States.
Trump has repeatedly claimed that the caravan is full of terrorists, MS-13 gang members and drug dealers and on Tuesday told reporters that the deployed troops are building walls and barricades to keep the migrants out of the country.
Senior officials from the Department of Defense told Newsweek earlier this month that the deployment of nearly 6,000 troops to the border was a politically motivated stunt ahead of the highly contested midterms. Since election day, Trump has barely mentioned the approaching caravan and has seriously toned down his rhetoric on the topic.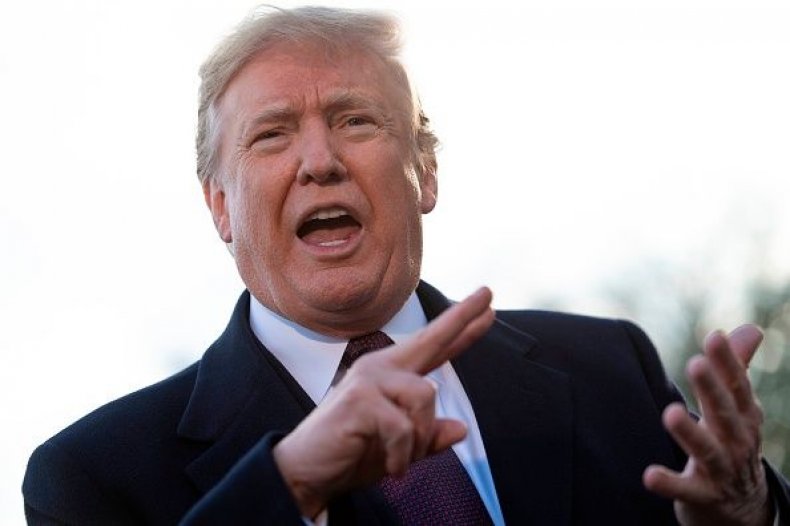 "As for the troops they are proud to be at the border, they are proud to be defending our nation. We are not going letting people in, it's called 'catch and detain' it's not called 'catch and release' like it has been for many years," Trump said on Tuesday.
The president has faced criticism for his handling of the military in recent weeks. He has been accused of failing to support troops after refusing to visit combat zones and for skipping a ceremony honoring American troops in France for Armistice Day due to rain. During a Sunday interview with Fox News, Trump dismissed the highly respected Admiral William McRaven, the Navy SEAL who oversaw the raid on Osama bin Laden in 2011, as a "Hillary Clinton fan." Trump then suggested that he should have caught Bin Laden faster.
But Trump has repeatedly claimed that he has done more for the military than anyone else, telling the Associated Press in an interview last week that "Nobody has been better at the military. I have done more for the military than any president in many, many years.