Donald Trump Says He's Too 'Busy' to Visit U.S. Troops Overseas but Has Played Golf Almost 70 Times
President Donald Trump said during an interview with the Associated Press Wednesday that he has yet to pay a visit to United States troops overseas because he has been "very busy with everything that's taking place here." Trump's comments about being too busy come despite him receiving regular criticism for the number of times he has taken to the golf course during his presidency—68 times by the latest count.
President Barack Obama, with whom the current president has sought to constantly compare himself, visited troops in Iraq within three months of taking office in 2009, as he did as a senator and candidate for the presidency the year before. Trump, though, asked why he had not yet made a trip to visit troops, said it was not a particularly important part of his job.
"Well, I will do that at some point, but I don't think it's overly necessary," Trump said. "I've been very busy with everything that's taking place here. We have the greatest economy in the history of our country. I mean, this is the greatest economy we've ever had, best unemployment numbers. Many groups are, you know, we've never even been close to these numbers. I'm doing a lot of things. I'm doing a lot of things. But it's something I'd do. And do gladly.
Trump continued, repeating an often-made claim: "Nobody has been better at the military." Earlier this year, Trump signed a $717 billion defense bill, which while representing an increase on the previous year, is not a record as Trump has claimed.
Some veterans have been less than impressed with Trump's stance on visiting troops risking their lives overseas.
"Veterans aren't surprised Trump has no interest in going to war, after he used his wealth and elite connections to avoid the draft five times while working class people went in his place," Alexander McCoy, a former U.S. Marine Corps Sergeant and spokesperson for progressive veterans group Common Defense, told the New York Daily News.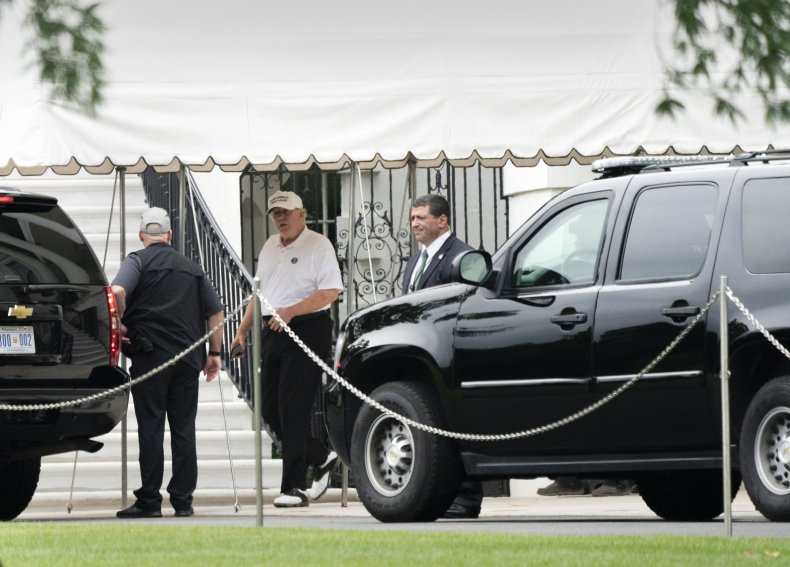 Trump has found plenty of time for golfing as well as spending time at his own properties.
In July, liberal-leaning group VoteVets directly targeted this apparent hypocrisy.
"Trump has spent 123 days golfing, or 1/5 of his term, at a cost to taxpayers of $72,181,957 - and still hasn't visited troops in a war zone," the group tweeted, although the financial cost to taxpayers was later found to be misleading.
Trump's frequent golfing has come despite him regularly criticizing his predecessor Obama for playing the sport during his time in office. However, analysis has shown that Obama played golf significantly fewer times than Trump.