Inside Trump Tower, A Saloon Cheers The New President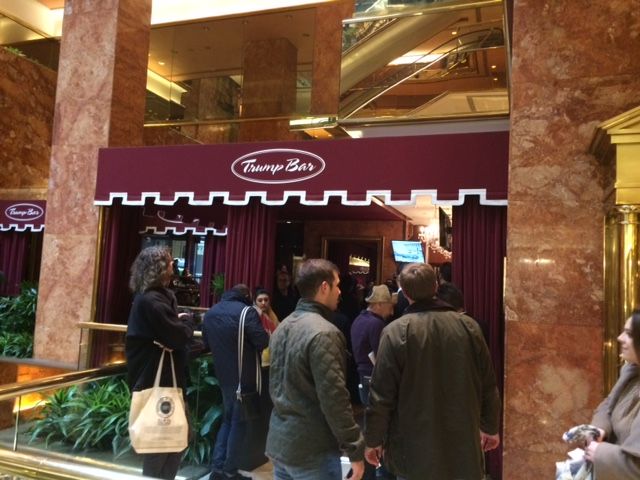 At Trump Bar, inside of Trump Tower in midtown Manhattan, patrons stood two-deep and massed before both televisions—tuned to Fox News—late Friday morning. The picture on the screens told the story: The owner of this cozy saloon, as well as the 58-story edifice in which it sits, was moments away from taking the oath of office. How often is one afforded the opportunity to drink in the inauguration of an American president while imbibing within his home? Probably hasn't happened since Andrew Jackson turned his inauguration into a drunken punch-up.
"President Trump—that has a nice ring to it," says a middle-aged man as Trump stepped to the dais and raised his right hand. Two young girls in "Make America Great Again" red baseball caps (available in the downstairs gift shop for $40)—sisters who were at least seven years shy of the drinking age—started a "Donald Trump!" chant.
A few steps outside the bar, glass cases inlaid with veined pink-white marble offered a plethora of name-brand items: Trump bath crystals, Trump body butter, Trump sugar scrub, Trump tie clips, Trump cuff links and a copy of the 45th president's latest book, Great Again: How to Fix Our Crippled America. As the business of America is business, so the business of Trump is Trump.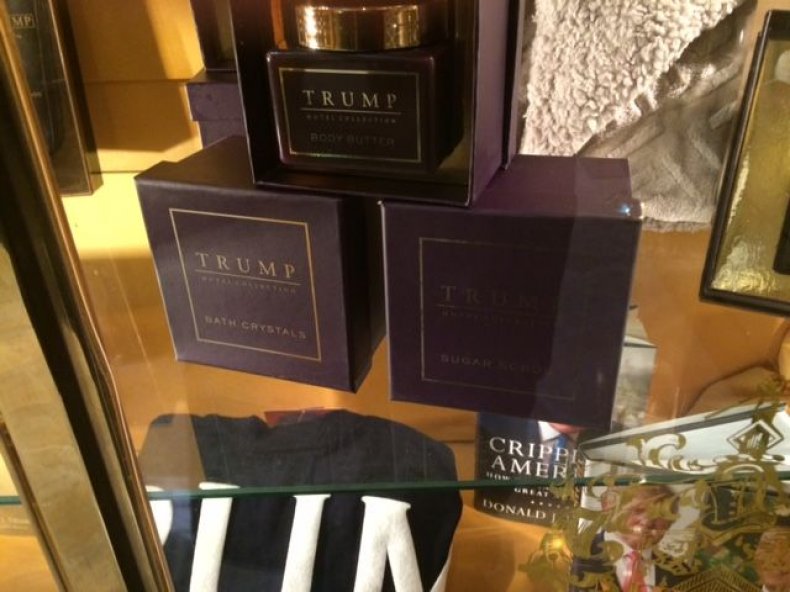 The lobby surrounding the bar was as quiet as it's been on any day in months. Postelection, it witnessed a procession of celebrities and potentates—Jack Ma, Kanye West, Jim Brown, Leonardo DiCaprio, Tim Cook, Floyd Mayweather and even Barry Switzer (though the former University of Oklahoma and Dallas Cowboys coach had only stopped in for a Starbucks fix)—but on Inauguration Day. the place was dormant. "It's dead," said one security staffer to another. "There's no press."
Related Content: How Caitlyn Jenner Swung the Election for Donald Trump
Outside, men wearing suits and earpieces congregated in twos and threes. East 56th Street, which abuts the south side of Trump Tower, was closed. Two steel barriers, similar to those erected for blocking traffic to the New York Stock Exchange following 9/11, sat at either end of the block.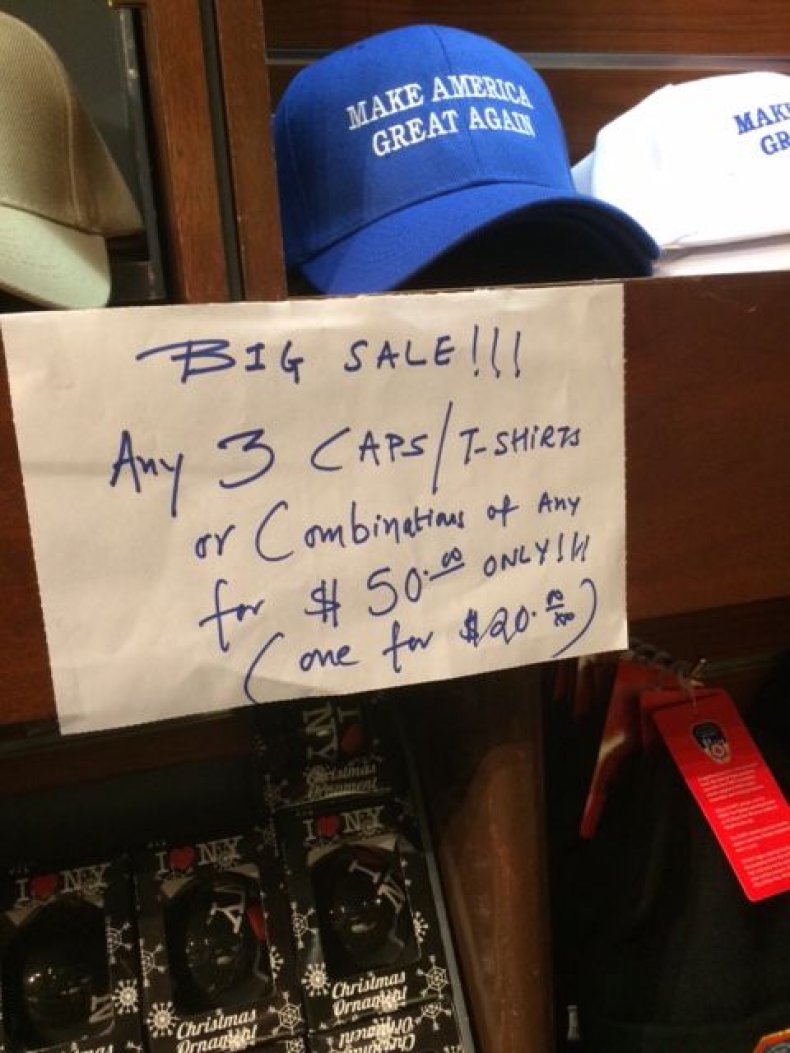 Downstairs, in the garden-level gift shop, a sale was running on caps and T-shirts—any three for $50. The various objects, which also included coffee mugs and shot glasses, did not bear price tags but most were adorned with labels that read "Made In China." Farther back, in the men's room, a homeless man in sweatpants applied cologne to his upper body.
Trump and his family had left his tower late Thursday morning—he for the last time as a full-time resident for the foreseeable future—to head to the nation's capital. It was from the lobby of this skyscraper that Trump launched his presidential campaign 19 months ago, lacing that announcement with derogatory remarks about America's neighbor to the south: "When Mexico sends its people, they're not sending their best." So it seems fitting that on the day Trump made his exodus from New York City, Mexico's most notorious criminal, Joaquín "El Chapo" Guzmán, arrived on the Manhattan island. El Chapo, facing 17 federal charges, was booked into the Metropolitan Correctional Center in lower Manhattan only hours after Trump's departure. He's definitely not one of that country's best.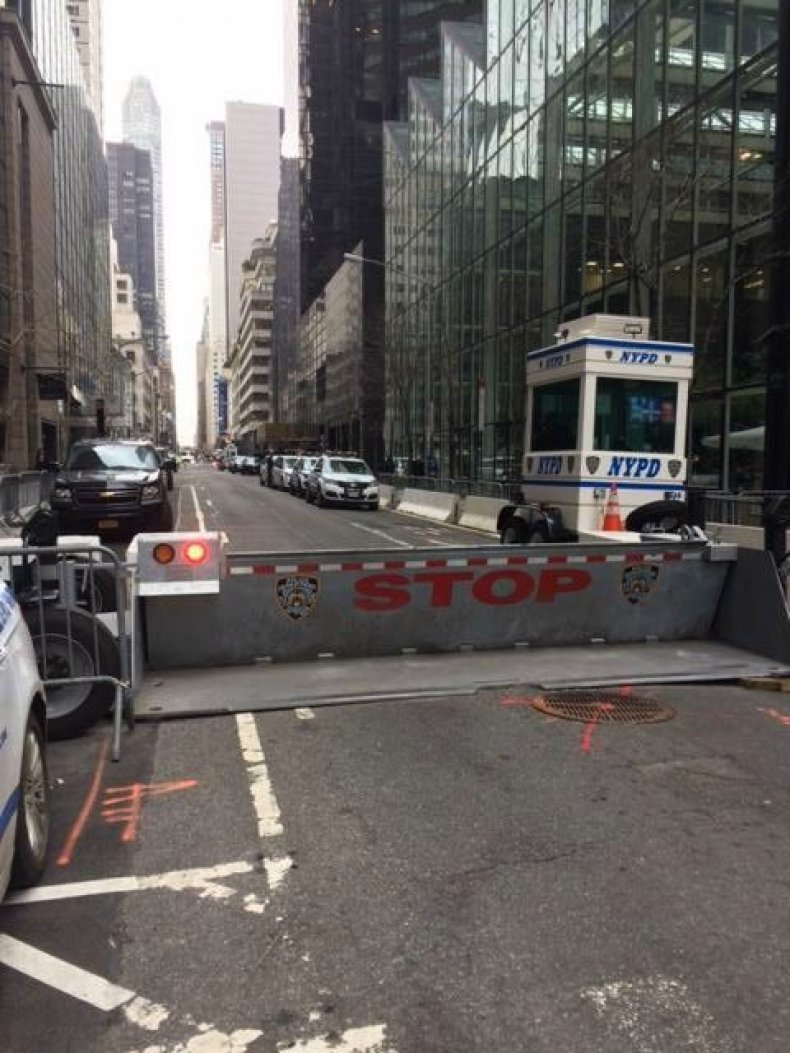 Meanwhile, back at Trump Bar, the mood was festive. Chants of "U-S-A! U-S-A!" broke out, and for those old enough to recall the 1980 Winter Olympics and the U.S. hockey team, the fervent patriotism in the room felt very similar. Then, as Trump spoke, the Fox News camera panned to an older brown-skinned man in the crowd who was wearing a turban. A wave of nervous laughter spread through the lounge. But the spirits remained high, and spirits flowed. Sparkling wine and beer were the most popular drinks. No one had the audacity to order a white Russian.