'100 Percent' Approval: Trump, Turning Point USA Teens Imagine Polls Without 'Liar' Media
President Donald Trump asked teenagers at a Turning Point USA summit Tuesday to imagine the "100 percent" poll numbers he'd have without the "dishonest" news media.
Trump spoke Tuesday at the Teen Student Action Summit (TSAS) in Washington, asking the young conservatives at the four-day conference to imagine how he would be polling at '100 Percent' if it weren't for the "liars" in the news media. Like most Trump rallies, the president led boos against the "fake news" journalists covering the event before demanding more favorable coverage of his presidency.
Trump gave a military salute to one audience member who shouted that the president would have "100 percent" approval ratings if he were covered fairly by journalists.
"Wouldn't it be nice if, think of it, what would be if we had an honest -- I don't want a media that's for me -- I just want an honest media," Trump told attendees of the country's largest conservative teen conference. "So we have our best poll numbers today that we've ever had, can you imagine how good our poll numbers, with all the things we've done, how good our poll numbers would be if we had a fair media? Because they can take any..."
"100 percent," an audience member shouted.
"He goes '100 percent,'" Trump said, repeating the line into the microphone for the wider crowd to hear, eliciting raucous applause. "100 percent -- and you know what? I like your long hair it's very nice actually. Good. Thank you," the president said, offering a military salute to the Turning Point USA teenager.
[Video clip below starts at 53:55]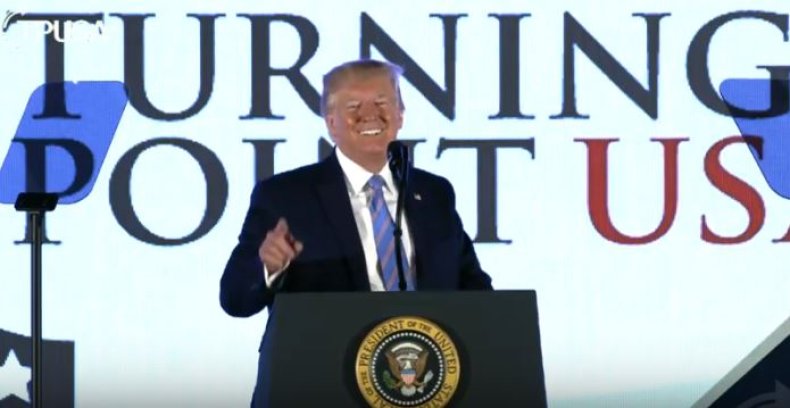 Trump railed against familiar targets including Democratic congresswomen Alexandria Ocasio-Cortez and Rashida Tlaib, describing the latter as "a crazed lunatic ... this is not a sane person." At one point, the TPUSA audience chanted "One Squad, Under God" after the president declared, "In America, we don't worship government, we worship God."
But the president honed much of his winding and weaving criticisms against the "fake news" media he repeatedly pointed out to attendees in the back of the room.
"Look at all those cameras, isn't that terrible or good or whatever?" Trump said.
"Wouldn't it be great if they told the truth, they have such a low credibility."
Trump called the conservative publication Washington Examiner "liars" for publishing a report Saturday that his administration has "not built a single mile of new border fence after 30 months in office."
He went on to ask The Washington Post if they ever gave former President Barack Obama a "Pinocchio" rating after he repeated another audience member shout labeling Obama a "liar." Trump agreed with the anonymous attendee, saying, "he's right he was a liar," because of his presidential predecessor's claims Trump "will not be president" before the 2016 election.
A Monday poll conducted by Marist College on behalf of NPR and PBS NewsHour found that more than half of Americans say they will definitely vote against Trump in 2020. But concurrently, more than half of voters said they approve of how Trump is handling the economy.
Trump said of the news media and left-leaning Americans at large: "There's more of you than there is of them. They're still trying to figure out what the hell happened."