Donald Trump Birthday: As President Turns 72, Here's a Look at How He's Celebrated in the Past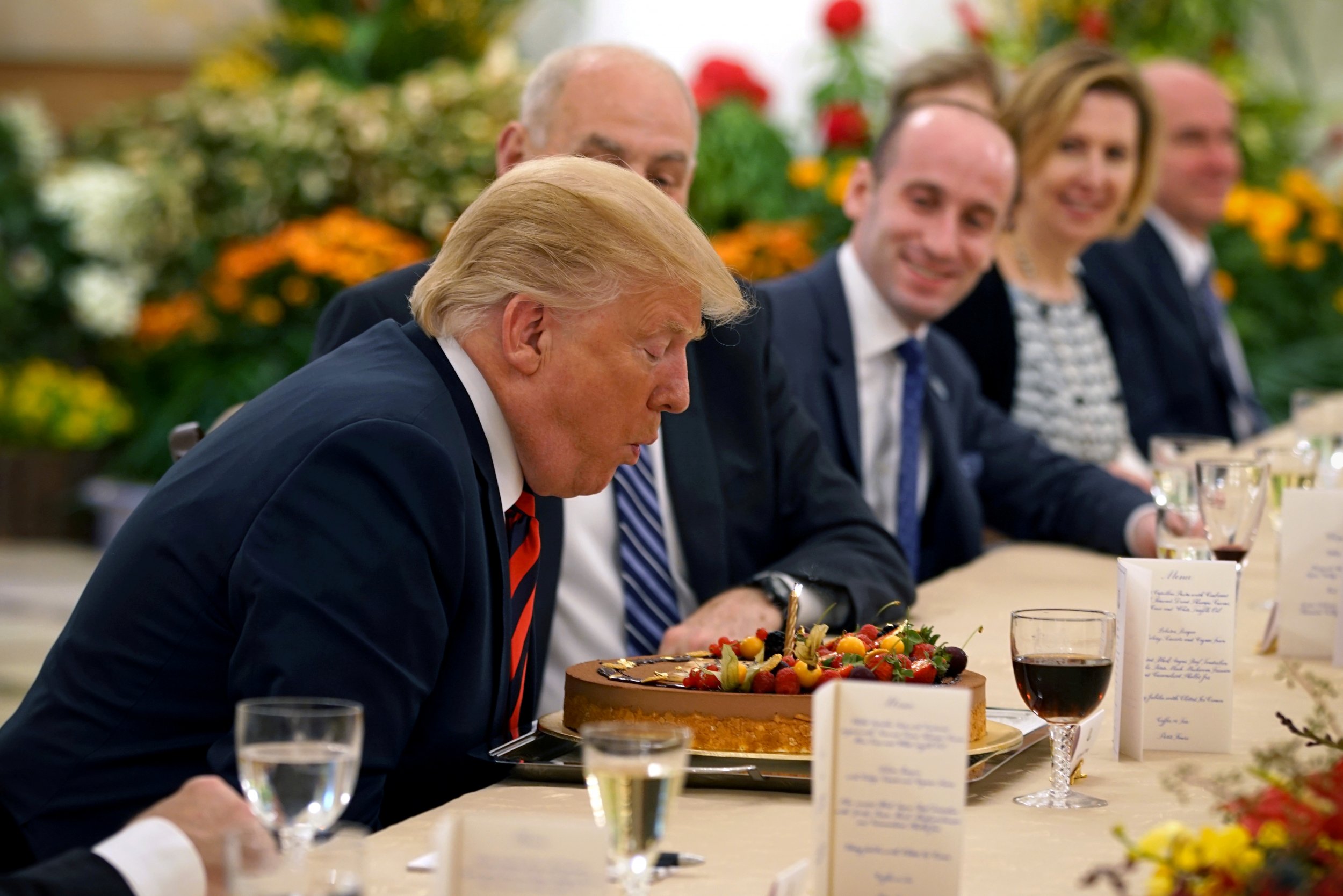 President Donald Trump will turn 72 Thursday, but the celebration has already started. Singaporean officials surprised the president with a birthday cake lunch Monday while he was in the country for the historic North Korea summit.
"Celebrating birthday," Vivian Balakrishnan, the Singapore Minister for Foreign Affairs tweeted. "A bit early."
While the White House did not respond to Newsweek's inquiry into Trump's plans for Thursday, here is a look at how the president has celebrated in past years.
Trump's 71st birthday, June 14, 2017, was the same day a gunman opened fire on Republican congressman on a baseball field in D.C. Steve Scalise, the House Majority Whip, was wounded during the incident but made a full recovery. Trump spent the day responding to the attack. "Congressman Scalise is a freind, and a very good friend," Trump said in a press conference the day of the shooting. "He's a patriot and he's a fighter. He will recover from this assault and Steve, I want you to know you have the prayers of not only an entire city behind you, but of an entire nation."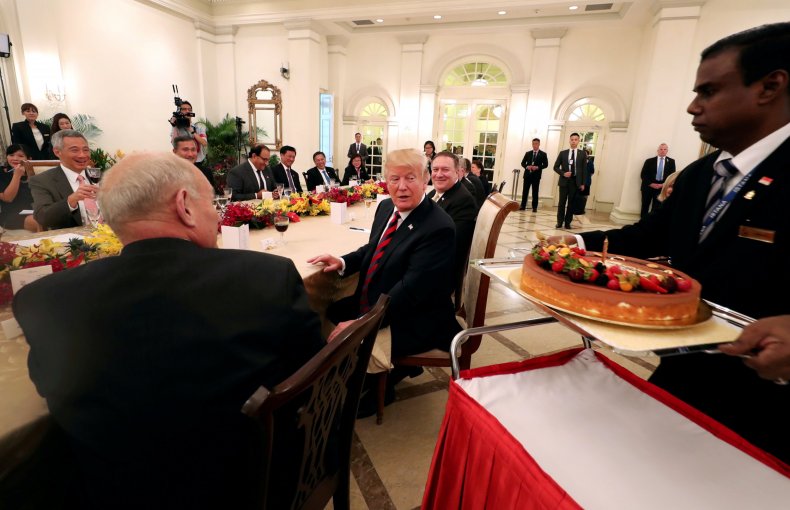 Before Trump became president, his birthday parties had a reputation for extravagance. His 42nd birthday was hosted at one of his casinos, according to the Washington Post, and featured "a 15-foot spaceship zooming from the stage to hover amid smoke and flashing lasers."
The party also reportedly had "magicians and dancers performing to a version of Michael Jackson's 'Bad' reworked to honor the real estate mogul."
In 1993, Trump's birthday card appeared to show him on a throne with the caption, "The Birthday Celebration Of The Ages Starring Renaissance Man Donald J. Trump."
Trump has also not been shy about celebrating his own birthday in the past on social media. "Today is my birthday," he wrote in 2012. "My wish is for our country to be great and prosperous again." In 2009, Trump directed people to his Facebook page to wish him happy birthday. "Today is Donald Trump's Birthday!" his tweet said.
In April, Trump told Fox News he had not yet given First Lady Melania Trump a present for her birthday. "I better not get into that 'cause I may get in trouble. Maybe I didn't get her so much," he said. Trump added that he did get her "a beautiful card and some beautiful flowers," and that he was "very busy to be running out looking for presents."
The GOP also circulated a digital birthday card supporters could sign. "Make President Donald Trump's birthday one he will never forget," the website said. To sign the card, supporters must enter their email to be added to a promotional email list.
Trump was the oldest president at the start of his administration at 70 years old. Previously, Ronald Reagan held the title when he started his term in office at 69.