Meet the Robot that Prints and Burns Donald Trump's Tweets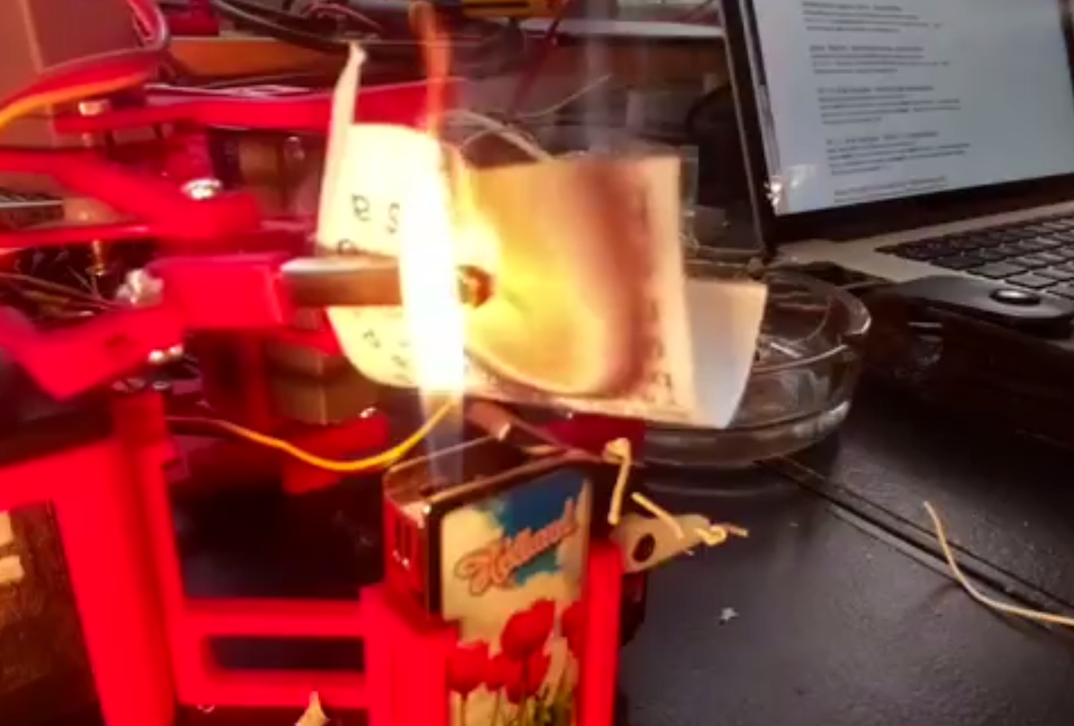 On Tuesday morning, someone—or a sentient something—finally proved a worthwhile use for robotics engineering. At 6:13 a.m. Eastern time, a Twitter account with the handle @burnedyourtweet posted a video of a machine printing a Donald Trump tweet about Fox and Friends onto receipt paper. A mechanical arm then swung itself above the printer, clamped down on the printed tweet and swung it above a lighter. The lighter set the printed tweet ablaze, after which the arm swung the fiery tweet above an ashtray, where it was deposited to turn to ash. Behold:
As of Wednesday morning, @burnedyourtweet has done the same to 10 other recent tweets from the president. Each incineration has been as enjoyable to watch as the last. It never gets old.
Related: Why did Trump decline to throw out the first pitch on opening day?
Here's the latest, in which Trump's desire for America to "see how viciously and inaccurately my administration is covered by certain media" gets burned to a crisp.
As its Twitter bio says, @burnedyourtweet's mission is simple: "Giving Trump's tweets the attention they deserve."
This isn't the first time automation has been used to troll Trump and his supporters. During the election, a battle of bots raged in the replies to Trump's tweets. Win the coveted "first" tweet response, and you were rewarded with valuable visibility. The account @assbot was, for a period of time, scripted to insta-reply to Trump's tweets and then engage with anyone who replied to his reply. Other accounts, from both pro- and anti-Trump tweeters, have been programmed to serve similar functions. In December, Twitter banned such bots.
But bots aren't a rare commodity, and they aren't just found lingering around Trump's Twitter handle. During the election, many were programmed to spread propaganda supporting both sides of the aisle. It was mostly team Trump, though; a few weeks before the election, a study found that Trump bots were out-tweeting Hillary Clinton bots at a seven-to-one clip. Some of these bots would simply inflate retweet and favorite numbers for their candidate of preference, while others were more insidious in their intentions, spreading fake news attached to popular hashtags like #CrookedHillary.
Now that the war for the White House is over, though, bots that feed off Trump have become a little more benign. Earlier this year, an advertising company in Austin, Texas, noticed that every time Trump tweeted about a company, its stock took a dive. So they created a bot that would automatically short the stock of a company Trump tweeted about before the market could take notice. Being an advertising company, they made a video about it:
On Tuesday, the same day @burnedyourtweet was created, The Atlantic created a bot that estimates the likelihood Trump's tweets were tweeted by Trump himself or by one of his aides. "It's a Twitter bot that uses machine learning and natural language processing to estimate the likelihood Trump wrote a tweet himself," the bot's creator, Andrew McGill, wrote in a post. "By comparing new tweets to the president's massive Twitter record, the bot is able to tell with reasonable certainty whether Trump is behind the keyboard, even if he's chucked Android for Apple."
When tested against a mixture of Trump's tweets from 2016, @TrumpOrNotBot discerned with 90 percent accuracy whether a tweet had been fired off from Trump's trusty Android or from an iPhone.
All due respect to @TrumpOrNotBot, though, in an imaginary competition of Trump Twitter bots that were unveiled on Tuesday, March 28, we're going to have to give the edge to @burnedyourtweet. Regardless of who sent Trump's tweets, it's much more fun to just see them go up in flames.
Read more from Newsweek.com:
- Trump border wall hits snag among some Republicans
- Trump might not be able to defund sanctuary cities
- Trump approval rating falls as 'Trumpcare' flops