As Barack Obama suggested Donald Trump uses the presidency to "get the attention he craves," his successor wrote scathing full-caps tweets rebuking his long-time political adversary.
Former President Obama gave a damning indictment of Trump and his time in the White House, as he addressed the Democratic National Convention (DNC) on Wednesday night.
"Donald Trump hasn't grown into the job because he can't," he said, branding his tenure a failure in which he said the consequences had been severe, referencing the deaths and job losses of the COVID-19 crisis.
Stating he had hoped Trump would take his role seriously, he surmised that instead his successor "had no interest in treating the presidency as anything but one more reality show that he can use to get the attention he craves."
In rebuke of these comments, Trump referred to his "Obamagate" attacks on his predecessor, tweeting: "HE SPIED ON MY CAMPAIGN, AND GOT CAUGHT!"
These comments come as part of Trump's continued push of what he calls Obamagate, with him having urged the former president to testify to Congress over what he alleges was an illegal conspiracy by Obama-era officials to undermine his administration from the start.
Trump also went on to question Obama's support of Biden, writing: "WHY DID HE REFUSE TO ENDORSE SLOW JOE UNTIL IT WAS ALL OVER, AND EVEN THEN WAS VERY LATE? WHY DID HE TRY TO GET HIM NOT TO RUN?"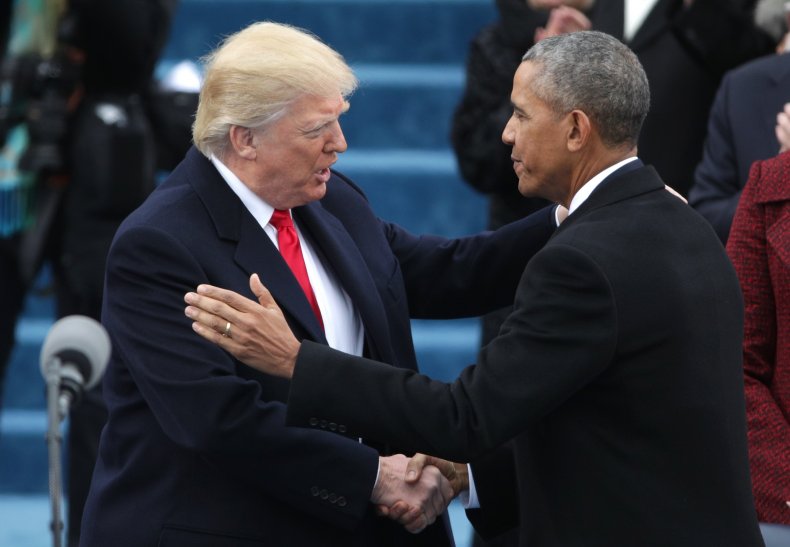 Following the tweet that Obama "SPIED ON MY CAMPAIGN," Biden shared this and added the quote from the former president which said Trump could not grow into the job of commander-in-chief.
Newsweek has contacted the Trump campaign, Biden campaign and Obama for comment.
The president has long been an outspoken critic of Obama, with recent analysis from Tweet Binder suggesting he had mentioned the former president directly in at least 795 tweets—making him one of the most mentioned accounts on his timeline.
As well as adding to his criticism of Obama, Trump also aimed barbs at Sen. Kamala Harris as she officially became the Democrats' vice presidential nominee.
Reiterating prior attacks suggesting a rift between Harris and Biden, who clashed in a debate as they both ran to become their party's presidential nominee, he wrote: "BUT DIDN'T SHE CALL HIM A RACIST??? DIDN'T SHE SAY HE WAS INCOMPETENT???"
The comments from Trump are not the first sparked by the DNC, with former first lady Michelle Obama and New York Governor Andrew Cuomo both also receiving rebukes for their comments.
Until recently, Obama had largely avoided major public criticism of Trump but has waded into the fray as November nears.
His continued popularity led to suggestions he could do so more often in an attempt to boost Biden, his former vice president, at the ballot box.
The Trump campaign has previously hit back at this, suggesting his interventions highlight a lack of excitement for Biden.
"Joe Biden's name is the one on the ballot this November—and no one is excited about that, hence why he has to hide behind surrogates who still fail to garner attention for his lackluster campaign," Samantha Zager, deputy national press secretary for the Trump campaign, previously told Newsweek.