Donald Trump Tweet Just Waived Any Hope of Claiming Executive Privilege Over Don McGhan Testimony, Legal Experts Say
President Donald Trump may have spoiled his chance of claiming executive privilege to block the testimony of former White House Counsel Don McGahn, the prominent witness in Special Counsel Robert Mueller's report, according to legal experts.
McGahn told Mueller that he refused Trump's 2017 directive to have the special counsel fired for what the president saw as a conflict of interest. On Thursday, Trump fired off a series of tweets denying the event. Afterward, some legal experts made the argument that the president could no longer claim executive privilege to block McGahn from testifying before Congress.
"To the extent [Trump] had any argument about executive privilege (which was clearly already waived) it's 100% gone now," Mimi Rocah, a former federal prosecutor for the Southern District of New York, tweeted Thursday. "Can't hide behind legal privilege & then go out & give your (lying) version of the facts. That's the law & it's just common sense."
Rocah's post was in response to the president's own series of tweets on early Thursday morning, in which he refuted McGahn's statements to the special counsel (which were made under oath) and alleged the Russia investigation was an "illegal" probe created by the Democrats.
"As has been incorrectly reported by the Fake News Media, I never told then White House Counsel Don McGahn to fire Robert Mueller, even though I had the legal right to do so. If I wanted to fire Mueller, I didn't need McGahn to do it, I could have done it myself," he wrote in the first post.
"Nevertheless," Trump continued, moving on to a second tweet, "Mueller was NOT fired and was respectfully allowed to finish his work on what I, and many others, say was an illegal investigation (there was no crime), headed by a Trump hater who was highly conflicted, and a group of 18 VERY ANGRY Democrats. DRAIN THE SWAMP!"
McGahn has been called to testify before the House Judiciary Committee on May 21. However, earlier this week, the White House said it would seek to block the subpoena.
Matthew Miller, a former director of the Office of Public Affairs for the Department of Justice, wrote on Twitter that Trump was "weakening his already paper thin executive privilege claim with every tweet."
Glenn Kirschner, a former federal prosecutor, also tweeted that any idea of using executive privilege is "is out the window" after Trump's latest social media display.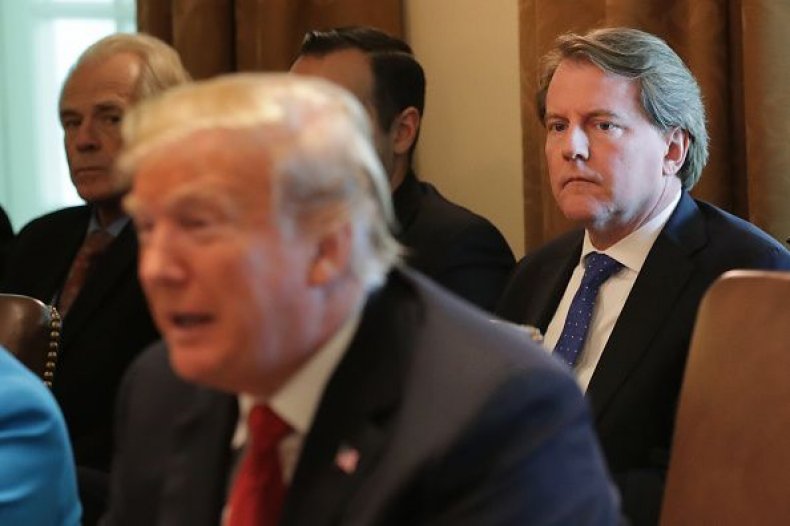 First, the president's claims that the "Fake News Media" incorrectly covered the Mueller report's information about McGahn is not correct. In fact, the Mueller report actually confirmed stories written by The New York Times in January 2018.
Second, according to the redacted report, which was released to the public on April 18, McGahn told Mueller that the president called him at home in June 2017 and "directed him to have the Special Counsel removed."
McGahn refused and was prepared to resign over the issue, but ultimately he continued working with the Trump administration for another year and a half. In his report, Mueller concluded that McGahn was a credible witness with "no motive to lie or exaggerate."
In response to Trump's constant attacks, McGahn released a statement through his lawyer William Burck pushing back against the president and his attorney Rudy Giuliani.
"It's a mystery why Rudy Giuliani feels the need to re-litigate incidents the Attorney General and Deputy Attorney General have concluded were not obstruction. But they are accurately described in the report," Burck said. "Don, nonetheless, appreciates that the President gave him the opportunity to serve as White House Counsel and assist him with his signature accomplishments."