Jewish Groups Condemn Trump For Using Israel as a "Shield" to "Echo Talking Points of White Nationalism"
President Donald Trump and his administration claimed that his weekend tweets telling American congresswomen to go back to the "totally broken and crime infested places from which they came," were okay because those women were anti-Israel.
"If Democrats want to unite around the foul language & racist hatred spewed from the mouths and actions of these very unpopular & unrepresentative Congresswomen, it will be interesting to see how it plays out," Trump tweeted Monday. "I can tell you that they have made Israel feel abandoned by the U.S."
He then tweeted that the congresswomen should apologize instead of himself. "When will the Radical Left Congresswomen apologize to our Country, the people of Israel and even to the Office of the President, for the foul language they have used, and the terrible things they have said," he wrote Monday morning. "So many people are angry at them & their horrible & disgusting actions!"
Trump's tweets seemed to be specifically targeting Democratic Reps. Alexandria Ocasio-Cortez (N.Y.), Rashida Tlaib (Mich.), Ilhan Omar (Minn.) and Ayanna Pressley (Mass.) and referring to criticisms of Israel that some of them have levied while in office.
Some believe Omar, a refugee from Somalia who is an American citizen, made anti-Semitic comments earlier this year when she criticized the American Israel Public Affairs Committee and said they were paying politicians to support pro-Israeli policy.
In a series of tweets about the Israeli lobby in Washington D.C. Omar wrote, "it's all about the Benjamins, baby," which many took to be reference to the anti-Semitic belief that Jewish people are in control of the money in the U.S.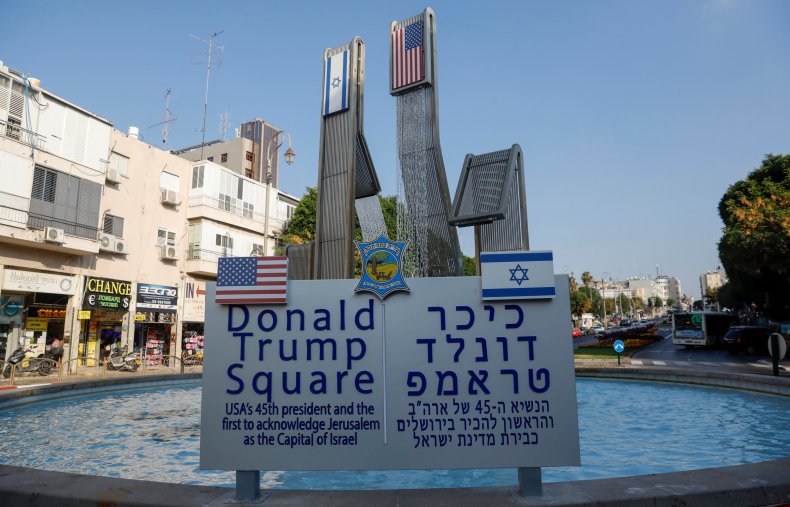 The Anti-Defamation League, an international Jewish NGO which fights anti-semitism and racism, did not agree with the president's tweets about Israel.
"As Jews, we're all too familiar with this kind of divisive prejudice," wrote Jonathan Greenblatt, the organization's CEO and national director. "While the ADL has publicly disagreed with these congresswomen on some issues, the president is echoing the racist talking points of white nationalists and cynically using the Jewish people and the state of Israel as a shield to double down on his remarks."
Greenblatt continued, saying that "politicizing the widespread, bipartisan support for Israel and throwing around accusations of anti-Semitism is damaging to the security of Israel and the Jewish community."
The Jewish Democratic Council of America, a group that promotes a pro-Israel agenda, also condemned the president's use of Israel to defend his comments. "President Trump's justification of his racist diatribe is a transparent attempt to use Israel as a diversion, which we strongly reject," wrote executive director Halie Soifer in an emailed statement. "Trump has exposed himself as America's 'Racist in Chief,' and Republicans' silence is complicity in his hateful agenda."