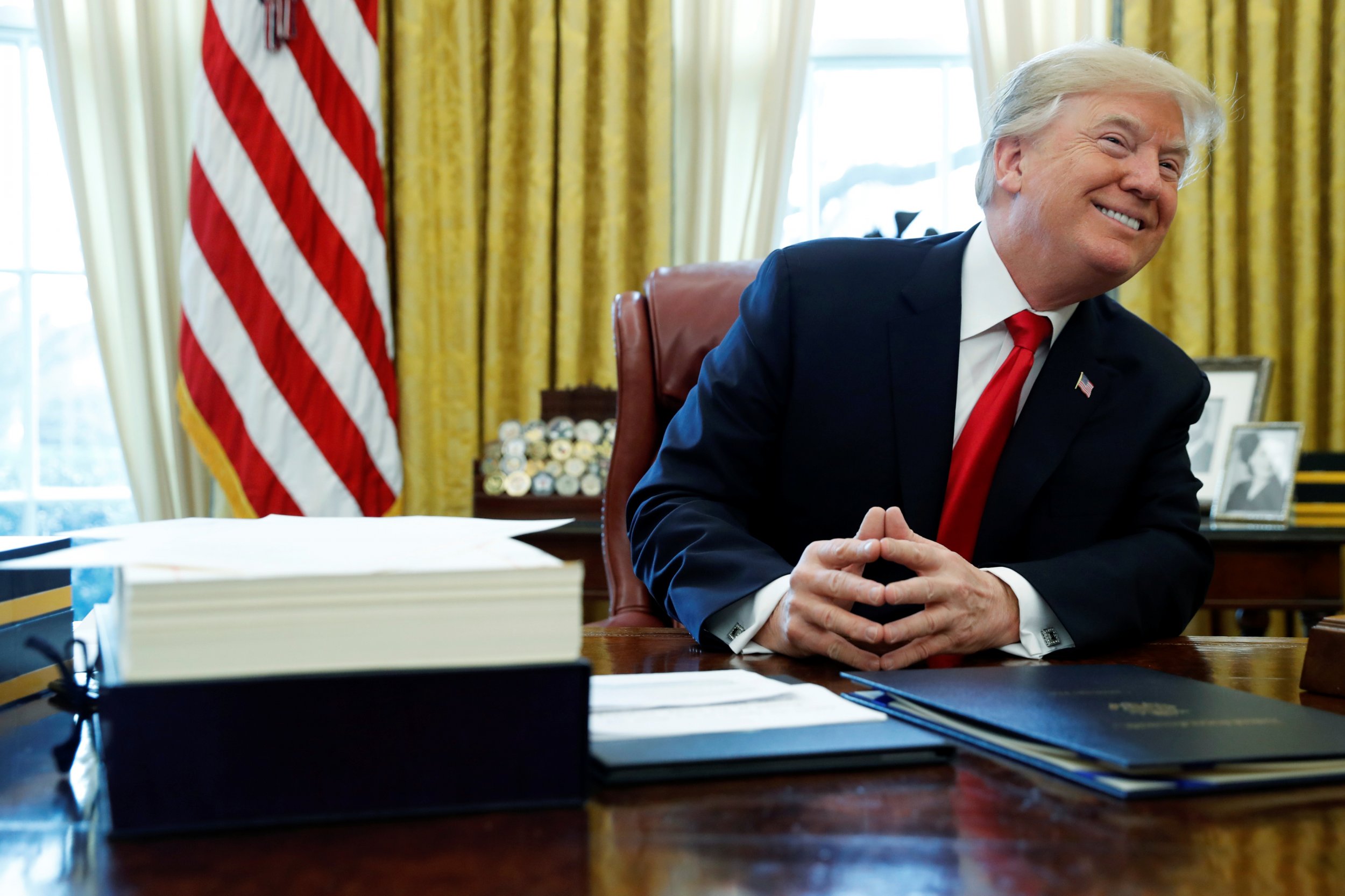 A series of tweets by President Donald Trump over the last 24 hours demonstrates the U.S. is in a democratic and national security crisis, critics say.
"In last 24 hours Trump has threatened to 1) cut aid to nuclear-armed, terrorist-laden Pakistan; 2) cut aid to miffed Palestinians after he alters U.S. Jerusalem policy, and 3) boasted his nuclear button is bigger than Kim Jung-un's," wrote Richard Haass, president of the Council on Foreign Relations, a nonprofit U.S. foreign-policy think tank, on Twitter late Tuesday.
"This is our commander-in-chief. Think about it," Haass added.
The Trump tweet that concerned critics most was one made by the president on Tuesday night in which he wrote that someone from the "depleted and food starved regime" of North Korea should inform their leader, Kim Jong Un, that Trump also has "a Nuclear Button, but it is a much bigger & more powerful one than his, and my Button works!"
In a New Year's address, Kim said he has a nuclear weapons button on his desk and warned his nation's nuclear arms can reach America. Yet he also said he would only use the weapons if North Korea is attacked first.
At the same time, Kim made efforts to open a dialogue with South Korea. America's ambassador to the U.N., Nikki Haley, said the Trump administration will only negotiate with North Korea if it abandons its nuclear weapons program first.
A Trump administration insider who spoke with Axios said early Wednesday that "every war in history was an accident" and that "you just don't know what's going to send [Trump] over the edge."
Read more: Trump tweets U.S. "gets no respect" from Palestinians as Nikki Haley threatens to withdraw American funding
"Any U.S. president wields enormous power," Haass said in a follow-up tweet early Wednesday. Not just Americans "but people everywhere" are affected by what Trump does or fails to do, he pointed out. "That is why so many of this president's tweets alarm. The issue is not just questionable policy on occasion but questionable judgment and discipline."
On Tuesday, White House press secretary Sarah Huckabee Sanders told reporters during a press briefing that Trump "obviously" doesn't mean everything that he tweets. Yet the president's tweets are considered official statements by the U.S. government.
In his Twitter barrage Tuesday, Trump also appeared to call for the jailing of former FBI Director James Comey, whom he has called an illegal leaker, and Hillary Clinton's former aide Huma Abedin. Sanders referred questions about this to the Justice Department.
Trump's erratic tweets over the last 24 hours demonstrate America is "in a crisis of democracy and a national security crisis," wrote Brian Klaas, an academic who studies authoritarian regimes, on Twitter on Tuesday.
"Today, Trump attacked the DoJ, called to jail a political opponent and/or the former FBI Director, attacked the free press, claimed he stopped airplane crashes, tweeted at TV shows, and threatened nuclear war," the London School of Economics fellow wrote.
The political risk consultancy firm Eurasia Group published a report Tuesday indicating Trump's pronouncements and erratic behavior are having a destabilizing effect and setting up the potential for an unexpected global crisis.
Late Tuesday, Toronto Star Washington correspondent Daniel Dale pointed out that many of Trump's tweets that day fell in line with Fox News segments as they appeared on television. Late in the day, Trump also implored his Twitter followers to watch Fox News opinion host Sean Hannity, but subsequently deleted the message.
Trump has insisted he is too busy to watch much because he is reading documents.
"In all seriousness, did something happen over the weekend? He is even worse than usual today," asked former top Justice Department spokesman Matthew Miller in the wake of the president's tweet storm Tuesday. "This is all madness."