Donald Trump's Tweets Are a Lot Less Popular than Barack Obama
Donald Trump continues to weaponize Twitter, with rivals such as his predecessor Barack Obama a frequent target despite many Americans disapproving of the president's use of the social media platform.
Obama made a high-profile intervention as he expressed his concerns over Trump's actions during his White House tenure thus far during his Democratic National Convention (DNC) speech, suggesting his successor had not risen to the gravitas of the role and was incapable of doing so.
Trump quickly resorted to his Obamagate line of attack against the former Democratic president, criticizing him in all-caps Tweets in rebuke of the pointed remarks against his capabilities.
While the president persists in using Twitter as a means of messaging the masses, with 85 million followers and the attention of the world's media on his timeline, this means of communication has long been unpopular with the electorate.
YouGov tracks public opinion on the president's tweets, regularly posing the question: "Do you think the way Donald Trump uses Twitter is appropriate or inappropriate for the President of the United States?"
Its latest results showed that 59.6 of those asked in its weekly polling, with between 1,061 and 1,353 registered voters in the U.S. questioned each time, said they felt his use of Twitter was inappropriate.
The response has been largely around this point throughout his tenure, with the inappropriate rating usually in the realm of 60 percent.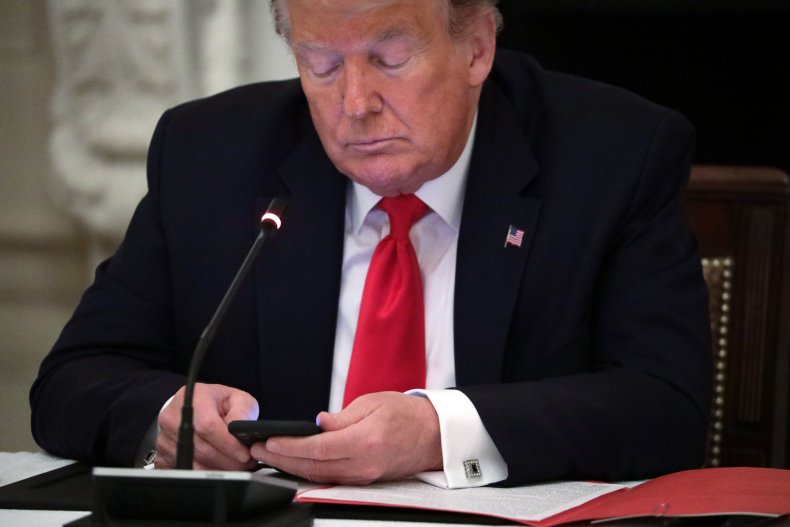 While this tracking showed most people with a negative view on Trump's tweets, Obama is seen favorably by the majority of people, according to polls.
YouGov Ratings shows 55 percent have a positive opinion of Obama, based on interviews from August 2019 to 2020.
Separate polling from Morning Consult/Politico showed 58 percent of 1,994 registered voters asked from August 14 to 16 had a favorable opinion, compared to 37 percent unfavorable.
As well as this indicating Obama's popularity surpasses the level of approval for Trump's tweets, more people in the poll viewed him favorably than the current president as well.
Less than half of respondents, 39 percent, said they had a favorable view of Trump and 57 percent said unfavorable.
Newsweek has contacted the Trump campaign for comment.
Trump's Twitter barbs aimed at Obama are not the first time he has lashed out against speakers at the DNC this year.
He has also pushed back on comments from former first lady Michelle Obama and New York Gov. Andrew Cuomo, following their speeches.
Previously polling has suggested people think the president tweets "too frequently," while many do not believe what he posts.
Trump himself has said in the past that he often regrets things he posts on the site, suggesting retweets can be particularly problematic.