Donald Trump Tweets 'Our Country Is Full,' Calls on Mexico to Stop Illegal Immigration Hours After Kirstjen Nielsen Resigns as DHS Secretary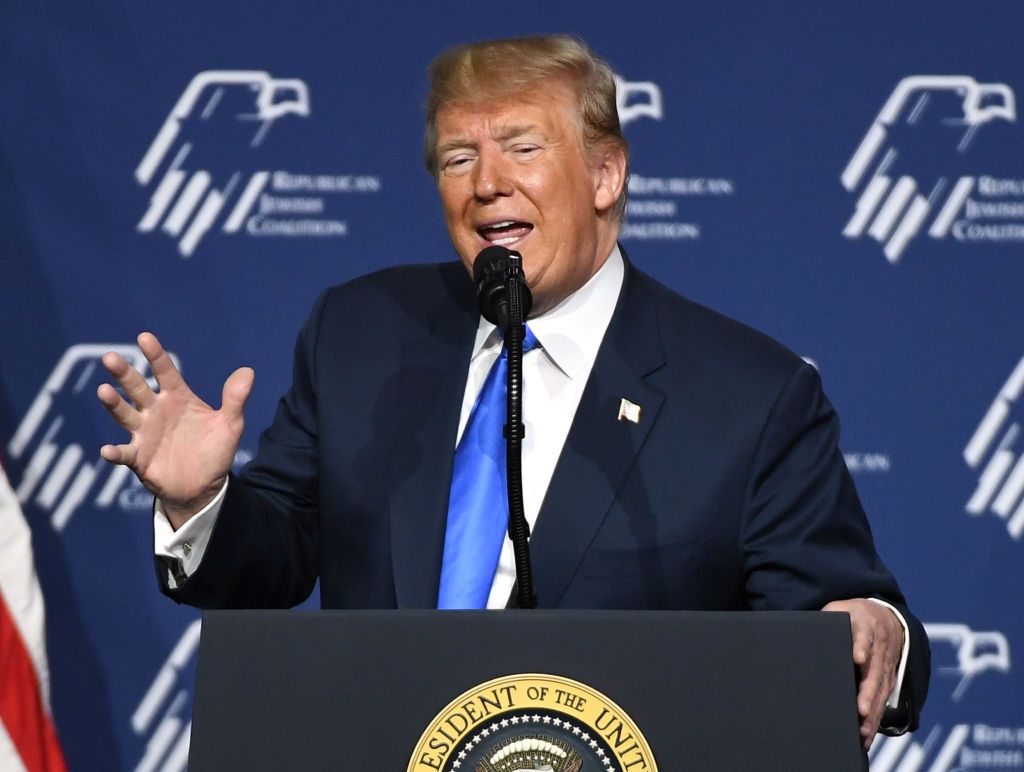 Amid speculation on the circumstances around the departure of Kirstjen Nielsen as Secretary of the Department of Homeland Security in President Donald Trump's administration, Trump took to Twitter to again broadcast his latest immigration policy.
Nielsen resigned from her post on Sunday evening, confirming the news after another tweet from Trump which thanked Nielsen for her service before the president announced that U.S. Customs and Border Protection commissioner Kevin McAleenan would take over DHS as the agency's Acting Secretary.
"More apprehensions (captures) at the Southern Border than in many years. Border Patrol amazing! Country is FULL! System has been broken for many years. Democrats in Congress must agree to fix loopholes - No Open Borders (Crimes & Drugs). Will Close Southern Border If necessary," Trump wrote. "Mexico must apprehend all illegals and not let them make the long march up to the United States, or we will have no other choice than to Close the Border and/or institute Tariffs. Our Country is FULL!"
Trump's tweets illustrate a policy that the president has repeated recently, threatening Mexico with closure of the border — an act that would have drastic economic impact on both Mexico and the United States as over $1 billion dollars in goods and services crosses the border every day, the New York Times reported.
The graphic below, provided by Statista, illustrates the average amount of goods and people crossing the U.S.-Mexico border each day.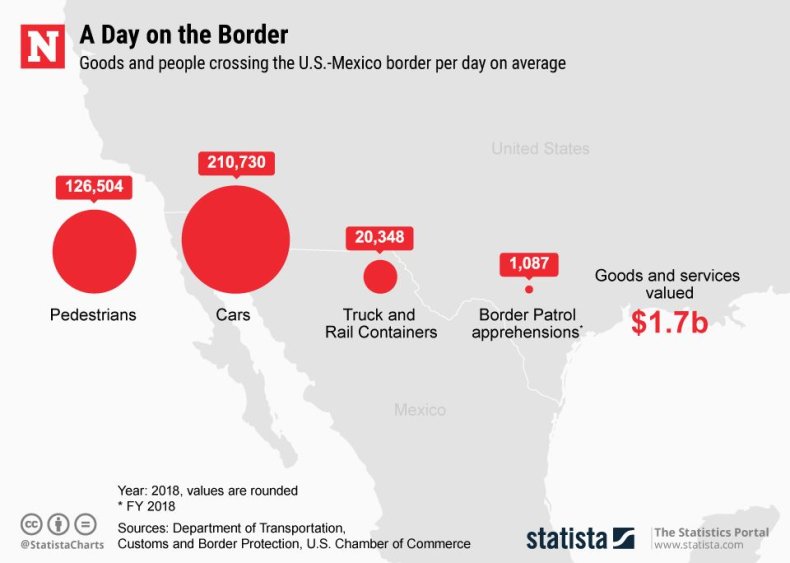 Republicans, including Senate Majority Leader Mitch McConnell have warned Trump against enacting such a policy. McConnell told the Times that closure would have a "catastrophic economic impact on our country."
"I would hope that we would not be doing that sort of thing," McConnell said.
On March 28, Trump mentioned closing the border in an early morning tweet and again that night during a rally in Grand Rapids, Michigan.
"Mexico is doing NOTHING to help stop the flow of illegal immigrants to our Country. They are all talk and no action. Likewise, Honduras, Guatemala and El Salvador have taken our money for years, and do Nothing. The Dems don't care, such BAD laws. May close the Southern Border!," Trump wrote.
On March 29, Trump wrote that he would close the border "next week" if Mexico did not intervene to stop illegal immigrants from Central America who pass through the country on the way to the United States.
However, on Thursday, the president reversed course, saying he would give Mexico one year to stop illegal immigrants before he closed the border.
"Mexico understands that we're going to close the border or I'm going to tariff the cars. I'll do one or the other. And probably start off with the tariffs," Trump said, according to Time. Later, the president added that he didn't think "we'll ever have to close the border" because a 25 percent tariff on all vehicles entering the U.S. from Mexico would "be massive."
On Sunday, Trump announced, again via Twitter, that DHS had redeployed 750 border agents to some entry ports to "help with the large scale surge of illegal migrants trying to make their way into the United States" and that the shift would cause traffic delays along the border.
"This will cause traffic & commercial delays until such time as Mexico is able to use it's powerful common sense Immigration Laws to stop illegals from coming through Mexico into the U.S., and removing them back to their country of origin. Until Mexico cleans up this ridiculous & massive migration, we will be focusing on Border Security, not Ports of Entry," Trump wrote.
In her resignation letter, Nielsen placed blame on Congress and courts for the ongoing border crisis, saying, "I hope that the next Secretary will have the support of Congress and the courts in fixing the laws which have impeded our ability to fully secure America's borders and which have contributed to discord in our nation's discourse."
According to a report published Sunday by the Times, Trump had recently asked Nielsen to stop allowing individuals requesting asylum into the country and to close all ports of entry, moves which Nielsen reportedly did not find an appropriate or effective action.
"The president berated Ms. Nielsen regularly, calling her at home early in the mornings to demand that she take action to stop migrants from entering the country, including doing things that were clearly illegal, like blocking all migrants from seeking asylum. She repeatedly noted the limitations imposed on her department by federal laws, court settlements and international obligations," the Times said.
In addition, the Times reported that Nielsen and Trump had been engaged in a difficult work relationship and while Nielsen did not attend a scheduled Sunday meeting with the president intending to resign, she agreed when Trump asked her to step down.
This article was updated to include an infographic.