Trump Tweets 'Russia Wants Him to Win' About Bernie Sanders
President Donald Trump has once again alleged that Democratic presidential candidate Sen. Bernie Sanders is being supported by Russia, following reports that the Kremlin is trying to boost the Vermont lawmaker in the Democratic primaries.
Trump retweeted a clip of a Fox News' "Lou Dobbs Tonight" show early Wednesday morning while aboard Air Force One on his way back from this week's visit to India.
Ed Rollins—a former adviser to President Ronald Reagan—was Dobbs' guest, and told the host he expected Sanders to win the Democratic nomination whether or not the party establishment wants it to happen.
Trump retweeted the clip, adding simply, "Russia wants him to win!"
The Washington Post reported last week that officials warned Sanders that Russia was seeking to help him with the Democratic nomination, though it is not clear what measures Moscow had taken.
Russia tried to help Sanders win the nomination in 2016, but he was defeated by Hillary Clinton who went on to lose the presidential election to Trump. Russia also interfered in the election to help Trump win the race, though the president has dismissed evidence of the effort collected by U.S. intelligence agencies, prosecutors and Congress.
Trump was quick to jump on the reports of pro-Sanders Russian meddling, tweeting Saturday ahead of the Nevada Democratic caucuses, "Democrats in the Great State of Nevada...be careful of Russia, Russia, Russia. According to Corrupt politician Adam 'Shifty' Schiff, they are pushing for Crazy Bernie Sanders to win. Vote!"
Responding to the reports of Russian meddling to help his nomination bid, Sanders said, "I don't care, frankly, who [Russian President Vladimir] Putin wants to be president...My message to Putin is clear: Stay out of American elections, and as president I will make sure that you do."
The Post also reported that intelligence officials warned the House intelligence committee that Russia was once again seeking to interfere in the November election to help Trump get re-elected.
The briefing reportedly prompted a furious Trump to fire acting Director of National Intelligence Joseph Maguire, replacing him with Ambassador to Germany and Trump loyalist Richard Grenell, who will hold the post until the president nominates a permanent replacement.
Russia has long sought to sow discord among voters in democratic societies and undermine the validity of free and fair elections. Typically, Moscow seeks to amplify anti-establishment groups and politicians to create rifts in mainstream parties and movements.
Nonetheless, Sanders has emerged as the clear front runner for the Democratic nomination. The next vote will be the South Carolina primary on Saturday, after which comes Super Tuesday on March 3 when 14 states and one U.S. territory will have their say.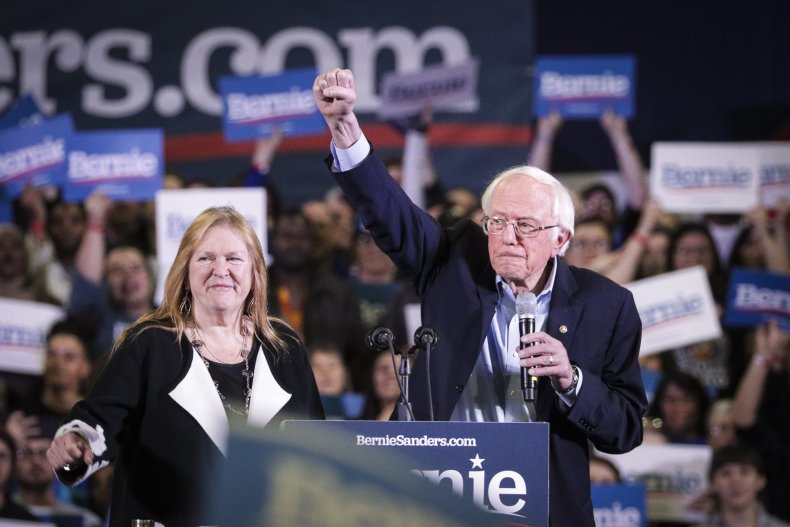 Trump Tweets 'Russia Wants Him to Win' About Bernie Sanders | Politics