Donald Trump's Twitter Bots Are a Fake News Army Taking Over Facts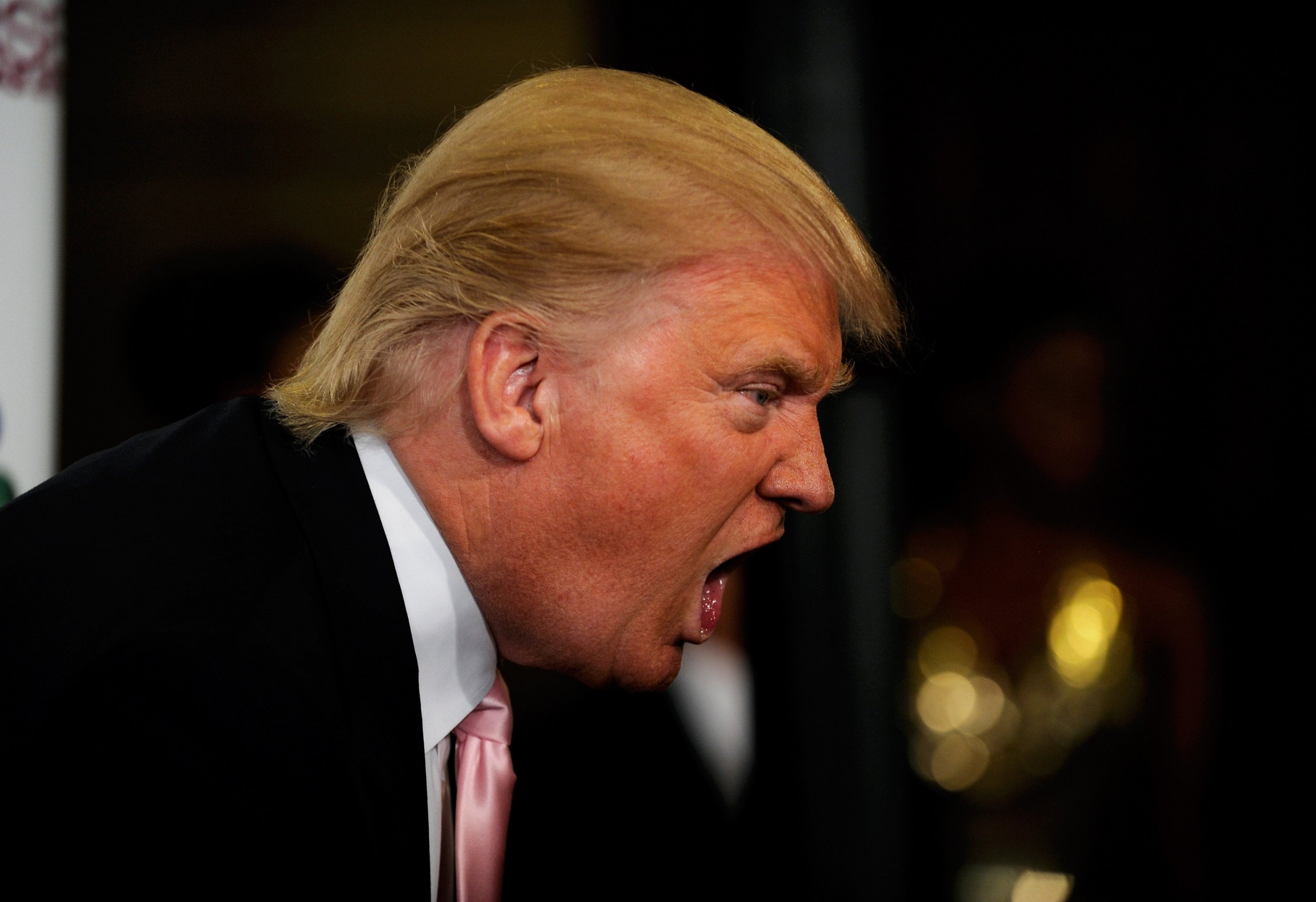 It's really not at all difficult to distinguish between a bot and a human.
A bot will write on Twitter in clunky English, reciting paragraphs of propaganda or fake news in compartmentalized tweets that often feature rudimentary linguistics and nondescript profiles. Unlike computer programs, frustrated citizens and real people engage with the context of specific posts, respond to counterpoints and typically have profiles that reflect human personalities.Bots are "yelling fools," Philip N. Howard, a sociologist at the Oxford Internet Institute, told The New York Times, "and a lot of what they pass around is false news."
But bots—including those designed to support the Trump presidency—continue to invade social media and create chatter at such a rapid speed that the differences are blurred for many users attempting to maintain a grasp on reality in 2017.
A steady stream of Russian propaganda and fake profiles infiltrated social media and the web well before the 2016 presidential election, with many experts saying propaganda bots first took aim at the U.S. in 2014 or earlier. "The Russians have used social media-driven information campaigns to discredit the U.S. for years," Clint Watts, a senior fellow at the Center For Cyber and Homeland Security at George Washington University, said during a testimony provided to the Senate Intelligence Committee in May. "Facebook and Twitter remain littered with pro-Russian, Western-looking accounts and supporting automated bots designed to undermine the credibility of the U.S. government."
There is plenty of intelligence to suggest the bots are part of coordinated attacks on international elections and against pro-Democratic leaders including French President Emmanuel Macron, German Chancellor Angela Merkel and former Secretary of State Hillary Clinton, performed by hostile foreign networks and even spy groups. And yet, at the same time, it isn't immediately clear where a specific bot comes from or what its creator's true intent was when building the computer software. That's a debate that could wage on for years on end.
But many of those bots appear to have one common and undeniable goal: to protect and defend the 45th president of the United States.
Related: Nearly half of Donald Trump's Twitter followers appear to be fake
Newsweek previously reported that nearly half of @realDonaldTrump's followers appear to be fake, according to Twitter Audit, a service designed to verify the authenticity of any Twitter user's followers. The subject of the new president's popularity across social media was a point of contentious debate throughout much of the week, after a viral tweet claimed his personal account was flooded with 5 million new followers, appearing to be mostly bots, over just three days. Though that didn't actually happen, the accounts of Trump and several other political celebrities, including Clinton and former President Barack Obama, have seen an uptick in fake followers as of late.
Even Kim Kardashian isn't perfect: More than 15 percent of her followers appear to be fake, according to Twitter Audit. The difference between her account and the president's, however. is that the Trump bot army is inflicting mass confusion over fact-based data and misleading the public about organic support for Trump's agenda.
The topic of Trump's bots also caused some sites to suggest the president might have purchased Twitter followers in an attempt to increase his overall following on the social media site. The president currently has more than 31 million followers, compared to Obama's personal account following of 90 million. But that doesn't appear to be fact-based, either: Whereas paid followers are typically inactive accounts created by marketing companies and the like to boost the appearance of a profile's following, bots are designed to actually interact with the 140-character message that's sent out, and with the real-life followers engaging with a tweet.
The first obvious signs of Trump's bot army going to war against the left during his presidency occurred during his first major speech to a joint session of Congress, the most-tweeted joint address in American history. Politico reported thousands of bots overtaking the #JointAddress hashtag used throughout the speech, spreading a far-right Twitter poll from the conservative nonprofit Secure America Now and railing against "radical Islamic terrorism."
The Trump bots are active virtually 24/7, and especially during times when the president is furiously tweeting.
"A bot army can be utilized for a number of dishonest purposes, chief amongst them, misrepresenting public sentiment about whichever topics the controller has interest in," Brad Hayes of MIT's Computer Science and Artificial Intelligence Lab's Interactive Robotics Group told the New York Daily News Saturday. "If 3 million people started tweeting in favor of or against a particular topic, would it shift public perception? What if those same 3 million people targeted every source you use for information? It's fair to say that this kind of written 'show of force' can certainly alter perceptions."