Trump Says Twitter Does Nothing About Propaganda from China, Despite Warning Applied to Foreign Ministry Spokesperson
President Donald Trump claims Twitter has ignored propaganda from China, despite the site having added fact-check labels to comments from the nation's foreign ministry spokesperson.
Trump has criticized social media platforms in recent days after Twitter flagged comments he made about mail-in voting. The social media giant most recently censored one of his tweets as the company claimed it violated user rules on "glorifying violence."
Following the latest action from the platform, Trump accused the platform of targeting Republicans and conservatives.
"Twitter is doing nothing about all of the lies & propaganda being put out by China or the Radical Left Democrat Party," he wrote on Twitter. "They have targeted Republicans, Conservatives & the President of the United States."
White House press secretary Kayleigh McEnany has also previously accused Twitter of double standards for fact-checking Trump but not Chinese propaganda.
However, as reported by Newsweek prior to Trump's latest comments, Twitter had recently marked comments from China's foreign ministry spokesperson Lijian Zhao with fact-check labels after media organizations, including Newsweek, had questioned the warnings made by Zhao.
Those labels came after Zhao suggested: "It might be U.S. army who brought the epidemic to Wuhan."
He also linked to an article claiming the virus originated in the United States in another tweet.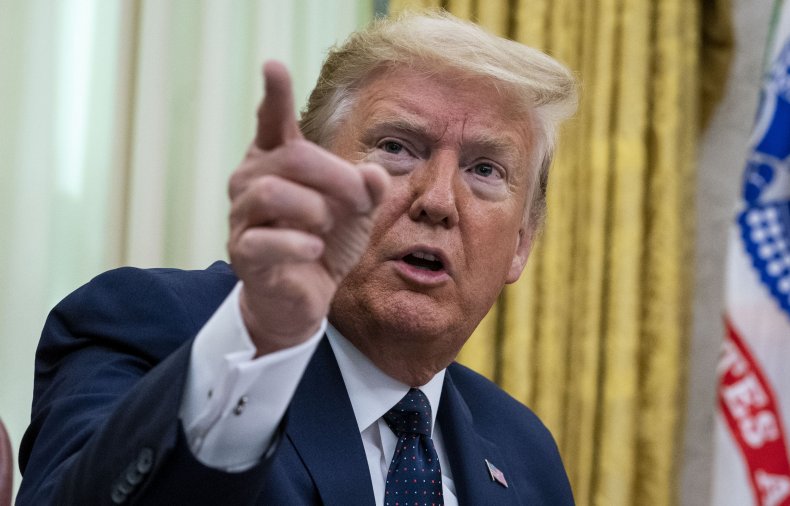 Twitter added a message under the posts, directing readers to a page of tweets outlining the World Health Organization's research that the disease originated in animals.
"The tweets in question contain potentially misleading content about COVID-19 and have been labeled to provide additional context to the public," a Twitter spokesperson told Newsweek in a statement. "These actions are in line with the approach we shared earlier this month."
After making the accusations against Twitter, Trump also made comments relation to laws regulation social media platforms.
He added: "Section 230 should be revoked by Congress. Until then, it will be regulated!"
He later shared comments about Twitter "regulating free speech" and said: "Well, as they have just proven conclusively, that's what they are doing. Repeal Section 230!!!"
Section 230 of the Communications Decency Act says an "interactive computer service," such as social media platforms, will not "be treated as the publisher or speaker of any information provided by another information content provider."
It holds that such services are not liable for "action voluntarily taken in good faith to restrict access to or availability of material that the provider or user considers to be obscene, lewd, lascivious, filthy, excessively violent, harassing, or otherwise objectionable, whether or not such material is constitutionally protected."
Trump signed an executive order on Thursday aimed at limiting the scope of this protection.
In the order, Trump accused social media companies of having "unchecked power to censure, restrict, edit, shape, hide, alter virtually any form of communication between private citizens or large public audiences." Twitter responded in a statement that the order was a "reactionary and politicized approach to a landmark law."
"Section 230 protects American innovation and freedom of expression, and it's underpinned by democratic values. Attempts to unilaterally erode it threaten the future of online speech and Internet freedoms," the statement added.
Twitter has previously said actions taken against Trump have been in line with its policies.
Newsweek has contacted Twitter and the White House for comment.
Trump's comments on China come amid rising tensions between the nation and the U.S. in regards to the handling of the coronavirus pandemic.
The two countries have put trade sanctions against each other as they clash, while Trump went so far earlier this month as to suggest he could "cut off the whole relationship" between the U.S. and China.
Chinese state media has recently branded America's coronavirus death toll as a "failure of epic proportions."