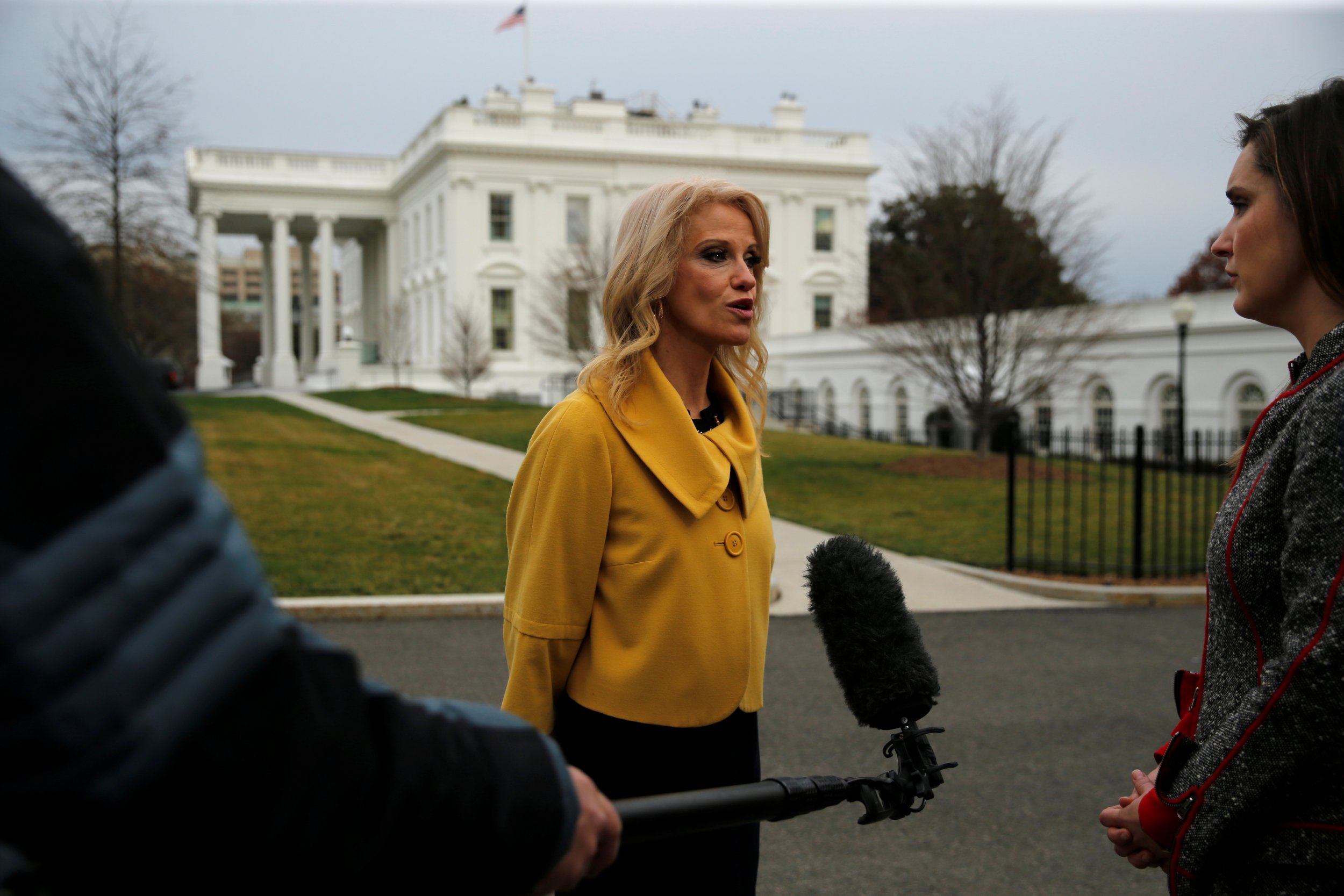 President Donald Trump went on one of his infamous early-morning Twitter rants on Monday, but Kellyanne Conway doesn't want you to read all about it.
Conway, the pollster turned counselor to the president, told anchors on the Today show that the media has an "obsession with covering everything he says on Twitter and very little of what he does as president."
Related: Conway and Priebus among those given ethics waivers for former lobby work
Conway made the remarks while speaking with Craig Melvin and Savannah Guthrie. The latter had asked whether Trump owed London Mayor Sadiq Khan an apology for his reaction to Saturday's attack that killed seven people and wounded nearly 50 at London Bridge and Borough Market. As the news was breaking over the weekend, Trump took to Twitter to not only promote his executive order suspending travel for people from certain Muslim-majority countries but also to call out Khan.
"At least 7 dead and 48 wounded in terror attack and Mayor of London says there is 'no reason to be alarmed!'" Trump wrote.
He was apparently referring to a quote from Khan telling residents of London not to worry when they see an increased police presence. A spokesman for Khan shot back in a statement to CNN, saying the tweet was "ill-informed" and adding that "Khan] has more important things to do than respond to Donald Trump's ill-informed tweet that deliberately takes out of context his remarks urging Londoners not to be alarmed when they saw more police—including armed officers—on the streets."
Today's Guthrie resurfaced the criticism on Monday, characterizing Trump's Saturday tweet as a "political attack" that quoted the London leader in a misleading way.
But Conway was adamant that Trump didn't need to say he was sorry. She said the president was firmly behind the British people and had spoken to Prime Minister Theresa May to offer his condolences after the attack, for which the Islamic State group (ISIS) later claimed responsibility.
When pressed, Conway argued that Guthrie was trying to "make this about something other than what it's about."
"I'm not going to allow, a day and a half after terrorists did it again, whether they're ISIS-inspired or ISIS-directed. They're savage murderers. It's an evil slaughter, as the president said last night. I'm going to not let him be seen as the perpetrator here," Conway said. "For every time you said Russia, imagine if you said ISIS. Every time you said Twitter, imagine if you said terrorist."
Melvin struck back, saying that Twitter is Trump's "preferred method of communication with the American people," given that he hasn't been doing many press interviews lately. Melvin then pivoted to Trump's travel executive order, about which the commander in chief coincidentally tweeted Monday morning.
The Monday tweets also raised eyebrows because Trump used the words "travel ban" to describe the policy—an apparent departure from his administration's stance.
Press Secretary Sean Spicer told reporters in January that "it's not a travel ban" but a "vetting system to keep America safe," according to The Hill. On Monday, Trump wrote, "People, the lawyers and the courts can call it whatever they want, but I am calling it what we need and what it is, a TRAVEL BAN!"