Twitter's Search Algorithm Thinks Trump Has Tiny Hands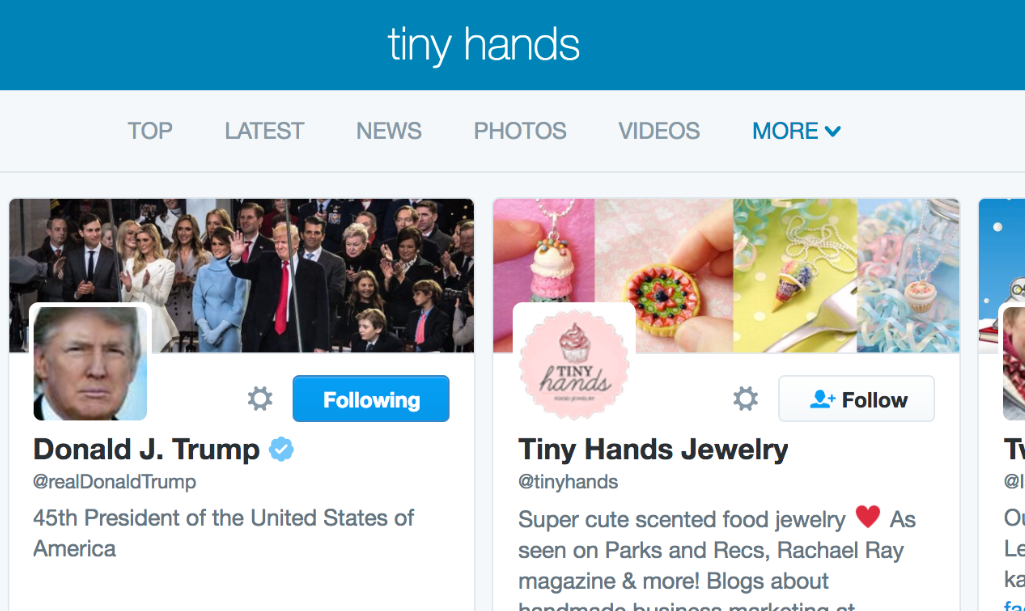 Back when Donald Trump was doling out catchy nicknames to his competitors—Lyin' Ted, Little Marco, Goofy Elizabeth Warren—the presidential hopeful petitioned Twitter to make a custom avatar for the #CrookedHillary hashtag. The president's preferred social media network often does this, affixing an emoji to a hashtag that represents a cultural movement or a big event like the Super Bowl or the Oscars. During January 21's Women's March on Washington, if a user included #WomensMarch in a tweet, a pink female gender symbol would attach itself to the end of the hashtag.
Trump thought #CrookedHillary warranted this distinction. Twitter didn't.
Related: Decoding Trump's staged inaugural speechwriting photo
So when in December the president-elect held a meeting to discuss the future of innovation with the leaders of the technology world, Twitter was not invited. According to Politico, Twitter was left out of the meeting—which featured representatives from Google, Facebook, Amazon and other tech giants—specifically because they refused to fashion an anti-Clinton emoji. Trump Press Secretary Sean Spicer told MSNBC that Twitter was excluded because "the conference table was only so big."
So it seemed that Twitter may have retaliated by providing users with Trump's profile when they searched for words like asshole, racist and fascist. Several outlets reported the quirk Wednesday night.
Though this may look like revenge on Twitter's part, it is likely either an accident or the result of users gaming the network's search algorithm (like Dan Savage famously did with Rick Santorum's Google results over a decade ago). For example, if Trump and hair appear in the same search enough times, eventually the system will group the terms together, so that whenever hair is entered, the algorithm might suggest Trump's account.
A day later, it appears that Twitter is attempting to correct the problem. Queries for racist, fascist and asshole no longer result in Trump's profile, although his is still the first result when bigot is entered into the search bar. A search for tiny hands and golden showers also still directs users to the president's profile.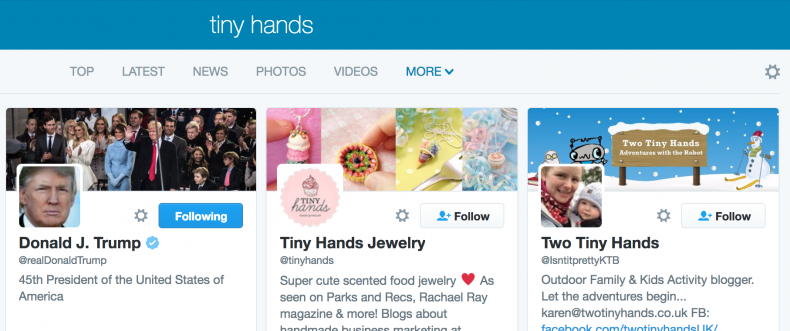 This story is developing.
Read more from Newsweek.com:
- America's grand experiment in government by Twitter begins January 20
- Trump White House senior staff have private RNC email accounts
- Trump's new @POTUS Twitter account uses photo from Obama's inauguration