Trump Retweeted Snuff Film, Possibly Violating Twitter's Rules, But He Probably Won't Get Banned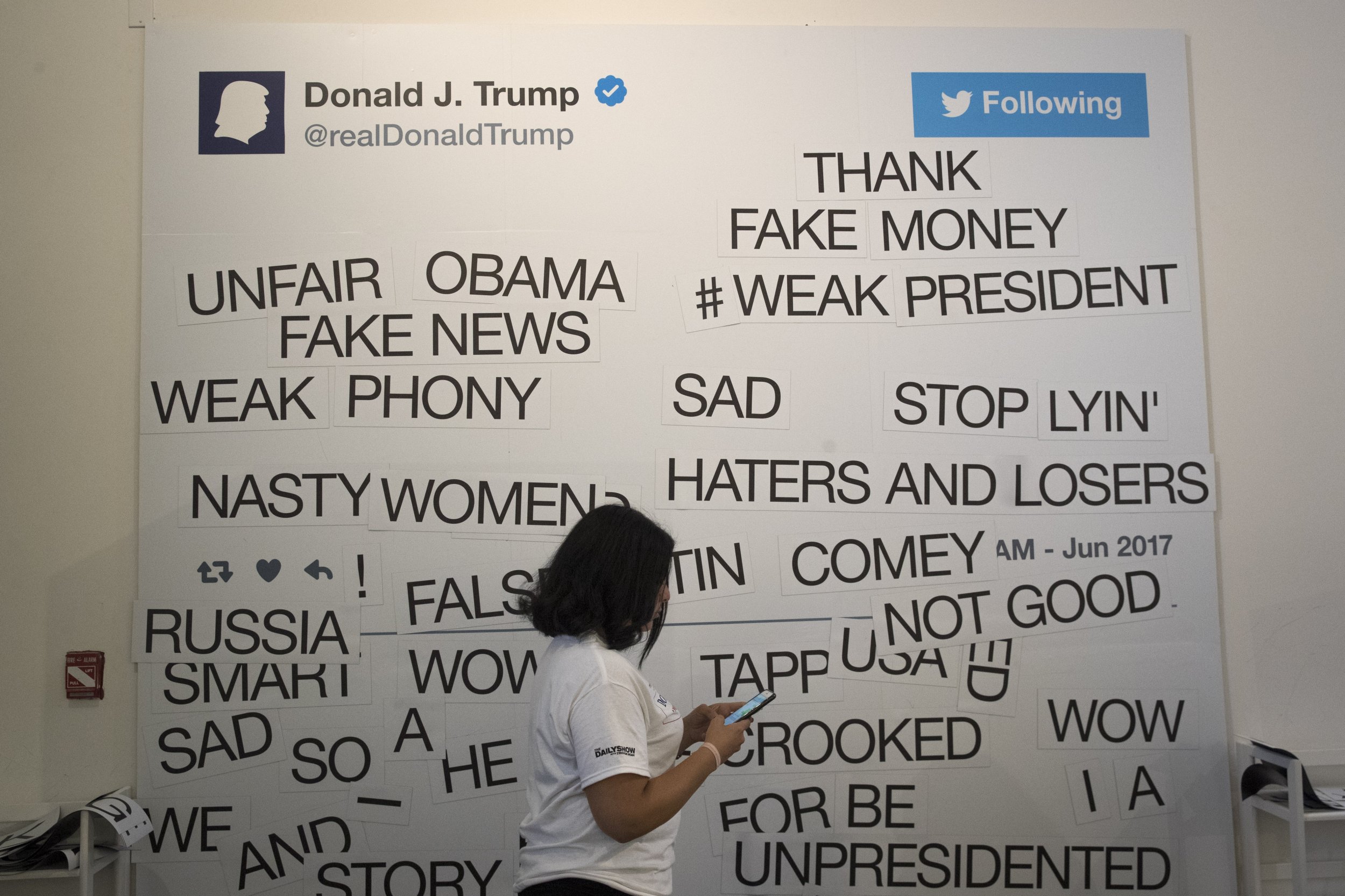 Updated | President Donald Trump retweeted several posts by a noted British white supremacist early Wednesday, including a snuff video—a possible violation of Twitter's rules, though it probably will not get him banned from the platform or cost him his verification check mark.
Trump retweeted three videos originally posted by Jayda Fransen, a woman convicted of verbally assaulting a Muslim woman in front of her children last year and the deputy leader of far-right group Britain First. One of the posts read, "VIDEO: Islamist mob pushes teenage boy off roof and beats him to death!" and included a disturbing and graphic clip.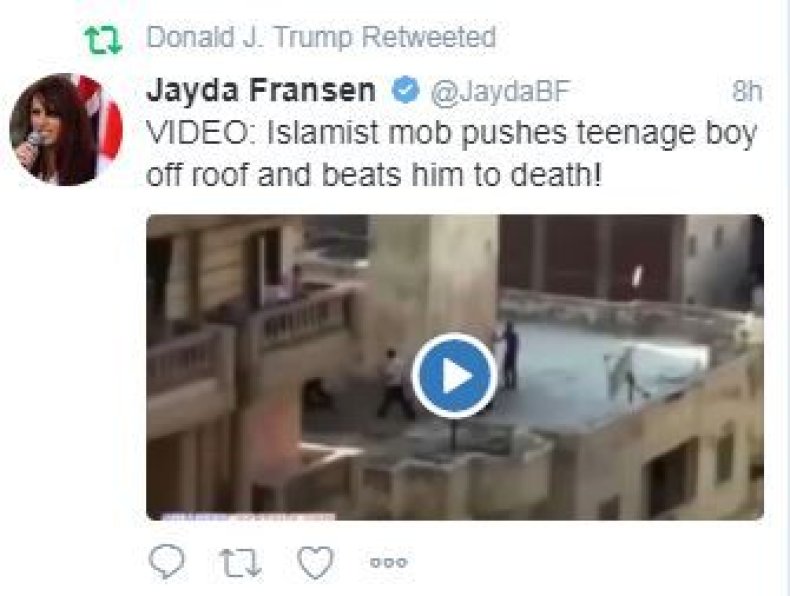 The video may violate Twitter's rules, which prohibit graphic violence in the "form of gory media related to death, serious injury, violence, or surgical procedures."
The site's "hateful conduct policy" reads, "You may not promote violence against or directly attack or threaten other people on the basis of race, ethnicity, national origin, sexual orientation, gender, gender identity, religious affiliation, age, disability, or disease."
Twitter does, however, permit users to post some forms of graphic content if it's first "marked as containing sensitive media." Trump did not do so.
Two weeks ago, Twitter also took the unusual step of revoking the blue verification check mark from some users whose behavior online and in real life violated its user rules. The site updated its rules, saying that "behaviors on and off Twitter" could cost verified users the badge.
But it's unlikely the social media behemoth will take any action against the president because Twitter has built in a de facto Trump clause.
"To help ensure people have an opportunity to see every side of an issue, there may be the rare occasion when we allow controversial content or behavior which may otherwise violate our Rules to remain on our service because we believe there is a legitimate public interest in its availability," Twitter's Help Center now states.
The policy goes on to say that Twitter will review each situation "on a case by case basis," adding that "[i]f the Tweet does have the potential to impact the lives of large numbers of people, the running of a country, and/or it speaks to an important societal issue then we may allow the content to remain on the service."
Trump's timeline is filled with posts that appear to violate those rules. In September, he tweeted an apparent threat to North Korean leader Kim Jong Un and North Korean Foreign Minister Ri Yong Ho after Ri addressed the United Nations.
"Just heard Foreign Minister of North Korea speak at U.N. If he echoes thoughts of Little Rocket Man, they won't be around much longer!" Trump wrote.
Trump's tweets are nothing if not interesting to much of the public. Fransen netted thousands of new followers after he retweeted her posts.
Several users said they reported Trump's retweets to Twitter as a violation of the rules, and a spokeswoman for the company said it is "continuing a comprehensive review of our verification policies."
"We will remove verification from accounts whose behavior does not fall within these new guidelines," continued the statement, which did not specifically address Trump. "As appropriate, we take action against content that violates our terms of service, including hiding some content behind sensitive media filters."
It is not the first time Trump's tweets have been accused of violating the social media site's rules for his appeals to violence. In addition to the North Korean tweet, Trump retweeted a GIF of one of his golf shots hitting his former rival Hillary Clinton and also posted one of himself tackling an avatar for CNN. In both cases, Twitter users asked the company to shut down the president's account, but Twitter declined.
Story was updated to include a comment from Twitter.