Donald Trump is a 'Tyrant' and 'Not Your Friend', Says Suspect in Governor Whitmer Kidnapping Plot
New videos have surfaced showing one of the suspects connected to the plot to kidnap Michigan Governor Gretchen Whitmer, criticizing President Donald Trump and calling him a "tyrant."
"Trump is not your friend dude and it amazes me that people actually like believe that," Brandon Caserta, one of the men charged with conspiring to kidnap Whitmer, said in a video posted to Twitter by American producer and director Robby Starbuck.
"When he's shown over and over and over again that he's a tyrant. Every single person that works for [the] government is your enemy, dude," Caserta added in the video.
Starbuck also posted several other videos of Caserta, and a flag featuring an anarchist symbol can be seen behind him.
"If you're still supporting law enforcement... dude, you got it backwards," he says in another video. "If you are still supporting them, you are supporting the people that are enforcing slavery on everyone else."
The Detroit News also reported videos posted to Caserta's TikTok page, where he can be seen expressing anti-government values.
"Here's a thought for today," Caserta says in one video shared by the Detroit News. "The price of freedom is eternal vigilance and indifference to this notion is the means by which the people can and will secure their own oppression."
On Thursday, Caserta was one of the six men arrested and charged with conspiring to kidnap Whitmer, according to a complaint filed Tuesday.
According to a press release issued by the U.S. Attorney's Office for the Western District of Michigan, in addition to Caserta, the five other men arrested and charged were identified as Adam Fox, Barry Croft, Ty Garbin, Kaleb Franks and Daniel Harris.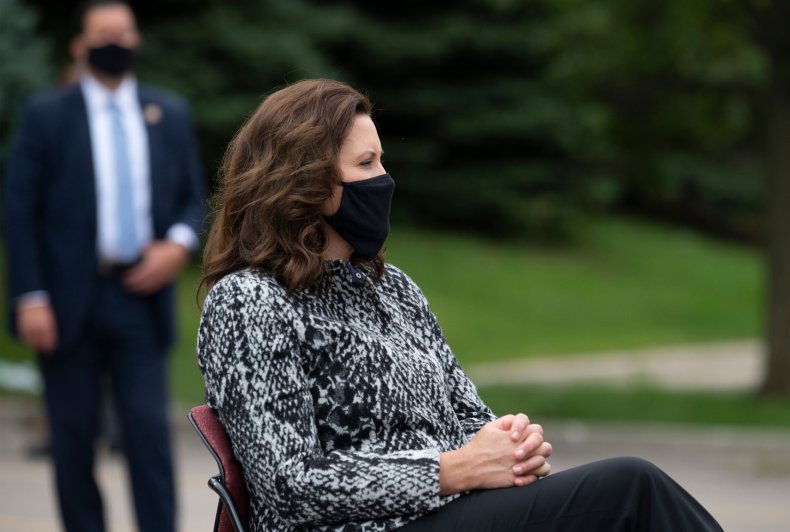 "The federal complaint in this case alleges that the FBI began an investigation earlier this year after becoming aware through social media that a group of individuals was discussing the violent overthrow of certain government and law enforcement components," the press release states. "On two occasions, members of the alleged conspiracy conducted coordinated surveillance on the Governor's vacation home. Fox and Croft discussed detonating explosive devices to divert police from the area of the vacation home and Fox even inspected the underside of an M-31 highway bridge for places to seat an explosive, according to the complaint."
The release notes that if convicted, under federal law, each man faces any term of years up to life in prison.
According to the release, the investigation into this situation is currently ongoing and is being conducted by agents of the Detroit Field Office of the FBI and other members of their Joint Terrorism Task Force, including the Michigan State Police.
"These alleged extremists undertook a plot to kidnap a sitting governor," said Assistant Special Agent in Charge Josh P. Hauxhurst, according to the release. "Whenever extremists move into the realm of actually planning violent acts, the FBI Joint Terrorism Task Force stands ready to identify, disrupt and dismantle their operations, preventing them from following through on those plans."
Newsweek reached out to Michigan Attorney General Dana Nessel and the Western District of Michigan's Attorney for comment but did not receive a response in time for publication.