President Donald Trump boasted about his plans to use military money to fund the construction of his long-promised U.S.-Mexico border wall on the same day that a federal judge issued an injunction blocking access to $3.6 billion of those funds.
During his rally on Tuesday in Hershey, Pennsylvania, Trump complained that "far-left politicians" were fighting him "on the wall."
"But, we're building it and it's fine," he said. "And we have the money coming in from the military."
"I got it from here, from there," the president said, pointing his fingers out across the room. "Believe me. If I weren't a good developer, you could forget about that wall."
"These people fought me and we've started winning in court," Trump said.
That same day, however, within hours of the rally, the U.S. leader happened to suffer a major defeat in court, with a judge branding his use of an emergency declaration to access military funding for his border wall unlawful.
It is unclear whether Trump would have been aware of the injunction at the time of his rally.
However, as journalist Aaron Rupar was quick to point out on Twitter, the timing of Trump's comments and the injunction did not appear to be in the U.S. leader's favor.
The injunction, issued by the U.S. District Court for the Western District of Texas's El Paso Division, ruled that the president's national emergency declaration, which was issued in January, stood in violation of Congress's restriction of funding for the border wall to $1.375 billion.
In an interview with Newsweek, Kristy Parker, counsel at Protect Democracy, hailed the decision as "yet another federal court weighing in to inform the president that he does not, in fact, have king-like powers."
Trump, Parker said, will have to realize that he is "constrained by the Constitution" and cannot "use a national emergency declaration to essentially take away Congress's power of the purse."
"This is a decision that said, 'no, you can't use a national emergency declaration to spend more money on a border wall than Congress said you could," she said.
This decision, of course, comes after an earlier injunction issued by a federal judge in California, which was stayed by the Supreme Court, allowing the government to start using money from a $2.5 billion pool of Pentagon funds for border wall construction.
Ultimately, however, Parker said Trump should realize that the writing is on the wall when it comes to fulfilling his promise to see at least 450 miles of border wall built before the end of 2020.
"It's been a stated priority of this president that he wants nothing more than he wants to build a wall across the entire border before the election to show his base that he did that cases like this one...have demonstrated that it is simply not going to happen," Parker said. "He is not going to build a wall with taxpayers' money more than Congress says that he can use."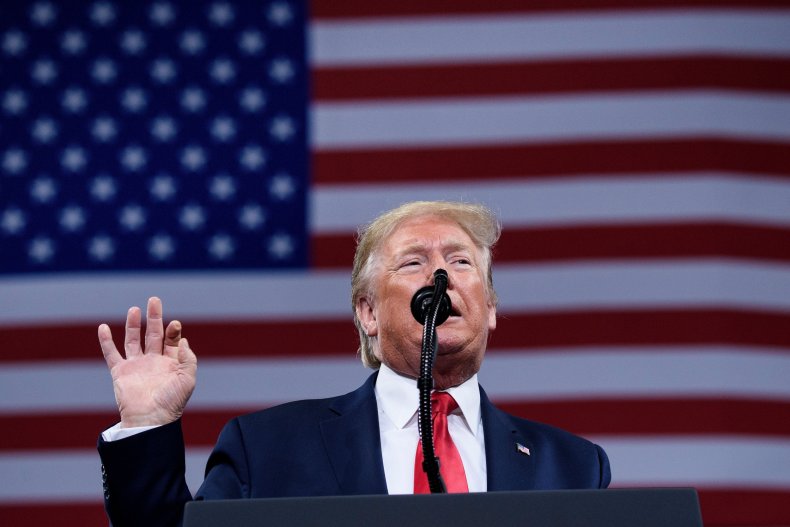 As of November 22, the Trump administration had so far built 86 miles of border wall, according to a CBP progress report sent to Newsweek. According to the report, all of the wall that had been built was constructed "in place of dilapidated and outdated designs.
Therefore, as Parker noted, "there isn't a single new segment of new wall."
CBP has promised that brand new border wall sections are currently on the way, however it is still unclear whether Trump will be able to meet his end-of-2020 deadline.
But, Parker said: "He also said Mexico was going to pay for it—and that's clearly not happening."
In response to a request for comment, the U.S. Customs and Border Protection agency, which is overseeing the border wall construction, requested that Newsweek contact the Department of Justice for comment. Newsweek has contacted the DoJ.
Newsweek has also contacted the White House for comment.