Trump Crashes the U.C. Berkeley Free Speech Debate Following Protests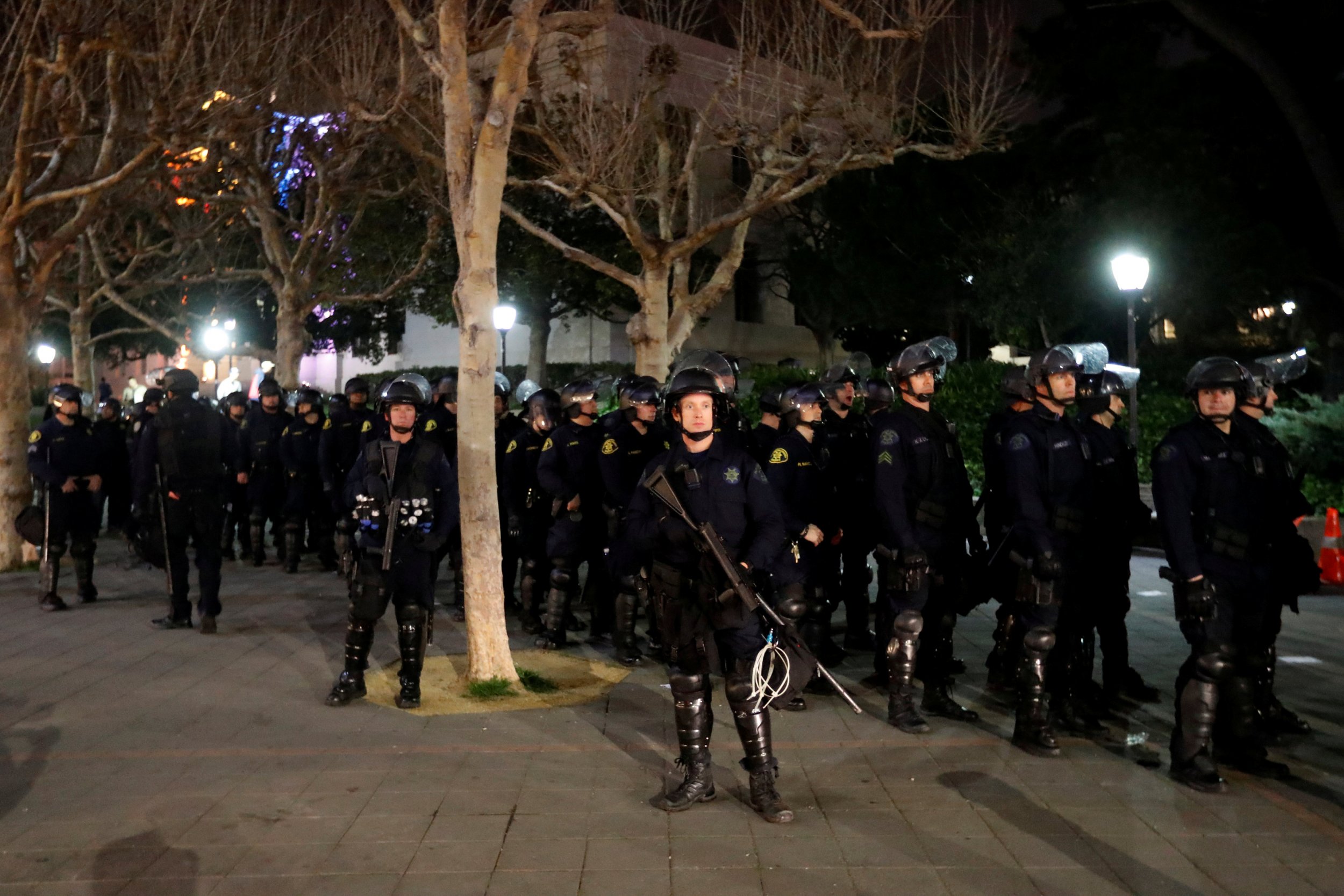 U.S. President Donald Trump threatened on Thursday to cut funding to the University of California at Berkeley after protesters smashed windows and set fires at the school, forcing the cancellation of an appearance by a far-right Breitbart News editor.
Trump's threat in a tweet provoked a response from California lawmakers, who in discussions on the floor of the state senate called it distasteful and an abuse of power, marking the latest clash between the Republican president and officials in the Democratic-majority state.
"If U.C. Berkeley does not allow free speech and practices violence on innocent people with a different point of view - NO FEDERAL FUNDS?" Trump wrote on Twitter at 6:13 a.m. EST (1113 GMT).
It was not immediately clear what action Trump could take without authorization from Congress, or without risking legal action.
In California, a mostly Democratic state where lawmakers have already begun preparing legislation to combat Trump's policies on immigration and climate change, the response was swift.
"To have the man at the helm of the most powerful nation of the world tweeting and threatening the University of California and talking about withholding funds, that's unique and I find that very distasteful," said Senate leader Kevin de Leon, a Los Angeles Democrat.
Lawmakers said they would look into whether President Trump could actually take funds from the university which receives $400 to $450 in funding for research annually. In 2016, the university also received $216 million in federal student aid, a legislative official said.
"All we have to go on now is another angry tweet," said Assembly Speaker Anthony Rendon, a Democrat from the Los Angeles suburb of Paramount.
He said lawmakers would continue to seek ways to protect the state, a Democratic stronghold where voters went two-to-one for Trump's opponent, Hillary Clinton in the November, 2016 election.
"We have been having ongoing discussions on how to protect California from potential harm from the Trump Administration – those discussions will continue," Rendon said.
Trump's tweet came in response to violence that broke out on the Unversity's flagship campus amid demonstrations against the appearance of Milo Yiannopoulos of Breitbart News, the right-wing website formerly headed by presidential adviser Steve Bannon.
On Thursday, Berkeley Chancellor Nicholas Dirks condemned the violence.
"Last night the Berkeley campus was invaded by more than 100 armed individuals clad in all black who utilized paramilitary tactics to engage in violent, destructive behavior," Dirks said.
He said the 38,000-student campus, home to the Free Speech Movement of the 1960s, respected Yiannopoulos' right to speak.
U.S. Representative Barbara Lee, a Democrat whose district includes Berkeley, vowed to fight any attempt to slash funding.
"Simply put, President Trump's empty threat to cut funding from UC Berkeley is an abuse of power," Lee said.
According to a Reuters review, the research money received by the university includes $121 million from the National Science Foundation for scientific research and $125 million from the Health and Human Services department for health and medical research. It may be difficult for Trump to cut off this money, as much of it is awarded through a competitive process that evaluates projects based on scientific merit.
Yiannopoulos has been a provocative figure on the internet for years, and has been widely criticized for comments he has made about Muslims, Black Lives Matter activists and feminists.
"Obviously it's a liberal campus so they hate any libertarians or conservatives who dare to express an opinion on their campuses," he told Fox News. "They particularly don't like me."