Donald Trump U.K. State Visit: Massive Protests Against President's Visit Include Projection of USS John McCain
As US President Donald Trump faces massive protests during his controversial state visit, one group hoping to stir his rage projected a giant image of the USS John McCain onto a building near where he and his family are staying.
Led By Donkeys, campaigners who usually focus on the fight against Brexit, have turned their attention to President Trump while he is in the UK and are using billboards and large projections to poke fun at his apparent narcissism and sensitivity.
It emerged recently that in preparation for Trump's recent visit to Japan, the administration had requested that the U.S. Navy ship USS John McCain be moved out of the president's view. After initial White House denials, the Navy eventually confirmed that such a request was made.
The ship is dedicated to the late Arizona Senator John McCain, a Vietnam War veteran and sharp Republican critic of Trump's, and his namesake father and grandfather, both high-ranking naval men. Trump and McCain clashed repeatedly before the senator died last August.
"Hey @realDonaldTrump, we read the story about the sailors on a US warship being ordered to hide from you because you're triggered by the name on their hats," tweeted Led By Donkeys. "So we turned Madame Tussaud's into a giant USS John McCain baseball cap. Welcome to London!"
Madame Tussaud's, the celebrity waxwork museum, sits on the edge of Regent's Park in central London. Trump and his family are staying at Winfield House, the official residence of the American ambassador to the U.K., inside Regent's Park.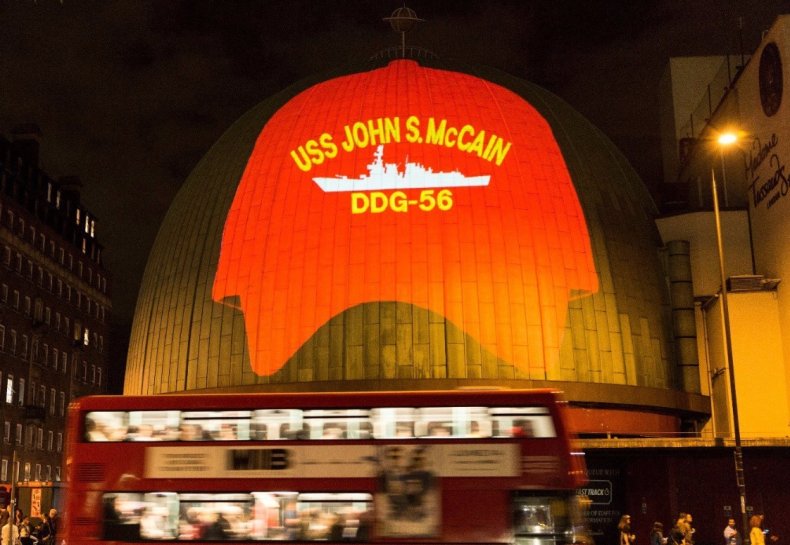 Led By Donkeys also projected onto the side of the ancient Tower of London a comparison between Trump and former Democratic President Barack Obama's U.K. approval ratings. According to YouGov, 72 percent of Britons have a positive opinion of Obama compared to just 21 percent who hold the same view of Trump.
The graphic below, provided by Statista, illustrates the approval ratings of U.S. politicians in the U.K.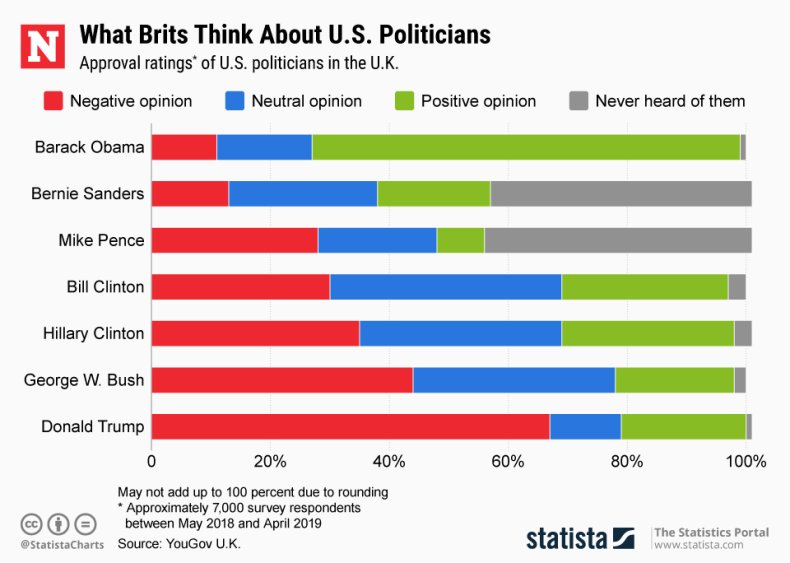 After Trump hailed the British Conservative Member of Parliament Boris Johnson, current favorite to replace outgoing Prime Minister Theresa May, Led By Donkeys projected 2015 footage onto Westminster's Elizabeth Tower of Johnson's disparaging remarks about Trump.
In the video, Johnson, who was then London mayor, responded to Trump's infamous Muslim ban comments by accusing the now-president of "playing the game of the terrorists" and displaying "stupefying ignorance" that made him "unfit" for the White House.
Johnson also said he would invite Trump to London but that he "wouldn't want to expose Londoners to any unnecessary risk of meeting Donald Trump." Trump has in the past referred to Johnson as a friend and wants to see him become the next prime minister of the U.K.
Tens of thousands of protesters are anticipated to be on the streets in London and other cities across the U.K. as Trump meets with Prime Minister May and some of her senior ministers for talks. The opposition Labour Party leader Jeremy Corbyn will address a rally of protesters against Trump in Trafalgar Square.
This article was updated to include an infographic.